Art of War Cage Fighting 24 Results: Moser vs Flores – AOW 24
Art of War Cage Fighting concludes their third event in fifteen days tomorrow night with AOW 24: Moser vs Flores.  The 10-fight card takes place at the Lebanon Valley Expo Center in Pennsylvania.
In the night's main event, former Art of War Cage Fighting amateur bantamweight champion Ben Moser (1-0) will compete in his second professional bout when he meets Walter Flores (1-4).
The full fight card is available on pay per view via the Starfund App – Watch at link to left
The crowd is ELECTRIC here at the Lebanon Valley Expo Center. The sold-out arena is on their feet from the get-go.  Making his debut in the first fight of the night is Joseph Williams.  You would think Conor McGregor entered the building the way this guy got a pop.  He met Zack Fogleman at light heavyweight.  Will be interesting to see how the judges score the first round of this amateur fight.  Williams looked crisp with his striking.  Unfortunately, he threw a leg kick that Fogleman caught and the fight went to the canvas.  After roughly 20-30 seconds on the ground, Williams threw another big shot that connected but time expired.  The second round was a back-and-forth connection game between the two men, although it appeared that Williams had the better shots of the two.   The round was contested entirely on the feet until the final few seconds when Fogleman shot in.  Williams has a sneaky left hook that keeps finding its home in the third round.  Fogleman gets the fight to the canvas in his own corner.  They get back to their feet and Williams unleashes but Fogleman is not backing down.  Time runs out and this fight will go to the judges for a decision.  Joseph Williams earns his first victory but it did not come easy as the judges' scorecards were split.
Erick Beitz of MPR Endurance is dropped immediately by a left hook from Ben Sullivan, in the second fight of the night.  Luckily for Beitz, his opponent is only allowed to strike to the body on the ground so the follow up doesn't get the job done.  Beitz works a standing guillotine choke.  They go to the canvas.  Sullivan escapes and takes the back, but time runs out.  The second round is a fun one with many scrambles. Beitz gets the back and is working for a choke.  They stand and start cracking.  We move to the third round.  Beitz picks Sullivan up and carries him across the cage before dumping him.  Sullivan working for an armbar.  Beitz gets the back and looking for a choke.  He then moves to full mount and looking for a submission but time runs out.  Beitz wins a unanimous decision.
Immediate takedown from Chase Moeller on John Robinson in their welterweight clash.  Moeller begins working for a head and arm choke. Pretty dominant round for Moeller.  Round two is more of the same, a takedown right out the gate.  Robinson having difficulty keeping Moeller off of him.  In round three, Moeller throws a nice spin kick and the fight is immediately back down on the canvas where it says.  Moeller working the body.  He wins easily on all scorecards.
Big pop for Christian Monyer as he meets the opposing, Mike Noce.  The two men are exchanging hands and feet.  No significant damage in the first round, just kind of feeling each other out.  In round two the two men find each other fighting up against the cage.  Noce takes it down to the ground.  Noce gets fight down to again in the concluding round and is working the body.  Noce adds a unanimous decision victory to his record.
In the heavyweight bout between Kalle Blindenbacher and Chase Allen, the two combatants are testing their chins as each looks to take their opponent's head off.  Allen is dropping his hands as he throws kicks and Blindenbacher is taking advantage.
Martinez BJJ heavyweight Ryan Appleby is showing significant signs of improvement in the standup game since his last fight.  Looking very sharp and crisp and he peppers Anthony Sanchez.  Once on the ground Appleby is looking to take Sanchez's arm home as a trophy but the clock runs out.  In the second round, Appleby immediately gets his opponent down and pinned up against the cage before sneaking in a submission.  Appleby gets the first finish of the night with a second round rear-naked choke.
Both Jace Kendle and Qadir Pratt connect in the early seconds of their welterweight advanced amateur contest.  Pratt gets underhooks and walks Kendle over to his corner.  Kendle throwing knees to make space and gets a reversal up against the cage.  Pratt now does the same.  Pratt pressing forward and Kendle takes him down and gets his back.  Kendle looking to get the neck for a choke but the clock runs out.  These guys are throwing bombs to star the second.  Pratt goes down and grabs Kendle's leg.  Kendle gets the back and has hooks in.  Pratt reverses.  They stand.  This fight is insane.  Kendle throws a knee and is looking to throw Pratt in the final seconds but can't, so he gets a takedown instead.  Round three is another fast start with both men throwing haymakers.  Once on the ground, Pratt has to work back to his feet and he does so by pressing Kendle up against the cage and connecting to the ribs.  Mark this one down for a 'Fight of the Year' contender.  They go the distance.
An extremely fast-paced contest between Aaron Kennedy and Oscar Garcia is up next. Garcia connects with a superman punch once but misses the target a second time around Kennedy is crafty on his feet, changing up his stance quite often.  In round two, Kennedy is straight up the pipe with his combos.  Kicks are starting to echo throughout the arena.  Kennedy locks up a leg and Garcia throws a flying knee with th other.  On the ground, Kennedy looking for a leg.  Garcia throwing down shots from the top.  They stand.  Kennedy coming on strong.  Big shots.  Garcia fake sa knee and connects with a big left hook.  Kennedy looking to finish with a choke here in the third and final frame.  The rear-naked is tight.  Garcia will not go out.  He gives up his back and Kennedy is throwing shots from the top as he tries to flatten his opponent out.  This fight goes the distance and is awarded to Garcia unanimously.  The crowd lets the judges know how they feel about the scoring.
Orlando Ortega is the larger man in his 130-pound catchweight bout against Eddie Alvarez.  This is a fun, quick contest.  Pretty elusive Matrix type movements from both men.  These fighters are throwing everything they have at one another.  Alvarez is smiling.  He connects and stumbles Ortega, and then points to the center of the cage.  They walk back to the middle.  The action continues.  Ortega starts to tee off on Alvarez but the "Panamaniac" is swinging back.  A few shots from Ortega sneak in and really rock Alvarez.  The referee stops the action and presses Alvarez up against the cage to protect the fighter.  Alvarez looks to question the stoppage but then takes a step and it appears that he is out on his feet or still really rocked.  Big first round TKO win for Ortega in the night's co-main event.
Ladies and gentlemen, if this was the last fight where we see Ben Moser compete, then this was the very best version of "BMO" that fans hav ever seen.  What an incredible performance.  Moser drops Flores with knees then follows up with huge shots.  Flores trying to defend himself, looks to lock up Moser's arm.  Moser escapes, gets the back and locks in a rear-naked choke.  Flores immediately taps.
Art of War Cage Fighting 24 results below:
Main event
Bantamweight – Ben Moser defeated Walter Flores via submission (rear-naked choke) – Round 1, 2:12
Co-Main event
130-lb catchweight – Orlando Ortega defeated Eddie Alvarez via TKO – Round 1, 3:31
Bantamweight – Oscar Garcia defeated Aaron Kennedy via unanimous decision (29-28, 29-28, 29-28)
Amateur Main Event… 170lb Title fight
Welterweight – Jace Kendle defeated Qadir Pratt via unanimous decision (29-28, 30-27, 30-27) – for welterweight title
Heavyweight – Ryan Appleby defeated Anthony Sanchez via submission (rear-naked choke) – Round 2, 1:07
Heavyweight – Kalle Blindenbacher defeated Chance Allen via split decision (28-29, 29-28, 30-27)
Lightweight – Mike Noce defeated Christian Monyer via unanimous decision (30-27, 30-27, 30-27)
Welterweight– Chase Moeller defeated John Robinson via unanimous decision (30-27, 30-27, 30-27)
Featherweight – Eric Beitz defeated Ben Sullivan via unanimous decision (29-28, 29-28, 29-28)
Light Heavyweight – Joseph Williams defeated Zack Fogleman via split decision (28-29, 30-27, 29-28)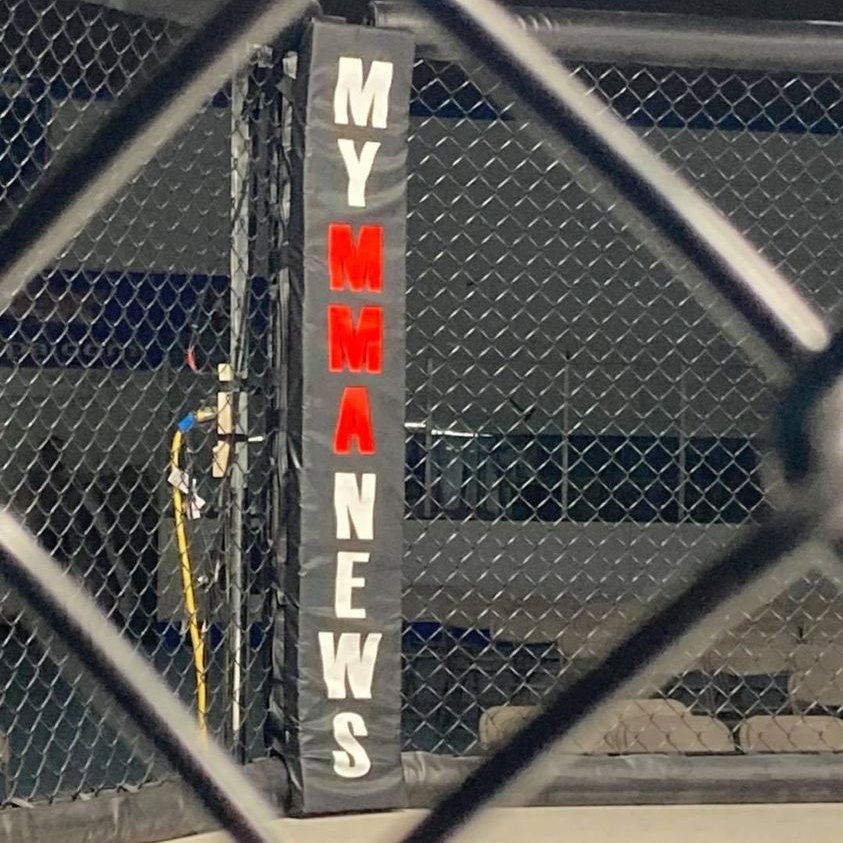 MyMMANews.com – We cover everything from MMA, BJJ, Bare Knuckle, Wrestling, Boxing, Kickboxing, and Judo
News, Opinions, Videos, Radio Shows, Photos and more.