Bellator 154: Davis vs. King Mo Weigh-In Results
Bellator 154: Davis vs. King Mo Weigh-In Results
SAN JOSE, Calif. (May 13, 2016) – After the official weigh-ins on Friday, all of the "Bellator 154: Davis vs. King Mo" competitors are set to enter the cage at the SAP Center tomorrow LIVE and FREE on SPIKE.
The event features two of Bellator's top light heavyweights; Phil "Mr. Wonderful" Davis (15-3, 1 NC) and King Mo (19-4, 1 NC), as the electric duo square off in the card's main event. The co-main event features a welterweight matchup pitting "Cyborg" Santos (21-16) against Saad Awad (18-7), while further down the card the undefeated Andre Fialho (6-0) and Rick Reger (7-1) go to war and a lightweight showdown of Adam Piccolotti (7-0) versus Ray Wood (6-1) will round up what is sure to be a dynamic main card.

"Bellator 154: Davis vs. King Mo" takes place at SAP Center in San Jose, Calif., and airs live on SPIKE at 8 p.m. ET/7 p.m CT while the preliminary card will stream live on Bellator.com and The Bellator Mobile App.
Tickets are still on sale and start at just $30 on Bellator.com, as well as the SAP Center Box Office and Ticketmaster.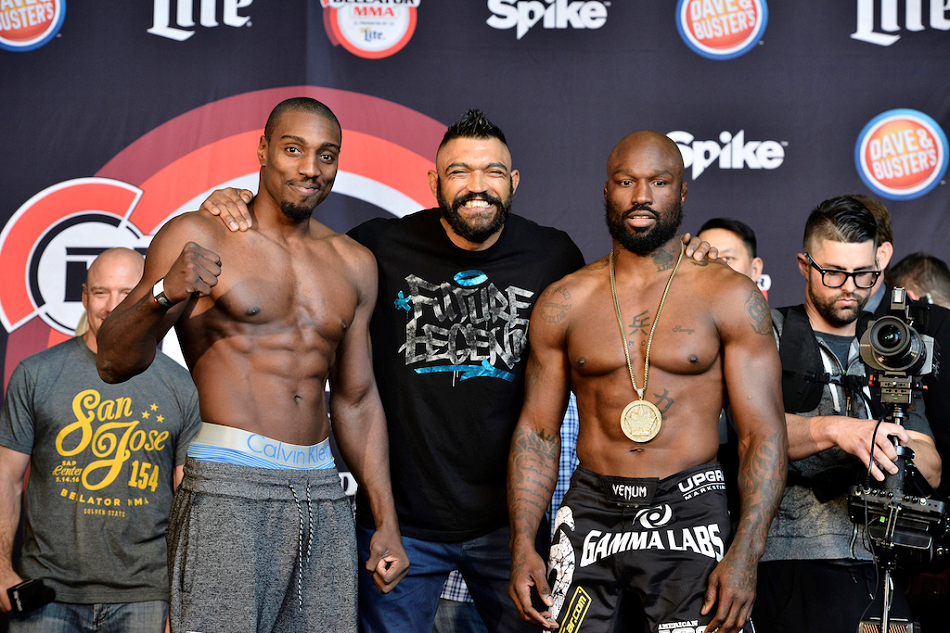 Main Card: (Live on SPIKE – 8 p.m. ET/7:00 p.m. CT)
 Bellator MMA Light Heavyweight Main Event: Phil Davis (205.9) vs. Muhammed "King Mo" Lawal (205.4)
Bellator MMA Welterweight Feature Bout: Saad Awad (169.9) vs. Evangelista "Cyborg" Santos (170.4)
Bellator MMA Lightweight Feature Bout: Adam Piccolotti (155.8) vs. Ray Wood (154.6)
Bellator MMA Welterweight Feature Bout: Andre Fialho (170.3) vs. Rick Reger (169.6)
Preliminary Card: (Spike.com – 7 p.m. ET/6:00 p.m. CT)
Bellator MMA (160 lb.) "VOW" Preliminary Bout: Joshua Hardwick (157.9) vs. Jorge Acosta (158.6)
Bellator MMA Featherweight Preliminary Bout: Victor Jones (145.5) vs. Anthony Taylor (146.2)
Bellator MMA Welterweight Preliminary Bout: Danasabe Mohammed (170) vs. Martin Sano (171)
Bellator MMA Flyweight Preliminary Bout: Josh Paiva (125.7) vs. Steven Gruber (125.1)
Bellator MMA Welterweight Preliminary Bout: Sam Spengler (170.8) vs. Doyle Childs (170.4)
Bellator MMA Bantamweight Preliminary Bout: Josh San Diego (136) vs. Jeremiah Labiano (135.3)
Bellator MMA Featherweight Preliminary Bout: Thomas Diagne (146) vs. Mark Dickman (145.7)
Bellator MMA Strawweight Preliminary Bout: Stephanie Frausto (115.4) vs. Jamielene Nievara (120)
Bellator MMA Heavyweight Preliminary Bout: James Chapman (230.6) vs. Sean Tucker (265.3)