BJJ standout Mackenzie Dern signs with Legacy FC, MMA debut in July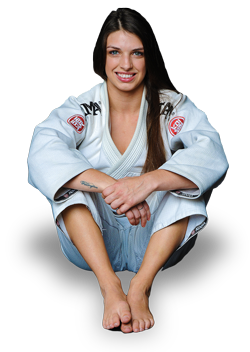 Top Brazilian Jiu-Jitsu practitioner Mackenzie Dern is transitioning to mixed martial arts.  Dern has signed a deal with Legacy FC and will make her MMA debut July 22 in Dallas, the promotion announced Thursday.
Currently the IBJJF ranks Mackenzie as the number one female black belt in Brazilian Jiu-Jitsu.She holds a black belt under her father, Wellington "Megaton" Dias who is one of the top Brazilian jiu-jitsu black belts in the world. She is an ADCC and no gi BJJ (black belt) World Champion.
She who won the IBJJF jiu-jitsu world championship and ADCC in 2015, competes between 127 and 132 pounds in jiu-jitsu and grappling.
No opponent has been named for her MMA debut but it appears as if the contest will be fought at strawweight (115 pounds).
For her MMA debut, Dern told MMAFighting.com she will cut down to 115 pounds. The promotion has yet to announce an opponent.
Dern is training at The MMA Lab for her mixed martial arts debut.
She began training by three years old and practicing with her father and stepmother who is also a black belt, Luciana Tavares. Mackenzie started competing at a young age, and moving on to competing in the adult divisions by 14 years old. Mackenzie has won a world championship in every belt as she progressed to black belt. In 2015 she defeated Gabrielle Garcia in the semi finals at the Abu Dabi open weight championships.