Johnny Case signs for 5 more UFC fights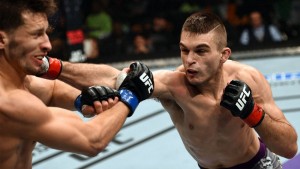 Currently riding a three fight win streak in the UFC since he signed back in 2014, "Hollywood" Johnny Case had no problem getting re-signed by the organization.
Case (21-4) signed a new five-fight deal with the UFC this week while also booking his next appearance in the Octagon.
For his next fight, Case will travel to Brazil for the UFC Fight Night card on Nov. 7 headlined by Vitor Belfort and Dan Henderson.
Although he does not know who he will be fighting, Case told FOX Sports: "It's the usual. Some Brazilian with a black belt that's going to be trying to grab me the whole time that I'll have to shut down with some good old Iowa wrestling and hard punches," Case said. "That's a given, though. I'm more excited to explore and soak up the culture."