Bellator fighter, Jordan Parsons suffers partial leg amputation
Bellator featherweight fighter Jordan Parsons is listed in critical condition today after being a victim of what appears to be a hit-and-run in Del Ray, Florida this morning.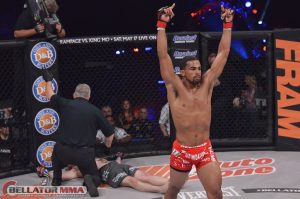 Parsons, a 25-year old member of the south Florida mixed martial arts team, The Blackzilians had the lower part of his right leg amputated after being struck by a vehicle and is currently being treated at the Del Ray Medical Center.
Parsons (11-2) last fought November 20, 2015 in a loss to Bubba Jenkins at Bellator 146.  His scheduled May 14, Bellator 154 bout with Adam Piccolotti will be cancelled although the official statement from Bellator has not yet been made.
Bellator MMA did release this statement to media:
"Bellator has been informed of a terrible accident that occurred last night involving featherweight fighter Jordan Parsons, who was struck by a vehicle in a hit-and-run incident. We are still in the process of uncovering details and with his family's consent, hope to have an update on his medical condition soon. Our thoughts and prayers are with Jordan and his family as he recovers. 

The hit-and-run occurred on Lindell Blvd. and South Federal Highway in Delray Beach, Florida.  Anyone with information regarding this incident is asked to call the Delray Beach Police Department at (561) 243-7800."
Everyone at MyMMANews.com wishes Parsons the very best in recovery.  We will keep you posted with more in this tragic story.