Kanako Murata hopes to follow similar path to Weili Zhang after successful UFC debut
It's official. Former Invicta FC champion and RIZIN FF standout Kanako Murata is a part of the UFC roster and has notched win No. 1 under her belt.
The now 12-1 Japanese wrestling champion made her first UFC appearance at UFC Vegas 14 on November 14 opposite Randa Markos. Originally, Murata was booked to square off against a fellow former Invicta titleholder in Livia Renata Souza. Unfortunately for Souza, she would suffer an injury that forced her out of the contest.
Murata was notified of the opponent change roughly three to four weeks out just as she arrived in California to finish up her fight camp before heading to Las Vegas. In preparation for the incoming Canadian Markos, the Combat Sports Academy (CSA) product watched all the footage that she could on the well-rounded veteran.
In the strawweight clash, Murata entered an MMA enclosure for the first time in one year and 13 days. While ring rust has shown its effects on many in the fight game, the Matsuyama, Ehime native was not one of them.
Overall, Murata would land four takedowns throughout the fight and outstrike Markos 79 to 37 according to UFC Stats. Scoring a unanimous decision win with 30-27s across the board, Murata's current streak was extended to eight in a row.
With her wrestling as the big highlight of the performance as always, Murata also showed major improvements in her striking as well as ground and pound. It was about as complete of a performance as one could ask for in their UFC debut without getting a finish.
And because of that, the ultra-competitive Murata believes she could have done much better.
"I wanted to capitalize on the opportunities that I had," Murata told MyMMANews. "I think there were some places where I could have finished the fight. And I look back and realize that I need to capitalize in those given opportunities.
"It wasn't really me wanting to show off my striking skills. But since I've been sparring with the K1 champion, Kana [Morimoto] from Silver Wolf, I wanted to test how I could utilize her striking in MMA. So it was more me trying to figure things out in an actual fight than me trying to showcase my striking skills. I was trying to put things together in that fight."
Due to her exceptional showing, comparisons were drawn by some in the community between Murata and UFC lightweight kingpin Khabib Nurmagomedov. While Nurmagomedov is the undefeatable Sambo master at his weight, Murata might not yet be proven as the very best wrestler at strawweight, but her credentials instantly place her into that conversation.
Similarly to the Russian, it appeared that in Murata's first UFC bout we saw her wrestling really start to open up her striking abilities. And while that recognition can often be looked at as a detractor or masking of the standup aspect, the natural progression is evident over the course of Murata's 13 fights.
"It's not more so about my opponent, I tend to focus on myself," Murata noted. "I know that there are some things—a lot of things that I can make better during the fight. For me, it's about the footwork and stance. I know during the fight, I was moving a little too much and I couldn't get the right grip with my feet to throw a powerful shot. Which I could have. I know that I can utilize the striking better in a fight and I just have to continue to fight and figure things out during the fight but it's not about my opponent. It's more about how I can utilize it."
Fresh out of her two-week quarantine and back home in Japan, Murata's immediate plans are to now work on her mistakes and improve what she's good at. Ideally, timing will then lineup for her to get back in action around March.
Like every other 115-pound fighter in the UFC, Murata too now finds herself chasing after one of China's only two major MMA champions. That, of course, being none other than Weili Zhang.
Though, for Murata, there was a point prior to that chasing where she could have slowed down the trajectory of "Magnum". At RIZIN 10 in May 2018, Murata and Zhang were scheduled to meet.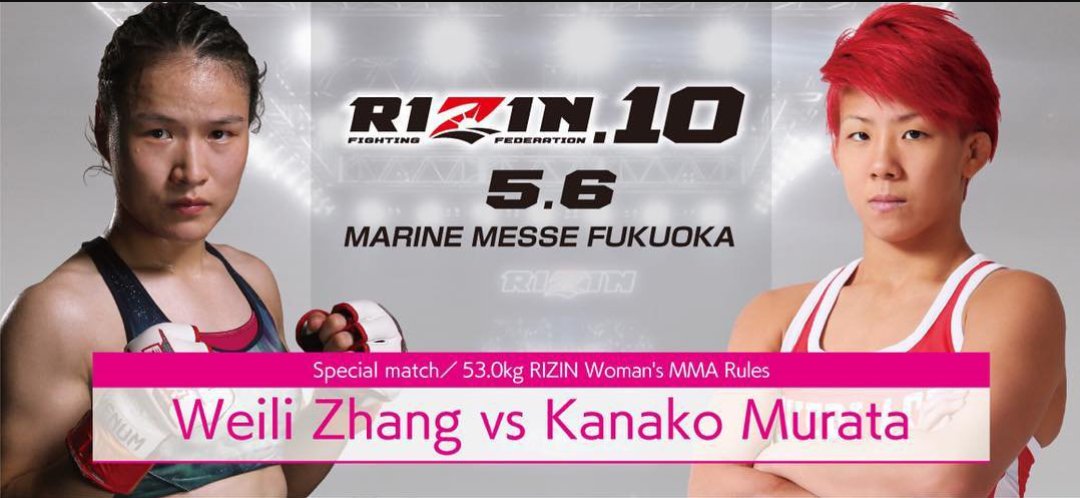 China's finest would, unfortunately, sustain a shoulder injury that prevented her from ever stepping foot in the RIZIN ring. Murata instead went on to submit The Ultimate Fighter season 23 alum, Lanchana Green, via anaconda choke in what was her eighth career outing and first submission victory.
In hindsight, Murata isn't at all surprised to see what the UFC champ has accomplished since.
"Originally when I was supposed to fight her, I did a lot of studying, I watched her fights and I knew that she was super tough," she reflected. "I knew that she was a very, very good and tough fighter so after I found out that she was going to the UFC I knew that she was going to do good. I knew that she was going to be a top ranker and now she's the champion. I've only won once in the UFC but I would like to think the same can be said about me. So I hope I'm right about that."
Ultimately, Kanako Murata wants to prove that she's the best in the world. To do so, she'll have to once again work her way to a meeting with Zhang… assuming she's still the champion by that time in what is an extremely deep division.
Either way, the most recent Invicta strawweight champ has an idea of how the fight might have played out two years ago if it happened.
"I think I would try to close distance in a barrage of punches, and then I would clinch her and take the fight to the ground, and I would have probably laid and prayed on her and controlled the fight," Murata said with a laugh.