MMA Relationships: The good, the bad, and the ugly
In a sport like MMA where being uncomfortable is unavoidable, seeking out comfort and relatability can come as a bit of a lifeline from the ol' subconscious.
Icon, legend, pioneer – address her as you will, the 47-year old Megumi Fujii has been retired since 2013 where she enjoyed a 29-fight run going 26-3. Continually keeping herself involved with the fight game, Fujii coaches at her husband Shinji Sasaki's Burst Gym.
Sasaki, 41, still competes as an active fighter to this day.
"First of all, it's great to have the same interests and you can't beat that," Fujii said. "You have two common things to talk about, there's something that you can relate to. You share the same interest which means that you don't really have to struggle with everyday communications. You can talk about what you guys love and that's where you connect. So I think that's great.
"The understanding of how the sport works and the understanding about the sport is also very important. Because if you're seeing somebody who doesn't understand the sport, you're going to have to explain to them from the beginning and what it's like because they don't understand what you're going through and they can't relate to that. So that part may be stressful to explain to people who don't understand what you're going through. That's definitely a positive part because you mutually understand what you're going through."
Mixed martial arts is the ultimate test of human performance. Two individuals enter and only one stands tall. A truly singular effort in the finest form, it takes a strong team and even stronger support system to reach the pinnacle.
Independence is a great life trait to have. But oftentimes in MMA, athletes find themselves being alone together.
Relationships and love are a part of life whether we want them to be or not – unless you specifically go out of your way to avoid these feelings at all costs. If that describes you, this is a judgment-free zone, so don't worry.
Fighting is isolating. Not only when in the act but when coming out on the wrong end – things can go from bad to worse in the blink of an eye. It already takes an extremely unique mindset to want to regularly do combat in the first place.
Naturally, fighters being attracted to one another makes sense. The amount of time spent in the gym training is life-consuming because it has to be. There have been countless cases of fighters dating one another or their coaches. Each reason – and result – is different from the next.
Fujii and Sasaki can be considered one of MMA's true power couples – especially in Japan. But when fans think of the most notable couple, minds may reasonably go to the likes of Rose Namajunas and Pat Barry.
The pair has been together before Namajunas even began her professional career. Barry at the time was in the midst of his run in the UFC's heavyweight division. The same year that Namajunas went pro, in 2013, Barry had his final UFC fight and began shifting most of his focus to his partner.
It's difficult to imagine where Namajunas would be now without the aid of the New Orleans, Louisiana native. With Barry by her side, she's managed to become a two-time UFC strawweight champion.
The same can be said of all-time great featherweight, Julia Budd. Nearly 10 years prior to the first Bellator champion at 145-pounds getting going in MMA, Lance Gibson Sr. was testing himself in Japan's Shooto promotion as well as the early UFC.
Though Budd had yet to go pro in MMA, she'd been competing as a kickboxer which is how she met Gibson. Budd recalled losing the fight but meeting Gibson who was in attendance. By this time, the SuperBrawl veteran was leading the charge as coach of Gibson Kickboxing & Pankration.
Budd's prior coach told her she'd need to head to the city if she was going to take herself to the next level in a combat career. This led to "The Jewel" joining Gibson's team and about five or six years later, a relationship was developed that ultimately led to a happy and healthy marriage.
"I don't think I had any sort of feelings about it because I hadn't thought about it before," Budd said of any possible reservations towards dating a coach. "We became really good friends before we started dating and I think it was just natural because we were spending so much time together as friends and coach/fighter. So there was that mutual respect. Then it all worked out."
"It's tough in certain aspects because when you get angry at them in practice it comes to home," Gibson noted. "But it's also that you're going to put even more into somebody you love to death to make them that much better. So to me, I know I put everything I can into it. That's not the problem, her going in there, I know I spend every moment with her so I know every move she's gonna make in there and that she's safe, and will go out there and win. It's just a crossover sometimes when you come home and you had a hard practice. I'm an old-school coach and I can be mean. People think I'm mean, but I produce world champions."
While coaches and their fighters being intimately involved with one another is commonplace in MMA, it's not the case with every gym or coach. A fine line is still often drawn – especially for those who have been around longer than others. 
Men began competing early and in higher abundance than women, after all.
Jetsaam Gym founder Martin Karaivanov is most known for honing the skills of top UFC light heavyweight contender Jiri Prochazka. Czech's Karaivanov has had plenty of experience in the fight game and has noticed the increase in companionships forming over the years – despite not being involved himself.
"I have been training fighters for 16 years," Karaivanov said. "The fighter's coach needs to know their strengths and weaknesses, including psyche. He can then advise better in the fight. We are not a huge team, I don't know how it goes elsewhere, but in our team, it all works well.
"I think that relationship between coach and fighter in most cases works well. But I can only judge from cases around me. But it's true that there are more and more partnerships. There is a thin line, thinner than in a classical relationship, between love and hate. Just like in an ordinary relationship."
A rarer element within the overall dynamic of coach-fighter relationships is when the woman is in the coach role. One reason for that potentially is because of that difference in time that they've had in the sport compared to their counterparts. When it comes to other possible reasons, that could lead to a different type of conversation.
Considered by many as one of the greatest fighters of all time and a critical figure among women in MMA, the aforementioned Fujii was always out to prove that women could be just as good if not better than men in the fight game. That was just one of her goals in the cage or ring.
Fittingly enough, she now finds herself in that coaching role from time to time when Sasaki goes to battle.
Yet, due to her everlasting knowledge, the legend finds that it can actually be problematic in some instances from a coaching perspective.
"There are not too many negative parts about having a relationship with someone you're involved with, but if I were to say, it's that you know too much about the sport," Fujii said. "Sometimes you don't want to be told certain things because you already know them. For me, my relationship, I try not to say too much to my husband about, 'Oh, maybe you should do this, this is why you didn't do this well, you should have done this.' I don't try to give too much advice because he probably already knows and it's going to annoy him coming from me. So I think keeping that balance of giving advice and not giving advice is something that is necessary for a healthy relationship when you're in the same business."
In converse to Fujii, you have cases like the 22-year old rising UFC star Erin Blanchfield.
As humans grow up we're bound to develop relationships of some sort along the way. It's all about new experiences and finding things that work. In MMA, blending all that together can be a blessing – or a trap.
Inexperience and youth go hand-in-hand which typically can lead to more susceptibility in any scenario. 
2021 provided us with plenty of exciting new faces bursting onto the scene set to make waves. What makes their arrivals most intriguing may be the combination of their talent and youth. Atop the list when it comes to potential is Blanchfield who already can call herself a BJJ blackbelt.
The New Jerseyan is hyper-driven to make her dreams a reality – dating a coach just doesn't seem like the path to get there.
"I'm not personally involved. I don't like the idea of dating a coach and stuff like that," Blanchfield said. "I understand why it happens because you're spending so much time together already. But I feel like it's a line maybe you shouldn't cross, I feel it's easier to keep business as business and personal as personal.
"What if you break up with them? Then you have to find somewhere else to train. Even training partners. If you were dating a training partner and you guys break up then it's kind of awkward (laughs). It's rough because you spend so much time in the gyms and stuff like that."
Fighters dating fellow fighters rather than coaches is undeniably an even more common theme. Generally, coaches start as competitive fighters anyway.
There's just a certain type of stability that can be found in confiding in a teammate rather than the person who is directly telling you what to do daily.
For the 34-year old Jessica-Rose Clark, she's found herself in relationships with fighters on a few occasions. The most infamous saw her on the receiving end of an assault by her then-fiance, Julian Wallace.
Despite pleading guilty to "one count of assault occasioning actual bodily harm and one count of intentionally choking with recklessness," Wallace dodged jail time as the judge declared him as "a person of good character."  Before his hearing, Wallace said Clark was to blame for his actions and then went on to wink and blow a kiss to the media as his sentence was readout. The incident that triggered the 6-4 Australian arose after Clark brought him home "the wrong noodles."
Any tough situations like that in 2016 have fortunately been avoided by Clark since. And while new partners came and went, nothing ever blossomed with a coach.
"I feel like it's all circumstantial. It's all situational. It's hard…" Clark said of the dynamic. "I feel like there are a handful of male coaches and male fighters that are in teams who will take advantage of girls coming through. Because there's a certain type of personality and a certain set of issues that are attracted to MMA. So it's very easy to be taken advantage of and it's very easy to take advantage of people and I see a lot of male coaches, in particular, doing exactly that.
"I can't say that it's a no-no because like look at Jim [West] and Aspen [Ladd], they seemingly from the outside – I don't know them personally – from the outside, they seem to have a great relationship. Joanne and John Wood, they have a great relationship, they're about to get married, there are instances where it works so I can't say, 'No, 100 percent you can't do that.' I would just caution against it."
The lead-up to Aspen Ladd's October loss to Norma Dumont was already controversial enough as is. It only got worse in the eyes of the MMA community as the bout unfolded.
An irregular performance from Ladd who had been out of action since 2019 saw her less active and aggressive than usual – her continuous weight issues surely not helping.
Dumont would have her way and pick apart the top bantamweight contender in their 145-pound featherweight clash. It wasn't what happened during the fight, however, that attracted the brunt of the attention.
Between rounds as the fight went on, Ladd's coach and boyfriend, Jim West, grew increasingly aggressive toward his fighter and companion. 
"Personally, when watching live, I didn't like the way he was talking to her," Blanchfield said. "I understand what he was trying to do, he was trying to get more out of her but he was doing it more in – boyfriend or not – I feel like it was more in a demeaning way versus motivating your athlete. You could see it. It looked like she wanted to cry from the way he was talking to her. Personally, if I had a coach talk to me in a fight like that, they would never be cornering me again (laughs).
"It wasn't even useful information. He wasn't telling her details, he was just yelling at her that she wasn't doing enough. Well, tell her what to do don't just tell her to do more. That's what the coach is there for, to give you detailed information. That's what my coaches always do and I love that and how our relationship is in that situation. They just tell me details, they're not there to be a cheerleader, they're there to coach me for real. This is real life, you're not in there to be like, 'Go, Erin! Go!' The crowd can do that. You need to give me details."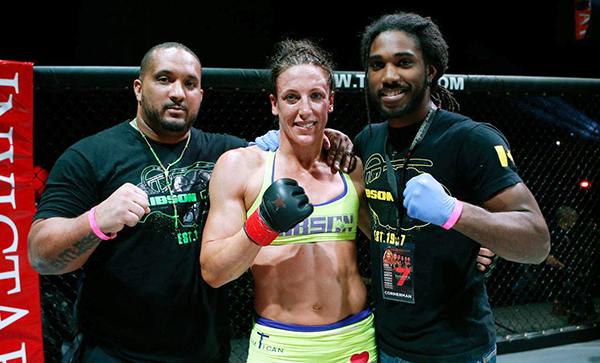 Good quality of coaching is a requirement no matter the status between coach and fighter. When there's a silver lining it can just create a new type of emotional level to factor in – for better or worse.
"It was just bad cornering," Blanchfield expressed. "There's a lot like that but maybe just not as noticed as that one was because of their dynamic and stuff like that. Maybe he was getting too emotional too because it is his girlfriend, maybe he was getting into it too much. That's why you kind of need that distance so they're not too emotionally involved so they keep more of a level head, in my opinion."
Ladd's pace did end up increasing in the fight's later stages. It was just too late by that point.
For Budd and Gibson, they don't believe any lines were crossed and that this can be a necessary approach.
Admitting to his old school approach, Gibson treats everyone the same and knows it's not for everyone. That means cleaning toilets at the gym after practice and the types of labor that may not come along with a person or gym that are brand new to coaching.
Generational shifts are a real thing. Maybe that's just what it boils down to?
"Male or female, there are some times where you might have to slap your fighter in the face in the corner because that's saving them from getting knocked out and turns fights around," Gibson said. "I've done it with many of my male fighters. So it's like if I don't yell or don't do what I did, the fight could have gone a different way. I've seen some coaches be excessive but I don't think that was excessive at all."
"I think they have a good relationship," Budd said. "From what I was watching after and hearing from her, I kind of was just listening to how she reacted to everybody talking about her coach like that and stuff. And how it seems sexist. If it was a male, nobody would have said anything. I do agree with that. I think if it was a male coach talking to a male coach that night, nobody would have had a problem with it. Because some people kind of went in an uproar about how he was talking to her and trying to pull her out of that funk.
"It's not exactly a sport you go in there to pitter-patter. If you're losing rounds and you're getting your butt kicked and this is a potential title contention fight, that would be motivating for me going into the later rounds to go in there and dominate."
To look at the Syndicate power duo of Joanne and John Wood, they have indeed gotten married since speaking with Clark. The Cairns, Australia native spent time training at the gym during her final years in the 125-pound division – a period where she felt more vulnerable than ever trying to find her way.
Now in the 135-pound bantamweight division, Clark has put together her two best career performances in her last two outings. The momentum is rolling heading into 2022 and she's flourishing thanks to her team at the Combat Sports Academy in California.
"Coaches are given a duty of care and position of responsibility and they see us when we're at our weakest," Clark explained. "Coach Kirian [Fitzgibbons] has seen me at my weakest. He's seen me about to throw myself off a cliff, you know? If he wanted to turn around and take advantage of that situation, he well could. But one of the things I love about Kirian so much is that he loves all of us like we're his kids. There have never been any boundaries overstepped, never been any inclination or implication, there's been nothing. I've never felt anything even remotely like that from him and that's why I can open up to him so much because I don't have that fear. 
"So that's just the thing. There aren't many that are like him though. MMA is such a f*cking boys club. Such a boys club. And there are a lot of pretty girls that come into MMA now and it's very easy to just be sexualized in this industry."
Before there was Namajunas and Barry, the Woods, Ladd and West, there was Miesha Tate and Bryan Caraway. Two bantamweights who found varying degrees of success – at least for the latter.
Caraway was a fighter first but acted as a strong coaching figure involved with his longtime girlfriend in Tate. The Washington natives were together throughout Tate's entire career and saw her win Strikeforce and UFC gold before Tate's initial retirement and their subsequent break-up in 2016.
Tate has made it abundantly clear since then that her mental state was not where it needed to be to continue competing at the highest level.
"It is, from my experience, generally problematic when a female fighter, especially younger, starts dating a coach," Tate told MMA Fighting in November 2021. "The more the age difference, the more they become, sort of, hooks in, claws deep, and they start to feel like they can rule your life. And that can happen even outside of fighting, but when you add that kind of dynamic to it as well, it can just be such an ugly situation. So I think it's something we should definitely have conversations about, make people a little more aware that it doesn't have to be that way.
"But a lot of times, I feel like women gravitate toward a male figure that's in their life consistently and trying to help them. But once it becomes a relationship, things become so entangled and so intertwined, and it's very difficult not only to separate your personal life from when you go into the gym but the gym from when you go home. That was my biggest problem was that the coach always came home. I lost the significant other, if you will, and it just became this mental game – it was 24/7."
Tate is currently engaged to another fighter in the former contestant on The Ultimate Fighter seasons 22 and 25, Johnny Nunez. She has been one of the louder voices regarding the Ladd-West debacle which has garnered her own bits of criticism.
One of the important differences between her Caraway and Nunez relationships has been "the equal treatment."
The former champion speaks from a place of experience when looking at Ladd – despite the two being potential opponents at some point. Tate's seen the darker side of these relationships and fears for her 26-year old fellow fighter.
Recalling feeling unable to talk about it while it was going on, Tate credits hindsight as the most powerful of eye-openers.
"People think that I'm crazy because they look at it and say, 'Well the coach needed to be the coach, and he needed to be hard on her, and he needed to tell her the truth,'" she said. "Yeah, you're right, but there's a difference between motivating and there's a difference between giving her the body language, just the little two-finger shove on her shoulder to kind of get her to focus on him – you don't understand when you break that down, exactly what that means and what's going on in their relationship.
"People just see this one little glimpse, and I'm looking at this from someone who's been on the outside in the big picture, and I think she failed to show up more so probably due to outside factors than what you saw in the fight. It's hard for people to understand that unless you've been there."
When something might not be great… it could always be worse.
Fighters, unfortunately, are no strangers to breaking the law or heinous acts. Shocker, I know. But in the grand scheme, the impactfulness differs from scenario to scenario.
Circling back to the susceptibility of youth, MMA's popularity over the years has only increased leading to individuals getting into the sport at significantly earlier ages than they used to.
Brazilian atomweight Viviane Pereira, 28, is a former UFC strawweight who hasn't been able to fight in two years. Though that hasn't been by choice as Pereira became a mother after relations with her longtime coach.
That was all her partner needed to say goodbye.
"I didn't expect this pregnancy," Pereira told MMA Fighting in August 2021. "When I told [Dragon Kombat coach Marcos Batista] I was pregnant, he said right off the bat he didn't want it and blocked us from everything, kicked me out of the team. He's still avoiding judicial intimations, not showing up in court. It's quite complicated. He never helped me or the baby.
"I thought [motherhood] would go differently because I was with the father of the baby since I was 15. I began training with him when I was around 12, and we started dating when I was 15, and everything was fine, but then all of a sudden he changed completely. We spent almost 12 years together."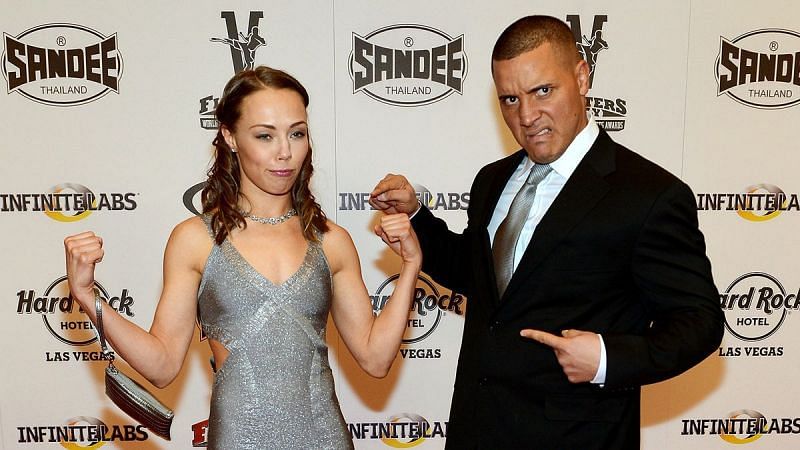 The end result hasn't at all been grisly when it comes to Namajunas and Barry as the UFC titlist currently crafts her legacy. But many have pointed out the questionable nature of how the two wound up together in the first place.
Namajunas, 29, and Barry, 42, met at Roufusport where Namajunas began training in high school and wrestled senior year.
The initial encounter began via a cheap shot to the head of Barry from his future companion when he came into spar at the gym. Namajunas didn't recall it happening that way, but Barry, on the other hand, declared that as his love at first sight moment noting the eventual titlist's "beauty, poise, and attitude" as magnets of attraction.
"I say we've been dating for more than five years, but she says two or three years," Barry told Bleacher Report in 2014.
"We were apparently together a lot longer than I was aware of," Namajunas says with a laugh. "It took him a while to chip away at my cold heart, but he did."
Going by Barry's count, that would mean he fell in love with Namajunas when she was 17 or younger.
A lot of trust goes into joining what many consider their second family. Thus making stories like the one surrounding Fight Sports all the more troubling to consider.
2021 closed out with a low point when it was revealed that a lawsuit was filed in Miami by a sexual abuse survivor. The allegations were that the victim was sexually abused at age 11 by Fight Sports jiu-jitsu instructor, Marcel Gonçalves in Naples, Florida.
Gonçalves trained the victim in the adult classes where the two developed "a close relationship with him and his family." Therefore leading Gonçalves to take advantage of his "near-unlimited access" to the victim where he then sexually abused her for months after turning 16.
In charge of Fight Sports, Roberto "Cyborg" Abreu was also alleged to "have been aware of at least one prior instance of sexual assault committed by an athlete affiliated with Fight Sports. In 2016, a woman was assaulted while attending a Fight Sports camp in Brazil, and in response, Abreu pressured her to drop the charges."
Abreu has since claimed not to have committed the alleged acts and that he reached out privately and directly to each victim to apologize in-depth for his shortcomings as Fight Sports head.
"To the victims and their families, I am sorry for my poor handling, ill-preparedness, and lack of proper leadership to address the horrible experience they had to go through," Abreu said via a statement on Instagram. "As a leader is expected and asked to answer for actions he did not commit."
Abreu went on to repeat that last line before declaring that he'd enact policies where men are responsible for their actions and not be involved in things like the allegations stated. Including zero tolerance for sexual abuse or misconduct-related incidents in the gym. Meaning any accusation at all – in or out – leads to temporary suspension and internal investigation. If the policy is broken, the party in question won't be allowed back to Fight Sports until the investigation is over and all belts, ranks, and affiliation are removed. 
He continued on noting that a "Sexual Misconduct Review Board" would be made to review each investigation. The board consists of attorneys, psychologists, and law enforcement. Gonçalves fell under this policy break immediately and was been removed and stripped of affiliations along with two others.
Lastly, Abreu created the "Fight Sports Sexual Misconduct Hotline" where all claims can be directed via phone or website.
Combat as a sport is unlike any other in the world. There are many reasons for that, obviously. But a large one is because of its equality. 
In team sports like basketball or American football, men and women are separate. If they aren't, there are next to no female coaches involved and zero female players on teams comprised of men. If they wanted to be, it would be a lot more difficult to earn a position on an NFL or NBA team's staff than it would be in MMA or any combat variation.
You're going to get your hands dirty in the fight game. Whether that's in the cage or outside of it, singularity be damned, someone will be there alongside you for the ride.
Drake is an MMA writer based out of Brush Prairie, Washington, USA who specializes in feature pieces, the women's fight scene, lists, news coverage, and rankings. He has been a passionate fan of MMA ever since 2009. Drake has most notably written for BJPenn.com, FanSided, The Body Lock, South China Morning Post, MyMMANews, WhatCulture, Cageside Press, Sherdog, The Scrap, and MMA Today. He has also written for and created video content for RT Sport. As for other sports, Drake is a longtime fan of the NFL's Green Bay Packers and Jacksonville Jaguars.
You can follow him on Twitter and Instagram: @DrakeRiggs_ . Also check out all of his video content on YouTube at YouTube.com/DrakeRiggs where he uploads fighter interviews, podshows, and various other types of content.