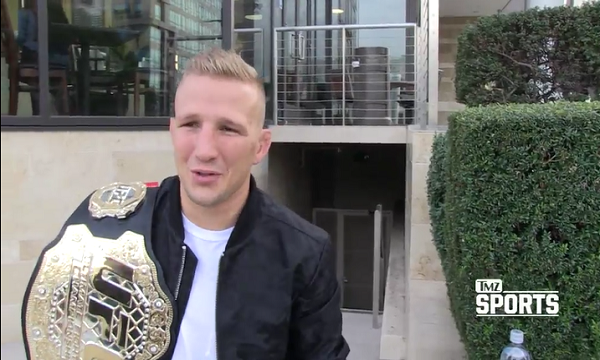 TJ Dillashaw to Demetrious Johnson – "Don't be scared"
Coming off a knockout victory over Cody Garbrandt at UFC 217, new UFC bantamweight champion TJ Dillashaw called out flyweight champion Demetrious Johnson.
TMZ recently caught up with Dillashaw who said that the fight that makes most sense is against "Mighty Mouse."
Dillashaw was confident that he would not only win the fight, but also finish Johnson as well.
"Don't be scared man," Dillashaw said.
A potential matchup between Dillashaw and Johnson would be labeled as a 'superfight' as the two champions are arguably the best to have ever competed in their respective weigh classes.
Watch TJ Dillashaw tell Mighty Mouse not to be scared below: