Former two-time UFC light-heavyweight title challenger, and former No. 1 contender Dominick Reyes hasn't had the easiest of goings recently. In fact, he's gone 0-2 since his title shot against Jon Jones, being finished in both outings.
This comes pretty surprising to most, considering more of us scored his fight with Jones for him than Jones. Not to mention, Jones has never really lost a fight, it was an incredibly impressive showing on Reyes' behalf.
Once the result was announced, not too many of us were happy with the conclusion, and there were talks of an immediate rematch taking place. However, Jones vacated his title in order to gain some weight and move up to heavyweight, and Reyes was most peoples pick to rule the division in Jones' absence.
Reyes' next bout was scheduled against current champion, former three-time KSW light-heavyweight champion Jan Blachowicz, where you guessed it, he was the favorite going in. Blachowicz, a 37 year old supposed journeyman wasn't as highly regarded for some time, due to the fact we've seen him lose a number of times.
Perhaps Reyes thought the same thing, along with his confidence of coming off that great performance in his previous fight against the greatest to ever do it in many people's eyes.
Blachowicz got the body kick going early on, setting up his devastating power punches toward the end of round two, where Reyes was finished via TKO at 2:36 of the round.
Next came his most recent fight, where he took part in an absolute slugfest against former two-time Rizin light-heavyweight champion Jiri Prochazka in the UFC Vegas 25 main event.
Reyes was pressured and beat up throughout the bout, but he hung in there and landed some of his own heavy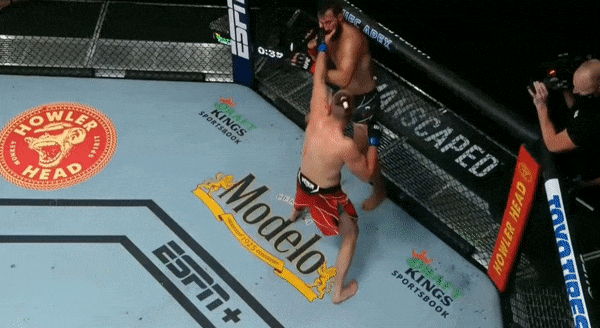 punches up until he was partially hit with a nice elbow from Prochazka, followed by a nasty spinning back elbow, KOing Reyes on the spot at 4:29 of round two.
It was hard to watch happen to someone who we regarded so highly just one year ago. At this time last year he was the uncrowned champion, and now the ones that believed that have been proven wrong.
This begs two questions, just how good is Jiri Prochazka, and what's next for Dominick Reyes? THIAGO SANTOS Well, he's not done, to say the least. Many people are quick to dismiss high level talents that're coming off defeats, especially if they're coming off a number of defeats.
It does suck for him, opening his career up with a perfect 12-0 record, just to lose his last three-straight.
If anyone remembers though, the same thing happened to Michael Chandler about eight years ago. He opened his career up with that same 12-0 record, becoming a three-time Bellator lightweight champion, before losing his next three-straight.
Chandler too lost a controversial decision, a couple of them. Well, we'll say they were incredibly close fights, he could've made it to 14-0, rather than fall to 12-2. Those defeats came via five-round split decisions to Eddie Alvarez in their rematch, and Will Brooks in their first fight.
Brooks then had an immediate rematch with Chandler, where he TKO'd him in round four to claim the vacant Bellator lightweight championship, as their first was for the interim title considering Alvarez made his way over to the UFC at this time.
A lot of people were left thinking Chandler was done then as well. However, he went on to have two more championship reigns where he won three more world titles, he wasn't done at all.
Chandler has lost since, but he evolved because of those defeats and came back so much better, and now he's fighting
for the UFC lightweight championship next week at UFC 262. From having it all to losing it all, badly, like these two, it takes a special kind of person to rebound from.
That's what Dominick Reyes is though, he's a special talent. He will come back from this, he lost to the top three light-heavyweights in the world, and if anyone remembers correctly, his two wins prior to challenging for the belt were against Volkan Oezdemir (SD) and Chris Weidman (KO).
Most believed Oezdemir won their fight, this was Weidman's only fight at 205 lbs, and he'd already been known to have a suspect chin. Nonetheless, that doesn't take away from his performance in the Jon Jones fight.
The reality is, Jones isn't the same fighter now that he can't abuse steroids, and Reyes looked good against a non-prime version of him. If a peak Jon Jones fought Reyes, it would've been a different fight.
Then his next two defeats, to the champion and new No. 1 contender, who's also a former champion.
There's no shame in these defeats. As far as what's next for him, it's probably a good idea Reyes take some time off, at least ten months. He needs to fix the holes in his game and heal his brain, because this last knockout was vicious.
However, him facing Thiago Santos when he does return would be a pretty epic contest. They're the last two talents to give Jon Jones a run for his money, and many of us believed it should've been Santos fighting Reyes for the vacant title last year.
This is the perfect next fight for each man, no?
What's next for Dominick Reyes following three-straight setbacks?
I became a fan of combat sports when I was 12 years old. I was scrolling through the channels and landed upon versus, where WEC was televised. Urijah Faber fought Jens Pulver for the second time that night. That's the first fight I saw, and the fight that got me hooked on the sport. Since then, the sport has grown so rapidly, and my goal is to enlighten everyone on what's going on in the sport today.