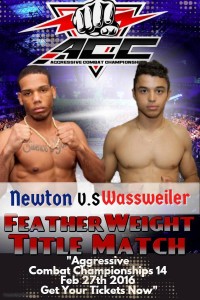 On February 27th, New York State's premier amateur fight promotion, Aggressive Combat Championships, will be hosting their 14th installment. The fight card will include three title fights. The event takes place at The Queens Theatre at Flushing Meadow Park, New York.
ACC is a fully sanctioned and regulated by the United States Muay Thai Association, New York's largest sanctioning body. Eugene Perez continues to build outstanding fight cards time after time.
In the championship bouts, Cena  Acevedo is set to battle Anthony Pipola in a welterweight match up. Ethan Olavarria is scheduled to exchange fists with Geo Alvarez in their flyweight championship bout. Cristian Wassweiler is going to step inside the cage with featherweight Anthony Newton for the ACC championship belt.
The rest of the fight card has yet to be revealed. Tune in Monday night at 7 p. m. though to My MMA News reporter Kyle Carroll's podcast 'Carroll's Corner', as he is joined by match maker Eugene Perez.
ACC always puts on a great show from top to bottom of the fight card. The fighters are usually evenly matched up, which delivers for the greatest displays of mixed martial arts.
Doors get kicked open at 6 p.m. EST. and fighters enter the cage at 7 p.m. promptly. Be sure to get tickets for the event on Feb. 27th, at The Queens Theatre at Flushing Meadow Park, New York.
For Tickets visit the link HERE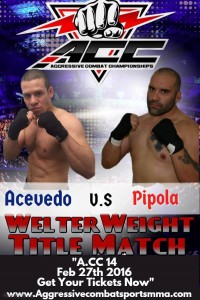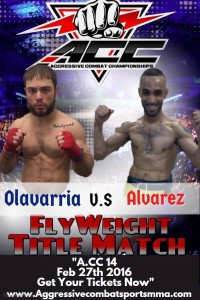 Kyle Carroll is a Long Island, N.Y. native and avid MMA and amateur wrestling fan. He has been a part of the wrestling community for nearly 20 years. Carroll has six years of experience coaching high school wrestling. His father coached high school wrestling over 35 years, passing on his strong knowledge. Carroll has been reporting MMA news since January 2011. The former wrestler's coverage includes the 2012 U.S. Olympic Wrestling Team Trials, 2013 & 2016 NCAA D1 Wrestling Championship, and numerous MMA events (Bellator MMA, King of the Cage, North American Fighting Championship, and Glory).