Cage Conflict 8 took place Saturday, October 15, from The Devenish Complex in Belfast, Northern Ireland.
Troy Gibson was making his professional mixed martial arts debut on the card opposite Vadim Kolesnikov.
Gibson went 9-2 as an amateur MMA fighter and was taking a risk against Kolesnikov who already had two pro losses under his belt.
What Gibson didn't know was that his first pro fight would be a memorable one for reasons beyond his control.
Kolesnkikov was on the bottom while Gibson was fighting for control on top. That is when the fighter from Latvia began throwing knees up from the bottom while both competitors were on the ground.
Somehow veteran referee Peter Lavery did not stop the assault and allowed more than a dozen knees to be thrown and connect, some to the head.
The two fighters then stood and Kolesnikov clocks Gibson who crumbles to the canvas, but then continues to follow up, even connecting with a punch to the back of the head.
Once Lavery tries to intervene and stop the fight, Kolesnikov attempts to continue on.
WATCH BELOW:
Troy Gibson was on the receiving end of at least 13 blatantly illegal knees to the head last night at #CageConflict8.

Shocking behaviour from his opponent, and an obviously late reaction from the ref.

A horrific way for Gibson to start his pro career. He deserved better. pic.twitter.com/ahP7jzTpvA

— Andy Stevenson (@andyste123) October 16, 2022
Ultimately the fight ended in a disqualification in favor of Gibson.
Cage Conflict 8 fight card:
Gerard Burns vs. Noureddin Hezrat – 125 lbs
Troy Gibson vs. Vadim Kolesnikov – 170 lbs
A. O'Sullivan vs. Matteo Pichierri – 135 lbs
Ryan Curtis vs. Ryan Taylor – 125 lbs
Jess Paulo vs. Blain McGill – 170 lbs
Julian Rennau vs. Youcef Oukacine – 145 lbs
Ciaran Heaney vs. Xavier Rooney – 125 lbs
Cormac Burns vs. Sam Simon – 145 lbs
Eoin McDonald vs. Patrick Doran – 135 lbs
Mel Larkin vs. Senan Coakley – 170 lbs
Jimmy Nolan vs. Moraru Gheorghe – 135 lbs
Emmet Corr vs. Paddy Moran – 145 lbs
Michael Shields vs. Dean Millar – 145 lbs
Nicole Cameron vs. Naomi Connelly – 115 lbs
Thomas Costigan vs. James Wallace – 135 lbs
Ben Johnston vs. Lee Walsh – 185 lbs
Martin Morgan vs. Cale Brennan – 145 lbs
Ciaran Maskey vs. Brendan Brannigan – 145 lbs
Stephen McConnell vs. Dean O'Driscoll – 185 lbs
Sean Og Campbell vs. Jordan Birdie – 205 lbs
Munroe Kerr vs. Kevin Kehoe – 155 lbs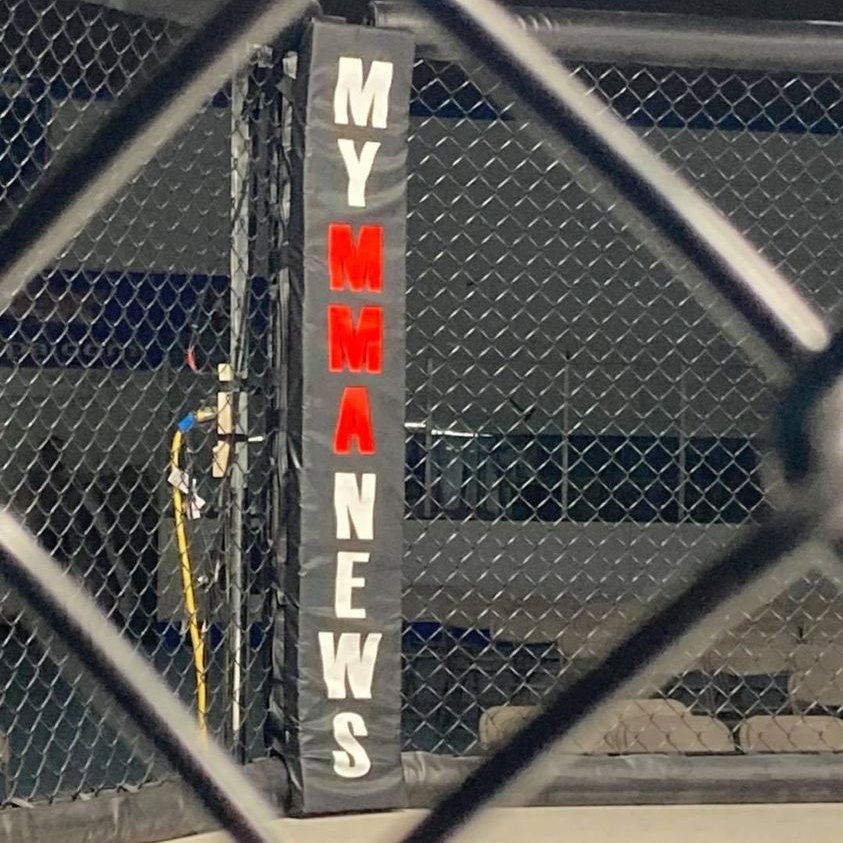 MyMMANews.com – We cover everything from MMA, BJJ, Bare Knuckle, Wrestling, Boxing, Kickboxing, and Judo
News, Opinions, Videos, Radio Shows, Photos and more.