After near death, "Bethlehem Brawler" Mike Liberto returns to cage at X Fights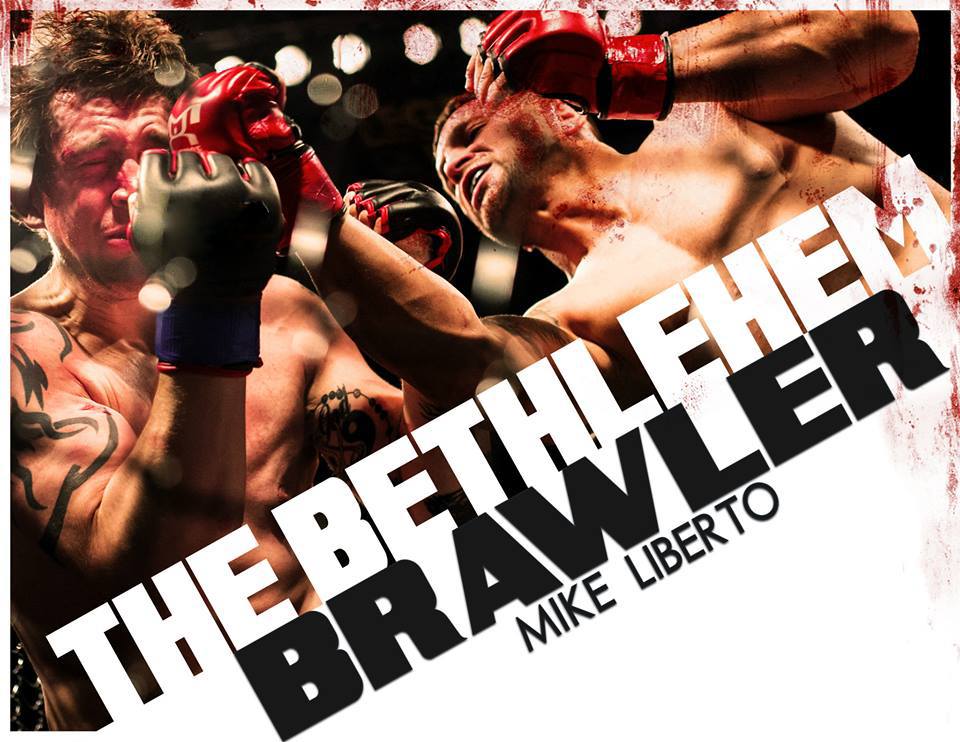 After an almost certain near death experience in 2015, the "Bethlehem Brawler" Mike Liberto has worked his way back into the cage.
Professional mixed martial artist, "The Bethlehem Brawler," Mike Liberto bounced back from a serious ACL knee injury to only be admitted back to the hospital from a staph infection that almost cost him his arm but more importantly, his life.
Liberto (1-0) as a pro was sidelined with the ACL injury in 2014 and has been itching to get back into the cage.  He did manage to work in a boxing bout but is once again sitting on the shelf with the staph infection that could have spelled disaster.  According to doctors, the Bethlehem Brawler was just hours away from a fatal result.
Before turning pro the brash spoke fighter went undefeated (6-0) as an amateur mixed martial artist.  This weekend Liberto seeks to get his second professional win in the startup mixed martial arts organization, X Fights, taking on Brandon Lux.
Interview below provided by Mike Bickings
Bickings – In your last fight on June 7, 2013 you made your pro debut in front of a packed house at The Sands. You looked the best you ever did as you knocked out Tony Binder in the first round. What has kept you out of the cage since then?
Liberto – "Well I had a knee injury that I had to let heal. I had to wait for the doctor to clear me. Plus I had a boxing match at The Sands that I won by KO. I met my new girlfriend and have been taking life one day at a time. When I heard a new promotion was doing a show at The Sands, I knew it was time to return. They reached out and now the Brawler is back!"
Bickings – How will you be feeling fighting in front of your fans at the Sands after 18 months off?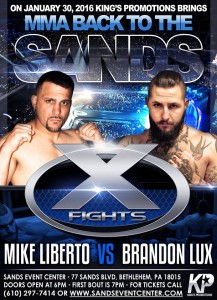 Liberto – "I feel great. I don't get butterflies because I'm a fuckin' warrior. I've always felt that if I was born in roman times I would have been a gladiator. When you're a lion you show up and slaughter the sheep. There's no feelings, no remorse, just business."
Bickings – What camp are you training out of?
Liberto – "I'm training out of Gracie 717 with Zak Kelly, coach Damione Puopolo, Alec Morales, John Brennan, Justin Flaharty and more. Plus my strength and conditioning coach, Richard McMillan has been great too. I feel like 717 is an elite gym and we're growing every day."
Bickings – You're known for your aggression when you fight. Is that something you can turn on instantly?
Liberto – "I'm aggressive by nature. Some guys can go hard in the weight room and sparring, then they freeze up when they're in a cage. But when the lights are on and the fans are screaming, it's time to go. I flip a switch and turn killer. I always tell myself, "If you're supposed to be in the UFC, how are you gonna let this fuckin' guy beat you?" If I ever get nervous, I just soak it all in and go out there and deliver. I was born for this. It's kill or be killed and I'm not gonna die today."
Bickings – What are your thoughts on your opponent and your prediction for the fight?
Liberto – "He's another person in my way and he's trying to take what I got. He hit me up on Facebook and tried some stupid fuckin' mind games. But I don't talk shit, I let my hands do the talking. I'll do what I want in that cage, not what he wants."
Bickings – How has X Fights been treating you as a new promotion?
Liberto – "X FIGHTS has been great so far. They do a lot of extra things for fighters that other promotions don't do. We get a lot of personal attention. I was hoping a show like this would come back to Bethlehem remind fans what real MMA is."
Bickings – What have you been up to outside of MMA?
Liberto – "I am an iron worker. I have some guys from working coming out to the fight. I have a great crew and my boss is a black belt in Tae Kwon Do. We stick together, we're brothers. I also love spending time with my girlfriend Brandi."
Bickings – You were one of the names coming up in regards to fighting CM Punk. How would that fight have gone if you got it?
Liberto – "I would've whipped his ass."
Brawler's Shoutout

Liberto – "I want to thank: Smutlife, dependable solutions, revive electric, sotto Santi pizzeria. Adigo, iron enemy, Gracie 717, McMillan Training Systems"
About X Fights
X FIGHTS, a new mixed martial arts organization, kicks off its inaugural event, January 30, at The Sands Event Center in Bethlehem, PA. Local fans have been buzzing about the new organization. Their debut card is beefed up with six pro fights and a stacked amateur card.
X FIGHTS, promoted by King's Promotions, claims to be dedicated to bringing MMA fans a unique experience while spotlighting their roster of fighters. Their match maker, Mike Bickings says they are devoted to putting the show back into the show. "I am very excited to get this runaway train started," Mike said. "Saturday is the kick-off and we are going hard. Our trademark will be taking care of our fighters. Each one will get their own poster, plus we've been doing fighter interviews, highlight reels, green screen segments and more. When you fight for us, you get the UFC superstar treatment. We will also have some surprises for our fans each event. I can't wait"
This Saturday night's card is a major start to a new era in regional MMA. In the main event of the pro card, Scott "The Animal" Heckman puts his elite 20-7 record on the line against Bellator and Legacy veteran, Cody "The Crow" Walker. Almost 19 months ago, Mike "The Bethlehem Brawler" Liberto won his pro debut in front of a deafening crowd of supporters via a first round knockout. He returns to the Sands Saturday to face a very game Brandon Lux. Two Jiu Jitsu phenomenons will collide as Zach Maslany and Ohio prodigy, John Dirham meet. The always intense, Anthony "The Wolverine" McGlynn is back to welcome Greg Quarantello in a 155 pound super fight. The big boys come out to play as Alec Hooben steps up to heavyweight to face knockout artist, Jordan Mitchell. Then World Series Of Fighting veteran, Rich Patishnock will go to war with an extremely dangerous Andrew Osborne. All of this action on one show!
Before the pro action starts, Bethlehem fans will finally get to see hometown superstar, Adam "The Arch Angel" Atiyeh against the always tough and game, Keifer "Handyman" Flemming in an amateur heavyweight battle, and more!
Doors open at 6pm, the first bout begins at 7pm. For more information go to the official X FIGHTS fan page at Facebook/X-Fights. To be considered for a future event, message Mike Bickings on Facebook.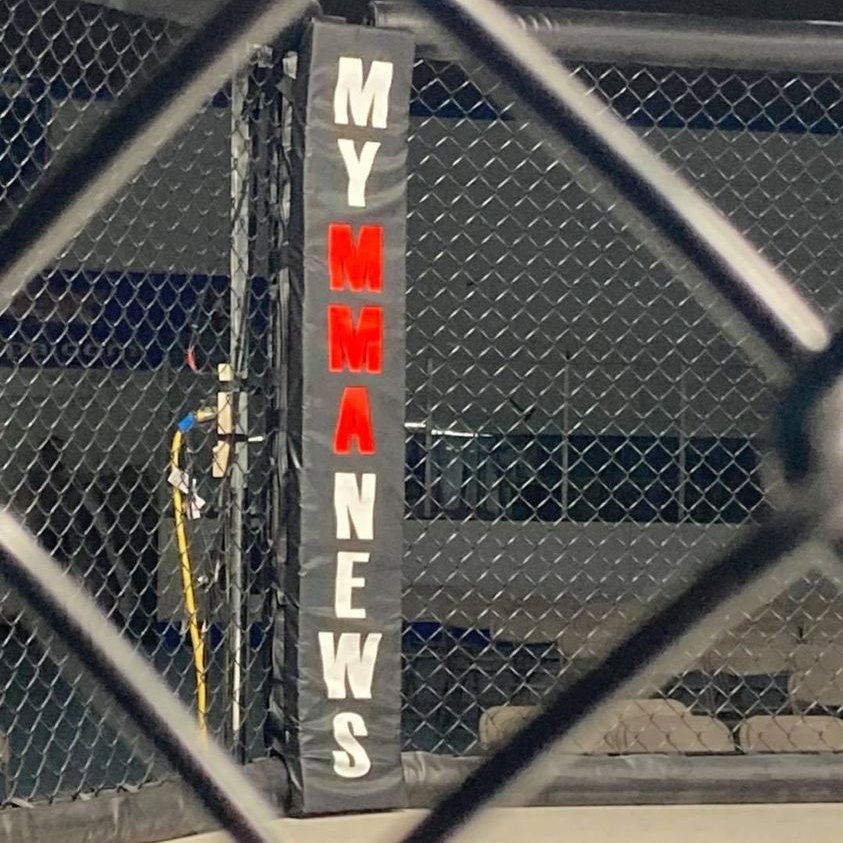 MyMMANews.com – We cover everything from MMA, BJJ, Bare Knuckle, Wrestling, Boxing, Kickboxing, and Judo
News, Opinions, Videos, Radio Shows, Photos and more.