BKFC 49 results and live stream – Slaveski vs. Lindsey
Bare Knuckle Fighting Championship officials will hold BKFC 49 on Friday night, live from Arnold Hall at the Miami Dade Fairgrounds in Miami, Florida.
The August 25 fight card is the second of two events the promotion has held in just as many days. Last night BKFC President David Feldman and team launched the BKFC Prospect Series at the same venue.
FITE TV will broadcast BKFC 49 live with free prelim fights kicking off at 8pm ET, followed by pay-per-view at 9pm ET. You can watch both below.
Gorjan 'GoGo' Slaveski became the third BKFC Welterweight World Champion on Friday night defeating the previously unbeaten 'Gypsy' Jake Lindsey to win the vacant title in the main event.
Slaveski captured the belt with a unanimous decision victory over Lindsey after five grueling rounds. The judges scored the hard-fought bout 49-46, 48-47, 49-46 for Slaveski. With the win, the Macedonia-born Miami based fighter elevated his status from #1 contender to the champion and improved his BKFC record to 6-0 (4 KOs). The Manhattan, KS product Lindsey, who entered the fight night as the #2 contender, saw his record drop to 4-1 (4 KOs) as the battle-tested UFC vet left the squared circle in a state of disbelief.
With the victory, Slaveski became the first Macedonian to win a BKFC World Championship. "I'm on top of the world, baby!" the elated Slaveski said post-fight. "Macedonia, stand up! We are a small country and it's so rare that you see a Macedonian on top of the world, but I made history tonight."
In the BKFC-49 co-main event, Bryce 'Baby Yaga' Henry proved once again he's one of the top lightweight prospects on the planet, emphatically improving to 3-0 with a dominant win over longtime fan-favorite Tom 'A Gentleman of Violence' Shoaff, the #4 contender in the 155-pound division. The sensational Broward County, FL product needed just 89 seconds to stop Shoaff via TKO (corner stoppage), earning his third finish in the process. Shoaff, of Lawton, OK, saw his record drop to 4-5 (4 KOs). After the win, Henry called out undefeated BKFC World Lightweight Champion Luis Palomino, "I want Palomino next! Bring that damn money … I've been ready. Put me in there with a tough opponent and I went out there and straight out-classed him. Let's do it."
In the BKFC-49 feature fight, Miami's Bryan 'El Gallo' Duran cruised to 5-0 with a 48-second KO over Dakota Highpine in their highly anticipated featherweight showdown. With the victory, the Cuban-born Duran's fifth finish in as many fights, he staked his claim as one of the top 145-pound prospects on the BKFC roster. Highpine fell to 1-2 with the loss.
Justin Ibarrola of Delray Beach, FL improved to 2-0 in his BKFC career with a unanimous decision over Quintan Foye of Greenville, NC. The judges scored the back-and-forth bantamweight bout 48-47, 49-46, 48-47. With the competitive loss, Foye's record fell to 1-1.
Matanza, Cuba's Alberto 'El Indio' Blas floored Joao Pedro Guerra of Gainesville, FL twice in under a minute to up his spotless BKFC record to 3-0. After tonight's TKO win which was called in just 51 seconds, all of the fast-rising bantamweight's BKFC victories have come by stoppage in under a minute. The Brazilian-born Guerra is now 0-1.
Broward County, FL's Howard 'HD' Davis, the #2 contender in the stacked BKFC featherweight division, scored his third straight stoppage in the squared circle, knocking out 'Hungry' Jeff Chiffens of Wilmington, DE 72 seconds into the first round of their fight. Davis' record is now 5-1-1 (4 KOs), and he repeated his callouts of the undefeated BKFC World Featherweight Champion Kai Stewart (4-0) after his big win in Miami. Chiffens, dropped to 4-6 (4 KOs).
Miami welterweight Joshua 'The Heartbreak Kid' Famez scored his second straight win with an 89-second KO over the debuting Aaron 'The Joker' Sutterfield of Yellville, AK. Famez is now 3-3 with a pair of KOs under the BKFC banner.
In the sole female fight of the night, Laddy Mejia dug deep in her BKFC debut for a split decision nod over Boston's Sarah 'Mocha Madness' Click. The Peruvian-born Miami strawweight edged Click 49-46, 48-47, 47-48 according to the judges. Click's BKFC record is now 0-2.
Kicking off the BKFC-49 main card in destructive fashion, Matt 'Rambo' Russo required just 76 seconds to score a KO victory over the debuting Jaymes Hyder of Spokane, WS. The fast-rising Broward County, FL bantamweight prospect is now 2-0, with both of his wins coming by first-round stoppage.
Miami's Freddy 'Spider-Man' Masabo got even with Bovar 'The Gladiator' Khanakov of Mariupol, Ukraine by defeating him via unanimous decision in their highly anticipated rematch at 145 pounds. Masabo and Khanakov first met at BKFC-38 in April, when Khanakov earned the unanimous decision over the Cuban-born Masabo. The judges scored tonight's action 48-47×3 in favor of Masabo. Masabo is now 3-1 (2 KOs) after his return to the win column, while Khanakov's BKFC record dropped to 1-1.
JoMi 'The BKFC Hitman' Escoboza of Tamarac, FL kicked off the BKFC-49 prelims with a back-and-forth, majority decision victory over Grand Rapids, MI's Esteban 'The Mohawk' Rodriguez. The judges scored the cruiserweight matchup 47-47, 48-46×2. With the win, Escoboza improved his BKFC record to 2-1 (1 KO), and Rodriguez fell to 2-1 (2 KO). Escoboza's overall bare knuckle fighting is now 8-1 (4 KOs).
Watch FREE prelims:
Order and Watch PPV below:
BKFC 49 results below:
Main Card
Gorjan Slaveski defeated Jake Lindsey via Unanimous Decision (49-46, 48-47, 49-46) for the vacant BKFC World Welterweight Title
Bryce Henry defeated Tom Shoaff via TKO in Round 1 (1:29)
Bryan Duran defeated Dakota Highpine via KO in Round 1 (:48)
Justin Ibarrola defeated Quintan Foye via Unanimous Decision (48-47, 49-46, 48-47
Alberto Blas defeated Joao Pedro Guerra via TKO in Round 1 (:51)
Howard Davis defeated Jeff Chiffens via KO in Round 1 (1:12)
Joshua Famez defeated Aaron Sutterfield via KO in Round 1 (1:29)
Laddy Mejra defeated Sarah Click via Split Decision (49-46, 48-47, 47-48)
Matt Russo defeated Jaymes Hyder via KO in Round 1 (1:16)
Prelims
Freddy Masabo defeated Bovar Khanakov via unanimous decision (48-47, 48-47, 48-47)
Jomi Escoboza defeated Esteban Rodriguez via majority decision (47-47, 48-46, 48-46)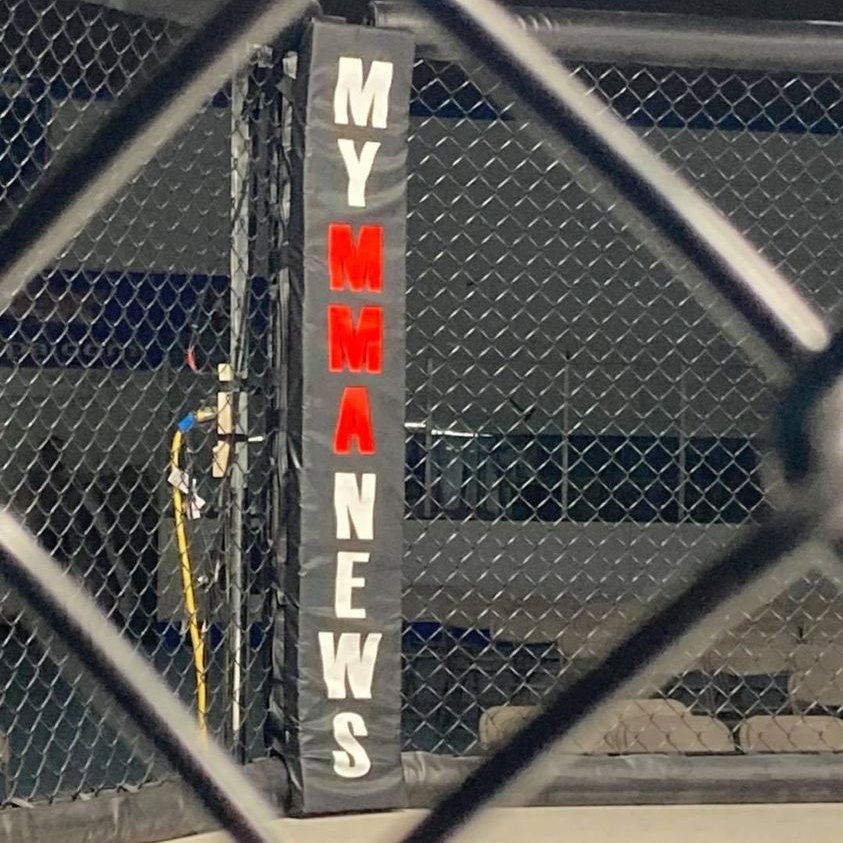 MyMMANews.com – We cover everything from MMA, BJJ, Bare Knuckle, Wrestling, Boxing, Kickboxing, and Judo
News, Opinions, Videos, Radio Shows, Photos and more.