Carroll's Corner MMA Podcast: Roufusport Bantamweight Ode Osbourne & the Newest UFC Fighter Randy Brown Joins us Live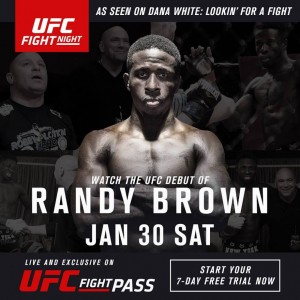 This week on Carroll's Corner MMA Podcast, we are joined live by two special guests, Roufusport's bantamweight Ode Osbourne and UFC newcomer, Randy Brown. On January 30th, Osbourne and Brown both will be competing. Brown will take his first step inside the octagon next Saturday night looking to improve his 6-0 record in his UFC debut. Osbourne plans to also remain undefeated and improve to 3-0 when he fights at NAFC on the 30th of January.
"Rude Boy" Brown is set to battle the Canadian Matt Dwyer on the prelim card, which is airing live on UFC Fight Pass. Dwyer is 8-3 overall and 1-2 since signing with the UFC. Brown is the newest UFC addition, thanks to the new Youtube show UFC president Dana White and former welterweight champion Matt Serra created, 'Looking for a Fight'. After Dana White stopped by the Ring of Combat promotion in Atlantic City, New Jersey, he was so impressed with Brwon, White made it a point to speak with the Spanish Town, Jamaica native.
Brown fights at welterweight (170-pounds) and has finished all six of his opponents on the professional level. Four of his victories came by way of TKO and two of them by the way of submission. Budokan Martial Arts Academy fighter is an extremely athletic warrior that stands at six feet two inches tall.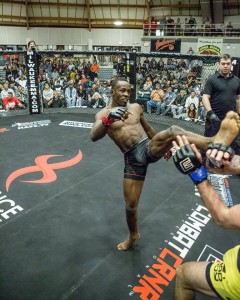 Ode "The Oddity" Osbourne fights out of the Roufusport Academy in Milwaukee, Wisconsin. Osbourne is 2-0 as a professional. His two wins are finishes via TKO and submission. The Dwyer high school graduate is a bantamweight fighter that is set to fight on the North American Fighting Championships (NAFC) Super Brawl's main card. Osbourne is scheduled to battle David Rhoads on January 30th, at the Waukesha Expo Center in Waukesha, Wisconsin.
Osbourne is also an insanely athletic fighter. He has a strong background in wrestling that is complimented by his speed, power, and elusiveness. The 22 year-old professional resembles a mix of Jon Jones and Anderson Silva. His variety of offense makes it difficult for opponents to prepare for the Roufusport Spartan.
Be sure to tune in live to the show to hear from the newest UFC fighter, Randy "Rude Boy" Brown and the rising star bantamweight, Ode "The Oddity" Osbourne.  Our show takes place Monday evening, January 25th, at 7 p.m. EST. on Blog Talk Radio. Follow the link below to listen in and please join the conversation and ask our guest questions by dialing (213) 943-3517.
Next week on Carroll's Corner, we'll be joined by our good friend and Roufusport fighter, Ode Osbourne. Osbourne is a pro fighter looking to remain undefeated. He enters the cage again on the NAFC fight card, Jan. 30th, in Waukesha, Wisconsin.
Kyle Carroll is a Long Island, N.Y. native and avid MMA and amateur wrestling fan. He has been a part of the wrestling community for nearly 20 years. Carroll has six years of experience coaching high school wrestling. His father coached high school wrestling over 35 years, passing on his strong knowledge. Carroll has been reporting MMA news since January 2011. The former wrestler's coverage includes the 2012 U.S. Olympic Wrestling Team Trials, 2013 & 2016 NCAA D1 Wrestling Championship, and numerous MMA events (Bellator MMA, King of the Cage, North American Fighting Championship, and Glory).