Khamzat Chimaev is an absolute stud that's taken us all by storm over the last few weeks. What this man is capable of inside the octagon is truly special, we haven't quite seen anything like it, certainly not from someone with just two UFC fights under their belt. For starters, he absolutely mauled John Phillips at 185 lbs in his UFC debut, out-striking him 124-2 in total strikes, before securing a D'Arce choke finish at 1:12 of round two. Then he went down to his natural weight class of 170 lbs to face top European prospect Rhys McKee. He immediately got the takedown once the fight started, just as he did against Phillips, out-struck him 68-0 in total strikes, and got the TKO finish at 3:09 of round one.
There have been many people making comparisons between himself and UFC Lightweight Champion Khabib Nurmagomedov. This is a huge compliment, and it makes sense that he's being compared to him, he does fight a lot like him. He also fights quite differently in a couple ways. Firstly, Nurmagomedov will feel his opponent out and throw some strikes, primarily jabs, before shooting for a takedown. He can also chain wrestle very well, something we haven't seen out of Khamzat Chimaev yet, we haven't had to.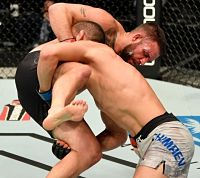 The three takedowns he had in his two UFC fights were all he needed; he got a double leg on Phillips at the beginning of each round, and he got a body lock trip on McKee. He may not have shown us he can chain takedowns together, not yet at least, his opponents need to stuff his initial shot in order for that to happen, but he has shown us his diversity of takedowns.
There are many things to consider when comparing these two, for instance, their first two UFC opponents. Nurmagomedov fought 7-1-2 WEC veteran Kamal Shalorus in his UFC debut. Nurmagomedov controlled the fight, out-striking Shalorus 59-18 in total strikes, scoring three takedowns to zero, eventually sinking in the rear naked choke and securing the finish at 2:08 of round three. He then fought longtime UFC veteran Gleison Tibau, and this is the one fight people keep going back to when talking about Nurmagomedov's undefeated record. A good amount of people think he lost this fight.
The entire fight showcased Nurmagomedov attempting single legs against the fence, unsuccessfully. That's literally what the whole fight looked like, all fifteen minutes, him throwing strikes to get into range, then attempting single legs once Tibau's back was to the fence. He struck out on all thirteen takedown attempts, but was nonetheless awarded the unanimous decision (30-27, 30-27, 30-27) victory. Something people don't know or seem to understand about this fight, it was Nurmagomedov's second fight in the UFC against someone who'd had fifteen UFC fights at the time. It was also only his second fight inside of a cage, his first sixteen were contested in a ring.
Chimaev's first two UFC fights showed a much different story. Yes, he, like Nurmagomedov has gone 2-0 in his first two fights, and they're both undefeated, but Chimaev's performances were so much more dominant and violent. Granted, the two opponents he had weren't at the level of Tibau at least, but they aren't just slouches, they're good fighters. Phillips has lost most of his UFC fights, but he's an incredibly dangerous opponent. He's finished all twenty-two of his wins with twenty knockouts, not to mention he's a weight class above Chimaev.
Then McKee, no one knew who he was, so everyone just assumes he isn't a real talent, but that's not at all the case. If he were fighting anyone else than Chimaev that night, he would've been advertised as the hottest UK prospect outside the UFC with tons of potential. McKee has also finished all of his ten wins, and he'll soon show us what he's made of when he's fighting someone not named Khamzat Chimaev.
Next we go to their first eight wins, the records of their opponents during these fights. In order, Nurmagomedov's first eight opponents records were 0-0, 0-4, 0-0, 0-0, 0-0, 0-0, 2-0, and 2-1, while Chimaev's first eight opponents records in order were 1-1, 2-4, 4-0, 8-3, 8-0, 4-0, 22-9 (1 NC), and 10-2-1. That's a pretty massive difference. That doesn't mean Nurmagomedov's record is padded, he's still gone 12-0 in the UFC against the best, but Chimaev certainly had the tougher opponents earlier on.
Also, four of Nurmagomedov's first eight wins were via unanimous decision, Khamzat Chimaev has yet to see a judges scorecard, as an amateur or professional. Nurmagomedov also came to the UFC with a 16-0 record, while Chimaev was just 6-0 at the time of his debut.
As we all know, Nurmagomedov is one of the most credentialed fighters out there. He began wrestling at eight years old, started Judo at age fifteen, and Sambo at age seventeen. He has a black belt in Judo, where he's also an International Master of Sport, as well as being an International Master of Sport in Sambo, Army Hand-to-Hand Combat, and Pankration. He's also a two-time World Champion in Combat Sambo.
Chimaev started wrestling at the age of five, and stayed with it all the way up until age nineteen, when he moved to Sweden from Chechnya. He continued wrestling in Sweden, becoming a six-time national champion, and not long after he decided to try MMA, considering there's no money in wrestling. One thing that's different between these two, Nurmagomedov has done Sambo for a long time, while Chimaev stuck with freestyle wrestling.
Next is their takedown accuracy, but this one's a little harder to say, given we've only seen two performances out of Chimaev. We found out he's great at getting the fight to the mat, he secured a takedown in his only three attempts thus far. Nurmagomedov may get his initial shot, he may not, but at some point, he always finds a way to get his opponents down. Generally though, it takes him a few tries. For instance, in his UFC debut, he secured only three takedowns out of nine attempts against Shalorus.
The only other thing is their ground-and-pound accuracy. Let's take Nurmagomedov's fights with Edson Barboza and Conor McGregor into account for this one, given they were two of his most dominant performances. He landed 55 of 78 attempted strikes on the ground against Barboza, a 70% clip, while he landed 45 of his 63 attempted strikes on the ground against McGregor, a 71% clip. Khamzat Chimaev landed 42 of 51 attempted ground strikes on Phillips, which is 82% accuracy, while he landed 40 of 61 ground strikes on McKee, which totals to 66%. We'll have to see more of him to really get an accurate comparison on this.
There can't be much said on their striking because we haven't seen Chimaev on his feet for more than a few seconds at a time. We know Alexander Gustafsson and Jimi Manuwa are two of his main training partners, training with talents like that will certainly help his striking, and Chimaev has said that he has very good boxing. As you see, Chimaev is absolutely massive for a welterweight, and he's even a good sized middleweight. Manuwa isn't a small light-heavyweight. He's also teammates with the Teymur brothers, two absolute stud champion kickboxers.
Their body types are much different, with the lightweight champion standing 5'10" with a 70" reach, and the seeming future champion standing 6'2" with a 75" reach. You see, they are very similar, but they're also very different. Once we see a few more of Chimaev's fights, we'll all have a much better idea of how similar he is to the lightweight champion and how he'll do in the future. Chimaev did vacate his Brave CF Championships to come over to the UFC, perhaps he'll be able to replicate that success here in the UFC.
If you enjoyed this article, check out our piece breaking down the similarities between 'Sugar' Sean O'Malley and 'The Notorious' Conor McGregor here.
I became a fan of combat sports when I was 12 years old. I was scrolling through the channels and landed upon Versus, where WEC was televised. Urijah Faber fought Jens Pulver for the second time that night. That's the first fight I ever saw, and I was immediately hooked. So eventually, I began covering the sport in the fourth quarter of 2018, and have since started writing about animals as well. If you'd like to see those pieces, be sure to check out learnaboutnature.com!