UFC 200 Diaz – McGregor rematch possible for new UFC Arena
UFC 200 Diaz – McGregor rematch possible for new UFC Arena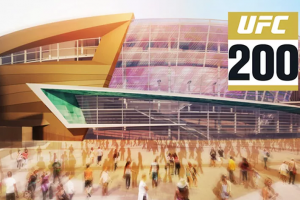 The upcoming UFC 200 showcase promises to be the biggest in the promotions history, and as a result only the leading names in the business will be involved on the card for the July 9th event. Becoming the first UFC to be held at the newly built T-Mobile Arena in Las Vegas, the 20,000 lucky supporters that pack the venue are surely in for a treat with a potential rematch between Conor Mcgregor and Nate Diaz reportedly being scheduled for the main event. With as many as four UFC belts potentially on the line at the event, UFC President Dana White is certainly doing everything in his power to top recent cards.
Although no fights have been officially announced at this stage, the likes of Rafael Dos Santos, Robbie Lawler and Ronda Rousey are all rumoured to have been approached to star in the most epic of nights. Having suffered his first UFC defeat in surprising fashion having being pinned by Diaz at UFC 196, a shot at redemption now seems likely for the iconic Irishman. However, White is certainly taking a risk with this fight, with a second straight loss for McGregor potentially damaging his draw in the future.
One man who will certainly not be happy about the reported agreement between the two is former UFC Featherweight champion Jose Aldo. The Brazilian has been pushing for a rematch with McGregor ever since his first round defeat to the Notorious at UFC 194. Having been knocked out within thirteen seconds last time around, Aldo will certainly not need any added incentive should a surprise rematch at UFC 200 occur. Indeed Coral offer him odds of 7/4 to even things up with McGregor.
Some fight fans may be disappointed at the potential rematch between McGregor and Diaz, as the fight would have no belt on the line. A lightweight Championship challenge against original opponent for UFC 196 Dos Anjos, as well as putting his Featherweight title on the line against Aldo would certainly offer a more interesting match up for the fans. With bookmakers perhaps offering a more even spread of odds after the surprise result last time around, making use of free bets is certainly an option for fight fans.
Meanwhile another rematch looking likely to be placed at UFC 200 sees the return of Ronda Rousey. Having already lost twice to the most famous name in women's UFC, her likely opponent Meisha Tate, has been providing a lot of trash talk in the build up to the fight. Having recently overcome the only woman to inflict defeat on Rousey, Holly Holm, a third match up could well provide the most closely fought encounter to date.