Ethan Goss believes a win over John De Jesus puts him on Contender Series in 2020
After putting together a two-fight win streak, Ethan Goss (5-4_ looks to have wind underneath his sails, leading to the Pennsylvania based mixed martial artist being billed as the 247 Fighting Championships: Brawl in the Burgh co-main event on November 16.
The fight against John De Jesus (10-8), which is scheduled for the promotion's featherweight title, was recently bumped to the main event following an injury to Mark Cherico who was set to headline the card against Joey Munoz.  Fight promoter Ryan Middleton has confirmed to MyMMANews that Munoz will remain on the card but that the Goss-Dejesus fight was escalated to the headliner.
Goss has picked up two second rounds wins after dropping a split decision to Andrew Salas at Bellator 186, a fight that not only frustrated The "Wolverine," but also rejuvenated him and gave him new direction.  He now looks to take down the ever dangerous "Platano" De Jesus who has been a pro since 2012.
"The thing about John is… he's one tough dude," Goss said about his opponent. "Look at the people he's fought.  His losses to Bill Algeo, Pat Sabatini.  The guys that he recently lost to are considered to be some of the best in the country right now that are not signed by the UFC.  He's extremely tough and an extremely great fighter.   A win over him, for me, coming out of that Bellator fight where I lost a split decision, I felt like we turned things around.  I've said it before, that Bellator fight is where I found myself as a fighter again.  I found things that I forgot about. I did things that I quit doing, things that I used to do.  Now I've become a prospect that people are watching.  I came back with two big wins, one of Brandon Seyler and one over Elijah Cavender.  Why not step up and fight somebody like John?  I've made it clear throughout my entire career that I'm not afraid to step in there and fight anybody. I feel I should get a shot on Dana White's Contender Series with this win."
When Goss fought Salas for Bellator, the fight was razor thin, and the loss truly stung because the 27-year old fighter walked away virtually unscathed, as his opponent basically outwrestled him, not inflicting much damage throughout the contest.  But with the loss, Goss learned a thing or two about himself as a competitor.
"I knew that me and Salas were real close going into the third round," Goss said. "He kept putting me to the fence and pursue the takedown, which I was defending.  Then in the third round I was like, 'alright, take him down this time.  Don't just sit there and defend, put him on his back this time.' He shot in on a shot.  I ended up hitting a switch, and a dump, and next thing I know I was on top in every position I wanted to be in on.  I had total control on top.  Then it clicked in my head like, 'ok, you're a really good grappler too.  You're a pretty good wrestler.'  You kind of forget this stuff.  I'm a victim of it. You fall into weird situation where you hunt that knockout, you want to be that exciting fighter that everyone wants to see but once you realize that you just need to be yourself and what matters the most is getting the win.  I don't care how I win.  I don't care if I win in 5-second or 4:59, all I care about is getting that win."
In order to prepare for De Jesus and the fight, Goss has been turning things up in camp.
"We're just pushing more rounds," he said. "The other night I just did eight, five-minute rounds.  If I can continue to push at that pace and go with guys that can push me, I think I will be perfectly fine because it is a five-round fight."
247 FC is a virtually new promotion having only held two events thus far.  Brawl in the Burgh 2 will serve as the organization's third outing, and will mark Goss's second appearance under their banner.
"I can't complain about 247 Fighting Championship," Wolverine said. "They treat the guys well.  They take care of you at the weigh-ins.  They have food and snacks, water, Gatorade, all that stuff.  I will say that they put us up in the nicest hotel I've ever stayed in when going to a fight.  A lot of time you get these promotions that set you up in these shitty hotels where you are afraid to turn your lights off at night.  They put us up in a Hilton.  It was like a little mini condo.  It has a full room with a fridge and a kitchen.  It was pretty unreal.  The adjustments they made from the first to second show were great too.  I didn't fight on the second card but I was there because my teammates fought on it.  They made adjustments.  They made a huge catwalk for the fighters to walk down, kind of like Bellator.  The smoke, and the ramp.  They went above and beyond to make it entertaining for the fans.  And the way they treat the fighters, I can't complain.  I haven't heard anyone else complain either.  Hats off to them, they are doing a good job."
In many past interviews, when asked for a prediction about his upcoming fights, Goss often says, "Somebody's getting their ass whooped."
So when asked how the De Jesus fight would go down, Goss said: "I was gonna give you something a little different this.  I'm gonna work him over, feel him out, get him where I want, and then stab him in the neck with a rusty butterknife cause I'm a central PA gangsta."  (laughs)
The November 16 fight takes place at the Printscape Arena in Canonsburg, Pennsylvania.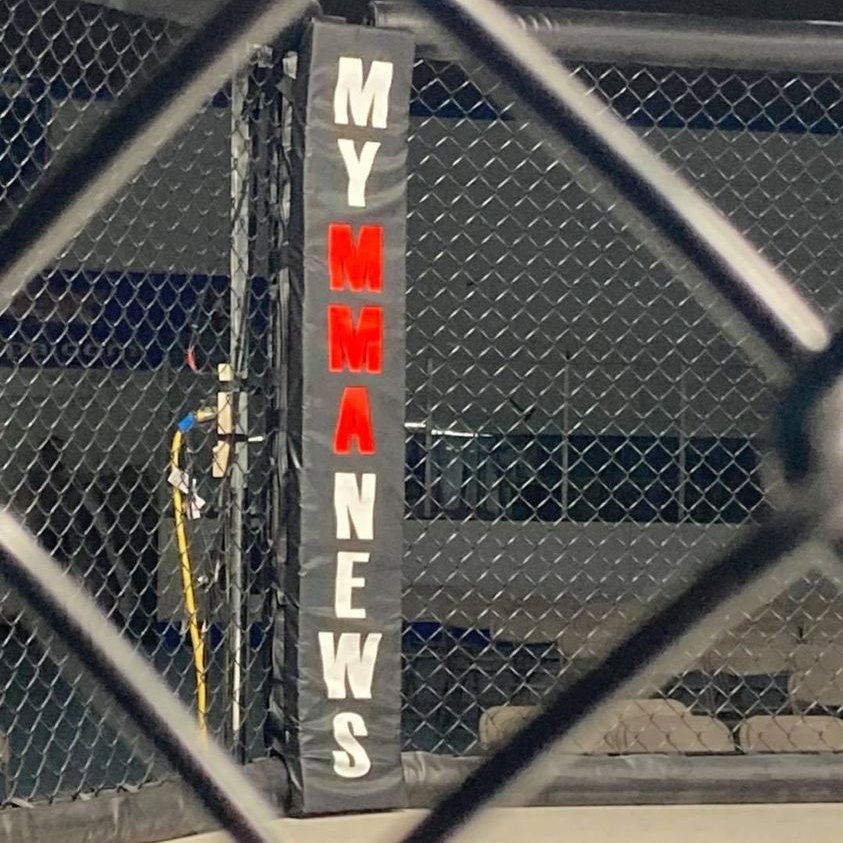 MyMMANews.com – We cover everything from MMA, BJJ, Bare Knuckle, Wrestling, Boxing, Kickboxing, and Judo
News, Opinions, Videos, Radio Shows, Photos and more.