Half the size, twice the violence – Midget wrestling coming to PA this weekend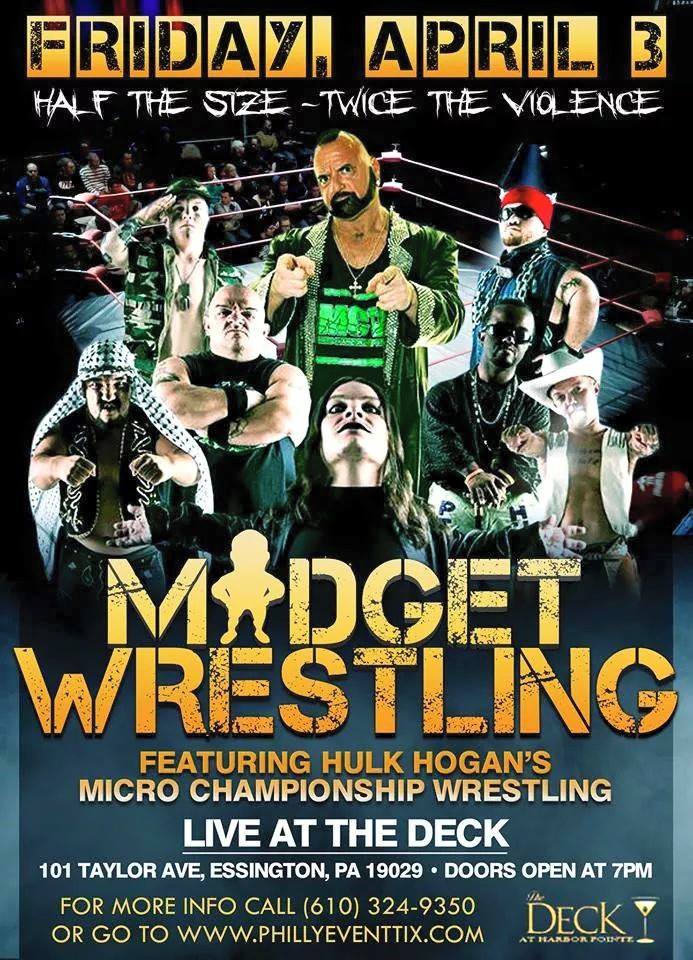 Hulk Hogan's Micro Championship Wrestling invades Pennsylvania this weekend, Friday and Saturday night with the latter featuring a grudge match between two local mixed martial artists, Anthony "the Bethlehem Bull" Spagnola, owner of Sotto Santi Pizzeria vs. Adam 'The Archangel' Atiyeh.
The bout is a rematch from their
Located just minutes from the Philadelphia International Airport, see the action that is "Half the size! Twice the violence!"
PhillyEventTix.com – TWO opportunities in Pennsylvania to see "The Greatest Little Show On The Planet!" with midget wrestling featuring Hulk Hogan's Micro Championship Wrestling!
MCW is a high powered, explosive, athletic show with just the right touch of comedy thrown in to make it an event for all ages and demographics!
The nights feature an exciting undercard with a main event battle royale.
On Friday, April 3 in Philadelphia at The Deck at Harbor Pointe, 101 Taylor Ave, Essington, PA at 7 p.m. (Just minutes from their airport)!
On Saturday, April 4 in Allentown at the Econo Lodge, 1151 Bulldog Drive, Allentown, PA at 7 p.m.
These micro athletes may be short in stature but are giants in the world of entertainment where they will keep you on your feet, screaming and crying at the same time. MCW is the #1 Midget Wrestling company in the USA. After you leave an MCW event, you are guaranteed to be a Micro Maniac for life.
Order tickets online at phillyeventtix.com (call 610-324-9350 for more info) or day of, at the door:
$50 V.I.P., $25 G.A., $10 Kids
Show your support on Facebook:
Apr 3 on Facebook at facebook.com/events/907466059283816/
Apr 4 on Facebook at facebook.com/events/1592281874245217/