Top Chef competitor, BJJ purple belt, Jeremy Ford choking out competition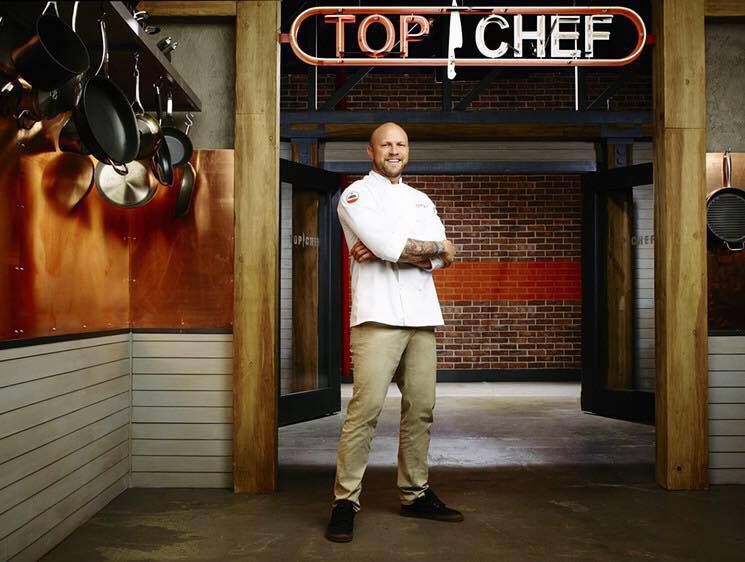 Jeremy Ford is a culinary chef competing on season 13 of "Top Chef," airing on Bravo.  Why would a mixed martial arts news site report about a reality show based on cooking?  Jeremy happens to not only be an amazing cook, but he also has been training in the mixed martial art of Brazilian Jiu-Jitsu for close to a decade.
We had an opportunity to speak with Jeremy regarding his love for the sport of BJJ and a little bit about his culinary experiences, but first, let's tell you a little bit about this season of "Top Chef."
The "cheftestants" travel nearly 1,000 miles through California in this season of "Top Chef." They face culinary challenges in six cities, including Los Angeles, San Diego and San Francisco, where the show began in Season 1. Tasks include cooking under the Hollywood sign for top food writers and serving rapper MC Hammer on the Oakland waterfront. The season's final challenge pays homage to Fleur de Lys, a former Hubert Keller-owned restaurant in San Francisco.
The winning chef's prize package includes $125,000 and a showcase at the Food & Wine Classic in Aspen, Colorado. The judging panel remains intact, with Tom Colicchio, Gail Simmons, Richard Blais, Emeril Lagasse and host Padma Lakshmi making the decisions regarding advancement and elimination.
Let's jump right in to our conversation with Chef and Brazilian Jiu-Jitsu practitioner, Jeremy Ford.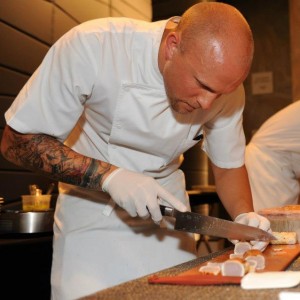 WHO IS JEREMY FORD?
MyMMANews – Jeremy, I know we cannot yet talk about the outcome of the show because the season is still airing on TV but I do have to say first and foremost that I admit that I do watch the show every week with my wife.  Even though we will probably never make and cannot properly say the names of more than half the food items you guys prepare, we enjoy watching it.  But the reason we are talking with you today and what caught my interest about you is that several times on the show you have mentioned that you train Jiu-Jitsu.
But before we get into talking about Jiu Jitsu, let's talk about you a bit.  You are from Miami, Florida, but where are you currently working as a chef?  And how did you get into the business?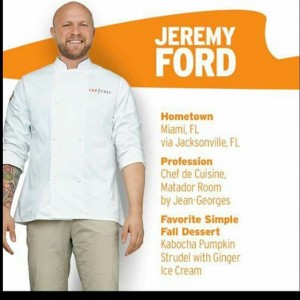 Jeremy Ford – "Like you were saying, there are a lot of names of foods that are super hard to say or understand.  It's just like Jiu-Jitsu with worm guard, or X-guard, where you wouldn't know what the hell they are talking about unless you train in this sub-culture.  It is very similar like that.  I work at Matador Room in Miami Beach and I work under the tutelage of Jean-Georges, who has a huge empire of restaurants and is just an amazing all around chef, and yeah, I run the brigade there."
MyMMANews – So now you are on season 13 of Top Chef which really in essence is a televised competition between some of the best up and coming chefs in the world.  And like we said, we won't discuss the show because it is still airing, but you mentioned on air that one of your passions is Jiu-Jitsu. Where are you currently training?
Jeremy Ford – "I train currently with Master Kevin Albertini at Tribal Gym.  He is a black belt under Pablo Pavlovich, which I'm sure you know him.  He's been training under him a long time.  I got my purple belt from Pablo as well.  Then Kevin left to Brazil for about four years.  He just came back about two months ago, and as soon as I saw him back in town, I immediately switched from American Top Team in Fort Lauderdale and jumped back on board with him because he's just one of those coaches that doesn't hold back any information and he shows you everything he knows.  He came back from Brazil and he is just a total beast."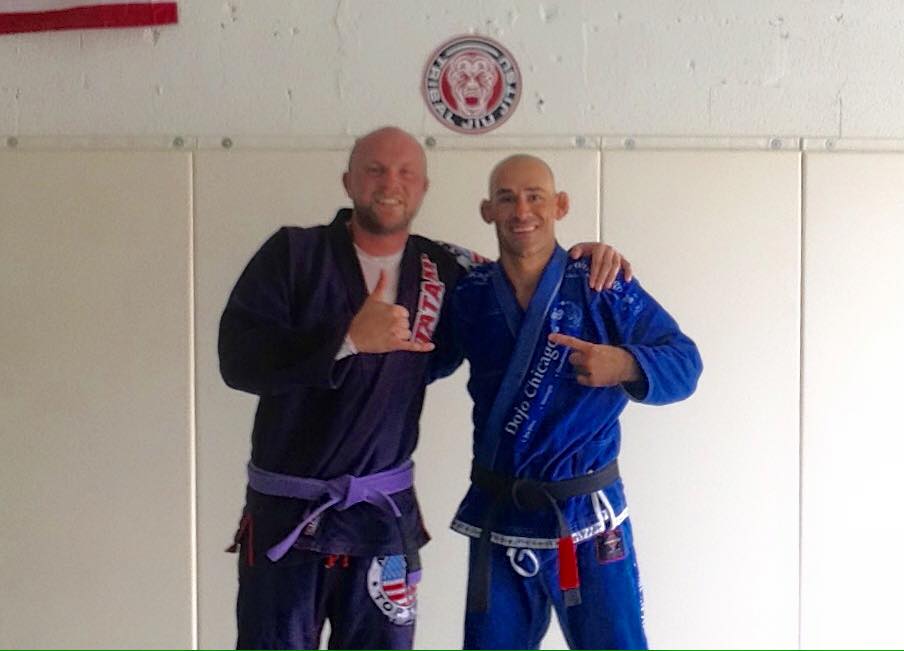 MyMMANews – How long have you been training and what brought you to Jiu-Jitsu?
Jeremy Ford – "I've been training for about ten years.  I had some injuries back and forth.  I tore my ACL and MCL so that put me out for a good year and half-ish, and once rehab was done, and feeling comfortable, after that bad of an injury, you kind of hesitate, you know?  I got into it because I was watching UFC 1 and 2, and I really saw the interest in what Royce Gracie was doing and I looked it up and became super fanatical about it.  I started training when I was 19 and haven't looked back."
MyMMANews – Have you entered into any competitions, any gi or no-gi competitions?
Jeremy Ford – "Yeah, I won gold in NAGA in 2011, gold in 2012, and then shortly after is when the ACL/MCL thing happened.  You know when you are training five or six days a week something like that is inevitable."
FAMILY TIME
MyMMANews – I imagine as a head chef you are working quite a bit.  You also have a family.  How do you manage your time between work and family and still have time for Jiu-Jitsu?
Jeremy Ford – "I go train Jiu-Jitsu at 10 in the morning.  I get up at 6:30, do the daddy-daughter thing, get her all ready for school, breakfast and all that, and that puts me at around 8:30 a.m. being done, so I usually go do a little bit of weight work, some isolate bicep stuff or whatever, and then I go straight from there to Jiu-Jitsu, and then from there, straight back here to the house, shower, and head to straight to work. I literally don't stop.  I go from A to B to C to D."
PROTEIN & NUTRITION
MyMMANews – Just looking at you on TV, one can tell that you are naturally fit, but on top of that you are a chef so you are mindful of your nutrition.  So as a guy who is in the gym quite a bit but someone who can obviously cook and make up some recipes, do you make your own protein shakes or bars, and if so, can you spill the beans on the recipe so that others might give it a try?
Jeremy Ford – "So when it comes to shakes and proteins and all that stuff, I don't a ton of research to find out what is the best route to go.  I just know what is good for my body.  So I'll do a shake in the morning with protein powder, chia seeds, oatmeal, banana, and almond milk, and that is just a really well balanced meal to start your day.  Then I chug a couple liters of water and head to the gym."
QUICK FIRE CHALLENGE
MyMMANews – So on Top Chef, each week you guys are faced with what is called a Quick Fire Challenge.  It's a challenge that has to be done quickly, usually in just a matter of minutes.   I am going to put about 30 seconds on the clock and I want you to tell me the most delicious way to prepare a food item.  I'm only going to give you one item but I want you to give me the best recipe for success that pops into your head.  Ok?  Are you ready?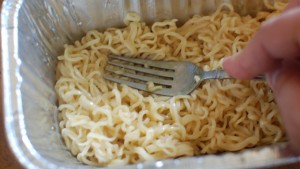 Ramen Noodles.
Best recipe for Ramen Noodles.
GO!
Jeremy Ford –  "So, you make your typical Ramen, just like the package says.  What you can make amazing out of it is you add a cracked egg in there, like raw, let it do like almost like egg-foo young.  Then I would add chopped scallions, ginger, some crispy garlic and olive oil and add a bunch of toppings like that and make it 10 times better."
MyMMANews – "Man, that sounds amazing.  Would have never thought about doing something like that.  I'm just a plain old Ramen and Frank's Red Hot Sauce kind of guy."
Jeremy Ford – "Yeah, that's the way I would go.  The egg just adds richness to it that just sets it off."
SHOUTOUTS
MyMMANews –Alright before we let you go, are there any shoutouts you want to give or do you want to plug any social media sites where fans can follow you?
Jeremy Ford – I wanna do a shoutout to my professor, Kevin Albertini at Tribal Gym.  He's on Instagram.  He's just new to getting back to South Florida so I want to give him as much support as I can."
Check out Tribal Gym on Facebook
Look for Jeremy every Thursday night on Top Chef season 13, currently airing on Bravo. 
Go taste some of Jeremy's cooking at Matador Room – at 2901 Collins Ave, Miami Beach, FL 33140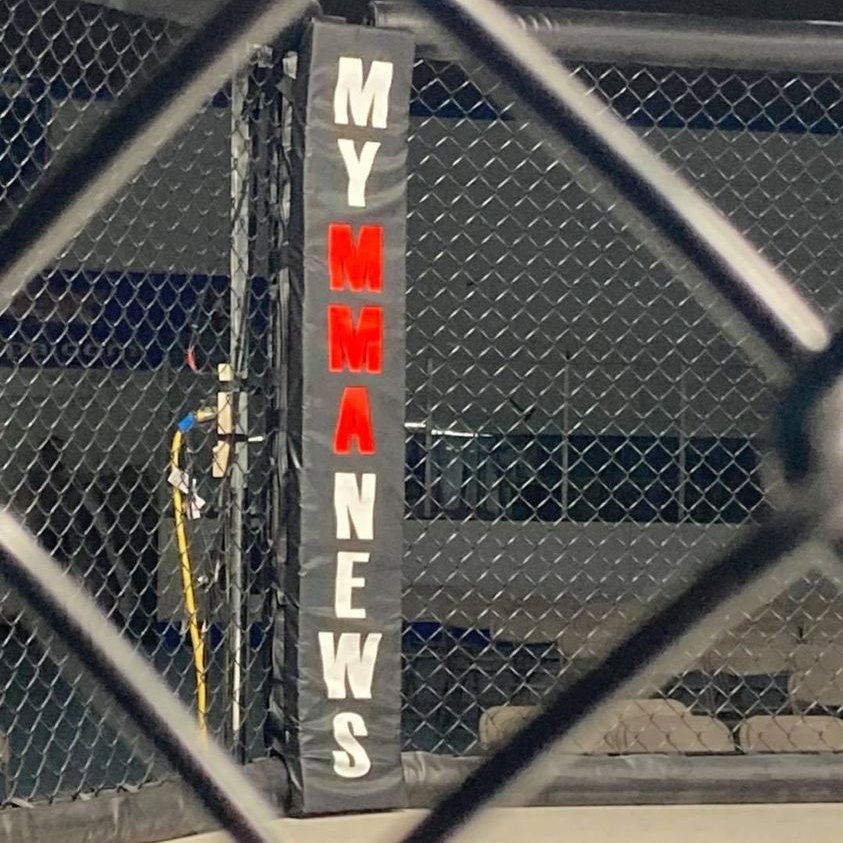 MyMMANews.com – We cover everything from MMA, BJJ, Bare Knuckle, Wrestling, Boxing, Kickboxing, and Judo
News, Opinions, Videos, Radio Shows, Photos and more.