Jon Jones pleads guilty, avoids jail
Forrmer UFC light heavyweight champion Jon Jones pleaded guilty on a felony charge of leaving the scene of an accident and was granted a conditional discharge by Judge Charles Brown in Bernalillo County Second Judicial District Court on Tuesday.  The incident happened back in April.  The victim, Vanessa Sonnenberg, who was pregnant, broke her arm in the collision.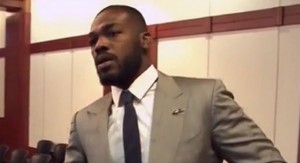 As a result of today's decision, "Bones" will serve 18 months of supervised probation."
The judge ordered Jones to make 72 appearances doing work with charity and speaking with children. Once the probation period is over, Jones will be re-sentenced per the terms of a conditional discharge.
Jones issued a statement to the media after the ruling.
"With regards to today's decision made by the court, I am very happy to now be able to put this incident behind me. My actions have caused pain and inconvenience in the lives of others and for that I am truly sorry and I accept full responsibility. I have been working hard during this time away from my sport to grow and mature as a man and to ensure that nothing like this happens again. I have learned a great deal from this situation and I am determined to emerge a better person because of it. I apologize to those who were affected by my actions in this incident and I am hopeful that I will be given the opportunity to redeem myself in the eyes of the public, my family and friends as well as my supporters. I am not sure what the future holds for me but I plan to continue to do the work needed to be productive and successful in every aspect of my life," Jones said.
The UFC released a statement available here