Pride & Pain MMA – Justin Winkles: Fighting Ambitions of a Champion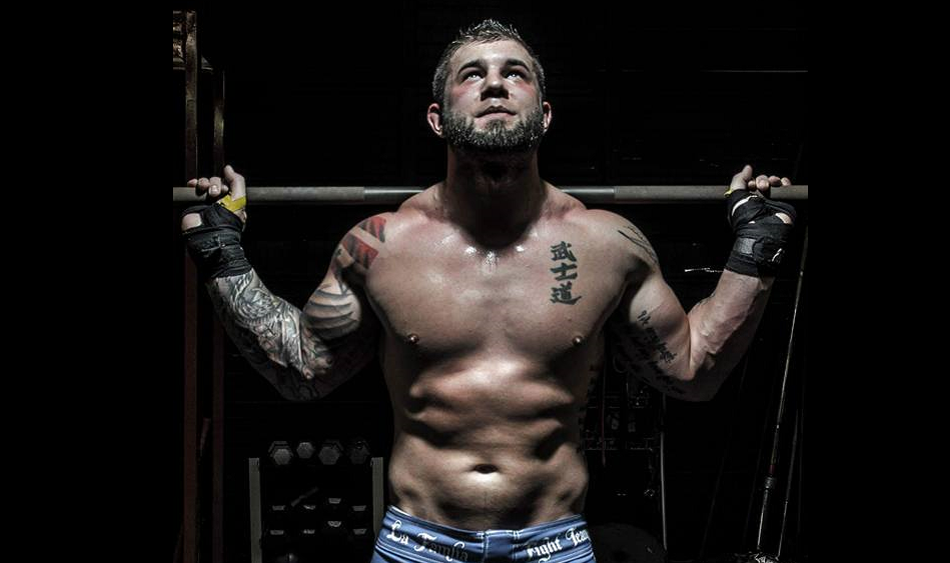 In its rise from obscurity, Mixed Martial Arts fighting has become a favorable sport practiced by many aspiring combat sport athletes across the globe. It is introduced us to many world class fighters who's in ring performance have captivated viewers and made them a memorable figure in the sport. Even in regional areas, great fight talent is not hard to find as there is always that one fighter that is bound for greatness.
Fighting out of Gillette, Wyoming Justin "The Athlete" Winkles fits the description. With a record of 7-3 from Mile High City to the Dakota states, Winkles has successfully made a name for himself throughout his region culminating with his current reign as the Pride and Pain MMA middleweight champion.
November 14, "The Athlete" will get the opportunity to showcase his skills once more as he puts his title on the line as he looks to add another win to column in his rise to the top and fulfilling future goals.
What are you looking to do in MMA when it comes making an impact in this sport?
Justin Winkles: "What I'm looking to do in MMA, is to climb the ladder to the top and make it to a big promotion someday. I want to show that despite not being in a huge city or well know gym that there is talent anywhere and that hard work and dedication to a love of a sport you can make a dream come true, one small step at a time."
Do you feel you are on the right track right in accomplishing that and if so what are you doing that has you on that path?
Winkles: "I do feel I am on the right track now in accomplishing that. Granted my fighting is a hobby. A hobby I would love to turn into a career. I find peace and solitude being in a gym. So now since I have found my rededication to MMA I have been training harder than ever and trying to train with some of the best in the area to help make me a better fighter. In order to get better and reach a goal you have to train with the best. I'm taking this fighting thing one step at a time, one opponent at a time. Now I embrace the challenge of going to war with someone else and try to prove that my hard work and training will pay off one day."
Talk to us about being a fighter out of Wyoming as it relates to training, coming up and also being one of the few people representing your state?
Winkles: "Well my fighting career did not start in Wyoming. I am originally from Rapid City South Dakota. I moved to Wyoming about 4 yrs. ago. I started training in MMA at the age of 18 with my friend Travis Coyle. All I knew was wrestling and was just a wrestling partner for him. But as I kept going to training I realized that maybe I could actually fight. So I kept training and gave fighting a go. Fortunately growing in the sport of fighting also lead me to opportunities. With being a training partner of Travis Coyle we traveled during our younger days to such places as Boston and Denver where I was granted the opportunity to train with some of the best in MMA and learn more and more about this sport I love. In Boston I was granted to learn from the talented UFC fighter Jorge Rivera at USMMA. When we traveled to Denver we trained under MMA Premier Fitness with some of the best trainers I had ever had. I was able to grow in the sport and use what I learned in fighting. But moving to Wyoming here 4 yrs. ago I have trained under La Familia. Being a fighter out of the state of Wyoming is a privilege. There are not many big name gyms such as in bigger cities but there are many talented fighters out of this state to train with who have the same common goal to represent Wyoming in the big show."
You've had a success run as an amateur and also currently as a pro. What do you feel gives you the edge over your opponents to get your hand raised in victory so many occasions?
 Winkles: "I have had success here lately. That was not always the case. I went through a losing streak for a while. That was the outcome of poor training, and not as dedicated as I am now. I didn't seek out the best to train. I just trained with whoever would show up to the gym or train myself. I was young and figured I'd rely on talent and the thought that I thought I was ready for a fight. Recently I had gone through a rough patch in my life. Needless to say it happens. I reached a low point in life and took off to Texas to re access myself. While I was down there at my low point I found some sort of peace in training. I walked into Revolutionary MMA and began training. As much as possible. It was the one thing that kept me sane. I was in a gym full of talented pro fighters and other fighters. It pushed me to be at my best and if not to push harder to be as good as some of the other pros. I had re found my love for this sport and gained a new confidence in myself. And since then I have won 3 fights in a row, as well as winning the pride and pain 185 lb pro title, defeating a Militich fighter out of davenport Iowa, and making a trip back to Texas to showcase my skills in the lone star state. I feel what gives me the edge these days is I know it takes weeks of hard work to prepare for a pro fight. So with that I push myself as hard as possible in training. A wise man once told me you train for the worst to get the best results. Basically just put in the work and effort to be prepared and have the heart and determination to win."
Talks to us a bit about your main fight team which is a contributing factor to your MMA career?
Winkles: "My main fight team right now is La Familia which is led by Mario Ramirez. My coach has taught me a lot of things these past 4 yrs. as I have grown up in this sport. Mario is a well knowledgeable coach and does know what it takes to be prepared to win. In his famous saying "you can't breathe, you can't fight", Mario pushes us harder in conditioning than most. This is one factor I believe has helped me lately in getting the wins I have. But our team isn't just a team it is also a family. We bleed blood, sweat, and tears in training together. We are there for one another whether it is win, lose, or draw. The support is nice for someone such as myself when you are going through intensive training, and having that supportive coach there to be that voice in your head to push harder, and to don't quit."
Now outside of your La Familia team you also work with other people. Talk to us a little about that ?
Winkles: "Yes I have had my fair travels around the local area to train with some of the top fighters, as well as out of state to places like Denver, Boston, South Dakota and Texas to get to see different ways of training and other talented fighters as well. I believe other knowledge from other trainers and fighters is a great aspect. Everyone has a different method of training and fighting, and any type of knowledge and training from other awesome gyms is a plus in my book. When training may be lacking as to other fighters having their own lives outside of fighting, and you may have a fight to prepare for sometimes you have to take the time to travel to another gym to get the necessary rounds and work needed to be put in to prepare. I think every fighter can vouch for that."
So you have a huge title defense coming up November 14th talk to us a little bit about that?  
Winkles: "On November 14th, I am defending my middleweight belt for pride and pain MMA fights here in Gillette Wyoming. I am fighting Eric Wild. I feel good going into this fight. I have definitely put in the time and training for this fight. This is another tough opponent and I know this is going to be a good fight, which is why I have been preparing and training hard for this fight. It's one thing to win a belt. But it's another to keep it. You're not a true champion I don't believe until you defend and keep your title."
Finally what does it mean to you coming out with a win in this fight?
Winkles: "Coming out with a win means everything to me. I refuse to lose this fight. In any instant I am looking to finish this fight and keep my belt."
Justin Special Thanks: Special thanks to of course my team La Familia and coach Mario Ramirez. To everyone that has gone rounds with me and helped me prepare for this fight. To all my sponsors Alpha Omega nutrition, Felony ink, Ryan companies, Beverage brokers, The motorcycle affiliates, and Century 21. Without all of these people id be nothing. Thank you all for the support.