KTFO 14 Results: Sanchez Retains HWT Title; Gonzalez Submits Olcott
KTFO 14 Results: Sanchez Retains HWT Title; Gonzalez Submits Olcott
As Eric Dehm and KTFO lightweight, Ryan Castro, delivered great commentary for KTFO 14, Brett Sanchez (Vamos BJJ) successfully defended his KTFO heavyweight title Friday evening at The Sports Arena in St. James, New York.
In addition to five MMA bouts, professional fighter, James Gonzalez, stepped back into the KTFO cage against Jason Olcott for a Grappling Bout at 155-pounds. The fights kicked off at 8 p.m. EST in front of a loud crowd, with a heavyweight bout between Brandon Piscak and Mike Basile.
In the main event of the evening, Brett Sanchez defended his heavyweight title against John Gonzalez of Striking 101. While both fighters placed their unblemished records on the line, Sanchez proved to be too much for the 3-0 Gonzalez. Due to controlling the majority of the first round, Gonzalez absorbed a great deal of punishment. As a result of Sanchez' accidental knee to the groin, Gonzalez found himself back in the battle. Shortly after the recovery time, Gonzalez caught Sanchez with a right hand to the temple, therefore Sanchez dropping him to the canvas for a brief moment. It was by far the heaviest shot in the champion's career he received while inside the cage.  Finally, Gonzalez found an opportunity and quickly smothered Sanchez looking for the finish, while the champion scrambled back to his feet.
Showing the heart of a champion, "The Beast" Sanchez found his base and began a blitzkrieg of fists on his challenger. The high volume carried over into the second round where the champion earned a standing TKO against Gonzalez. At 1:00 of the second round, Sanchez defeated Gonzalez via TKO, and improved his record to 6-0.
The co-main event debut Long Island MMA's Emmanuel Clairant at a 180-pound catchweight bout. Clairant Demonstrated the skills everyone was talking about around the Farmingdale gym, as Clairant won via TKO in the first round at 2:04.  The Long Island MMA rookie showed patience and power as he finished Bader Saddon via ground-and-pound from the full-mount position.
East West MMA's Russell Pettito showed great potential in his amateur debut. As Pettito lifted and slammed Steve Taylor of Vamos BJJ, to the canvas, as a result he took Taylor's back and sunk in a night-ending Rear Naked Choke. As a result, Pettito earned his first victory via submission in round 1 at 1:12.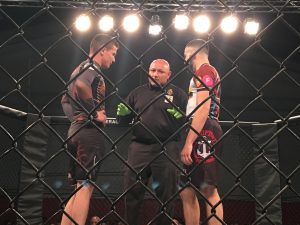 Former KTFO champion James Gonzalez returned to the cage here on Long Island for the first time since turning professional. He battled Jason Olcott of East West MMA in a Grappling Bout Super Fight. Olcott, a Purple belt in Brazilian Jiu Jitsu battled Gonzalez, a brown belt out of Serra BJJ, for nearly the full six minutes. Throughout the bout, both artists displayed a high level of jiu jitsu in a high paced match. Just as the 10-second warning was being announced, Gonzalez transitioned into a leg Triangle choke, forcing Olcott to tap. Due to great action, both grapplers received a strong applause of respect from the crowd.
KTFO wrapped-up another spectacular event with six bouts, while Brett Sanchez defended his title in what consequently might have possibly been his final bout as an amateur before he takes the leap onto the professional circuit. UFC fight, Ryan LaFlare was in attendance as he cornered Emmanuel Clairant. Be sure to follow us on social media at @mymmanews – for upcoming information about KTFO's next event here on Long Island, NY.
The official KTFO 14 results are as follows:
HWT*- Brett Sanchez (Vamos BJJ) def. John Gonzalez (Striking 101) via TKO in Round 2 at 1:00.
CW-180- Emmanuel Clairant (Long Island MMA) def. Bader Saddon (Serra BJJ) via TKO in Round 1 at 2:04.
CW-190- Jamal Pottinger (REDD Tactical) def. Issac Poteat (Gleason's Gym) via TKO in Round 1 at 2:43.
205- Russell Pettito (East West MMA) def. Steve Taylor (Vamos BJJ) via Submission (RNC) in Round 1 at 1:12.
GB-155- James Gonzalez (Serra BJJ) def. Jason Olcott (East West MMA) via submission (Triangle Choke) at 5:51.
HWT- Brandon Piscak (Seldon, NY) def. Mike Basile via TKO in Round 1 at 2:16.
*- Championship bout GB- Grappling Bout CW- Catchweight
Kyle Carroll is a Long Island, N.Y. native and avid MMA and amateur wrestling fan. He has been a part of the wrestling community for nearly 20 years. Carroll has six years of experience coaching high school wrestling. His father coached high school wrestling over 35 years, passing on his strong knowledge. Carroll has been reporting MMA news since January 2011. The former wrestler's coverage includes the 2012 U.S. Olympic Wrestling Team Trials, 2013 & 2016 NCAA D1 Wrestling Championship, and numerous MMA events (Bellator MMA, King of the Cage, North American Fighting Championship, and Glory).