ICYMI: Mayweather and Pacquiao Meet At Half Court At NBA Game
ICYMI: Mayweather and Pacquiao Meet At Half Court At NBA Game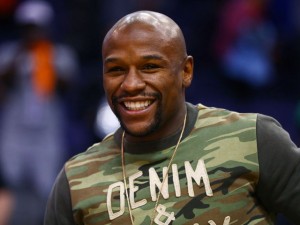 Mark J. Rebilas-USA TODAY Sports
When will Floyd Mayweather Jr. enter the ring against Manny Pacquiao?
This is the question every fight fan is wondering. In the past month Pacquiao's team agreed to terms placing the ball in Mayweather's court. This epic showdown is an expected blockbuster matchup. Both parties will walk away with eight figure pay days. The only thing now needed for this to happen, is for Mayweather Jr. to put his ego aside and sign the contract. Pacquiao's team agreed to a 60/40 split in favor of the undefeated champion, Mayweather. Fans remain hopeful they will be able to witness this marquee matchup sometime in 2015.
Tuesday night, the Miami Heat hosted the Milwaukee Bucks, and these two legends of boxing appeared on the overhead screen with "Coming in 2015?" written across the top. The Heat's display shows they're among those who want to see these two stand across from one another inside a boxing ring.
The Miami Heat's Twitter account tweeted this photo out saying "We'd like to welcome @floydmayweather & @MannyPacquiao to tonight's game!", which included the photo of the two in a split screen while viewing the game.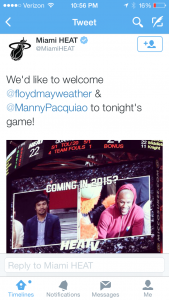 Mayweather Jr and Pacquiao viewed the game from opposite sides of the court. Mayweather Jr., a regular at Heat games sat next to the Heat bench, as Pacquaio, who has close ties to Heat coach Erik Spoelstra, sat directly across from the teams bench.
During halftime, the two fighters met at half court shaking hands. Pacquiao called that moment the first time he ever speaking to Mayweather. Both fighters appeared to be cordial with one another. Is it possible that this may be Mayweather's next bout after his fight in May with Miguel Cotto?
The fan's want it, we want it, and you know that their bank accounts would enjoy the checks deposited. So what are they waiting for? Make a deal!
Kyle Carroll is a Long Island, N.Y. native and avid MMA and amateur wrestling fan. He has been a part of the wrestling community for nearly 20 years. Carroll has six years of experience coaching high school wrestling. His father coached high school wrestling over 35 years, passing on his strong knowledge. Carroll has been reporting MMA news since January 2011. The former wrestler's coverage includes the 2012 U.S. Olympic Wrestling Team Trials, 2013 & 2016 NCAA D1 Wrestling Championship, and numerous MMA events (Bellator MMA, King of the Cage, North American Fighting Championship, and Glory).