New Ronda Rousey mural unveiled in Venice Beach
UFC President, Dana White and CEO, Lorenzo Fertitta, commissioned Brazilian artists Bicicleta Sem Freio to design a mural in Venice Beach, hometown of UFC women's bantamweight champion Ronda Rousey.
"She is almost like a comics hero," the artists said in a statement. "We are fans of Ronda. Her last fight was in Rio against a Brazilian fighter, and despite that, everyone loves her in Brazil. What is really fascinating about Ronda, besides being an undefeated fighter and also being very secure of her femininity, is that she looks real and authentic. She looks like a really cool girl. We would love if she could learn us a few fighting tricks!"
The mural sits above  "Green Doctors" storefront ("$40 Medical Marijuana Evaluation!")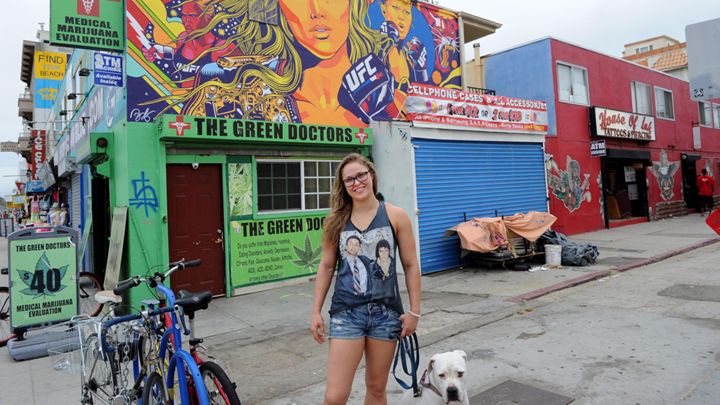 Rousey and her dog, Mochi, were on hand Friday for the unveiling of the mural.
Rousey will defend her title against Holly Holm, November 14, at UFC 193 in Melbourne, Australia.  The event which is expected to be the most attended UFC event of all time will be held at Etihad Stadium.