Professional Kickboxers Get The Clean 4-0 Sweep At UFC 253
UFC 253 lived up to all the hype we expected it to, it was an absolutely incredible card from start to finish! While CityKickboxing went 2-2 through the night, there were four professional kickboxers on the card that night, and each of them got it done and walked away the victor.
Firstly, of course we all know Israel Adesanya is a kickboxer and had an extensive background in it before coming to mixed martial arts. 'The Last Stylebender' actually picked up his 100th career victory across kickboxing, boxing, and mixed martial arts on Saturday.
Adesanya went 75-5 in professional kickboxing, winning multiple world championships, 5-1 in professional boxing, with the only defeat being quite a controversial decision, and he's now 20-0 in mixed martial arts.
It's absolutely remarkable what he's been able to do, and in the time he's been able to do it.
Since February of 2018, two-and-a-half years, Adesanya has gone a perfect 9-0 inside the octagon, and it doesn't look like anyone will be able to stop him any time soon.
His fight with Paulo Costa, it was barely a fight. Adesanya dominated him handily the entire time, until it was stopped via TKO at 3:59 of round two.
Adesanya's still only 31-years-old, he's at his peak right now, and if we're lucky, he will be until at least his mid-thirties.
You never know when a fighters prime is going to leave them, but considering he never gets injured, he's a striker that rarely gets hit, and the fact that he's Nigerian, he'll be at his best for some time to come.
Next is the co-main event, where Jan Blachowicz shocked the mixed martial arts community by stopping Dominick Reyes via TKO at 4:36 of round two. Now, this stoppage was a tad early, but it probably didn't change the outcome, given how hurt Reyes was.
Blachowicz got his start in kickboxing as well, going 34-0 as a professional before making the transition to mixed martial arts. You can kind of see it in the way he fights, his striking is highly underrated, as is his grappling.
It's honestly such a beautiful thing Blachowicz was able to do this, because it's something not many of us ever thought would happen, it's kind of the perfect Cinderella story.
Blachowicz is 37-years-old, and he'll be 38 in February, but he hasn't shown any signs of slowing down, he's actually shown signs of catching up and surpassing.
Once Blachowicz came to the UFC, we knew we had a hot prospect on our hands, but we didn't know just how far he could go. He came to the UFC with a 17-3 record, having been a three-time KSW Light-Heavyweight Champion, a title he vacated in order to come over.
Blachowicz finished Ilir Latifi with a body kick in just under two minutes of his UFC debut. This was very impressive because most believed Latifi would defeat him, and Blachowicz ran right through him, something even Gegard Mousasi couldn't do.
After this however, Blachowicz went 1-4 in his next five, he wasn't living up to his expectations, and if he didn't get back on track right when he did, he may have been cut.
In that five-fight stretch, Blachowicz lost to Jimi Manuwa and Corey Anderson, both via unanimous decision, he defeated Igor Pokrajac via unanimous decision, and lost a unanimous decision to Alexander Gustafsson and a majority decision to Pat Cummins.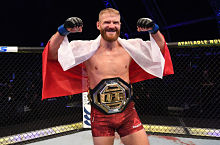 Since then however, opening up his UFC career with a 2-4 record, going from 17-3 to 19-7 in just under three years, he's changed things up a bit.
He actually believes he belongs here in the UFC now, and it shows. He's dared to dream, and it's gotten him an 8-1 record in his last nine fights.
The only defeat in that stretch is to Thiago Santos, who may very well get the next crack at the belt. He won four fights, lost to Santos, then won his last four. His first four-fight win streak showed him pick up two unanimous decisions and two submissions.
Then his most recent four-fight win streak, three of those fights were won by knockout, and one five-round split decision over Ronaldo 'Jacare' Souza. He also avenged two of his four losses from earlier on in his UFC career to Jimi Manuwa and Corey Anderson.
His stoppage victory on Saturday improved his mixed martial arts record to 27-8, and he's seemingly more dangerous every time he steps in there. Blachowicz may be someone we didn't expect to reach these heights, but don't doubt his ability to stay on top.
Next is Hakeem Dawodu, who had a very fun to watch fight at UFC 253 against Zubaira Tukhugov. This was a tough fight for both men, but Dawodu ultimately walked away with the split decision (28-29, 30-27, 29-28) victory.
Tukhugov is a very tough opponent for just about anyone at 145 lbs, but Dawodu was able to keep it on the feet and out-point the Russian prospect.
This marks Dawodu's fifth win in the UFC, as he improved his record to 12-1-1, three of those wins coming via split decision.
That's not to say he didn't deserve the nod in them, because he deserved to win all three of them, he comes about 10% better every time he fights than he did the last. He hasn't improved as rapidly as say Adesanya, but he has steadily improved and does continue getting better.
Dawodu of course got his start in kickboxing as well, where he went 42-5 as an amateur and 9-0 as a professional, winning championships in both. Dawodu's still only 29-years-old as well, there's still plenty of time for him to grow.
Lastly is CityKickBoxing protege Brad Riddell, who picked up a unanimous decision (29-28, 29-28, 29-28) victory over the 21-2 Alex da Silva at UFC 253. It wasn't looking too good for him early on, da Silva came ready to go, but Riddell was eventually able to get the momentum going his way and started pouring it on.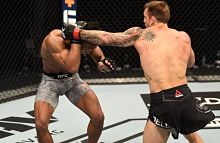 Da Silva's striking was on point early on, and so were his takedowns and clinch control.
It was surprising to see him do that well on the feet against Riddell, but Riddell just needed to find his range. Once he did find his range, it was a wrap, Riddell dominated the rest of the fight.
Riddell landed a vicious left hook midway through round three, both the referee and da Silva thought it was an eye poke, and the action was paused considering. Really, the fight should've been stopped via TKO right there, but the action continued and ended up going the distance.
Riddell improved his mixed martial arts record to 9-1, and his UFC record to 3-0 with this victory.
Riddell went 59-8 as a professional kickboxer, winning numerous world championships, and even continued his kickboxing career early into his mixed martial arts career. Riddell and Adesanya both did, and they are the two CityKickBoxing talents that picked up a W on Saturday.
It's kind of crazy when you look at Riddell, because he isn't built like a kickboxer, he's built like someone who's been doing Judo and Greco-Roman wrestling his whole life. His back is as wide and stacked as they come, just imagine the power he must possess.
With Riddell still only being 29-years-old, we'll be seeing the best of him for a few years to come. It's always fun seeing experts of one discipline fight in mixed martial arts, especially when they're strikers. We were given a real treat on Saturday with UFC 253, and now we gear up for the next one!
I became a fan of combat sports when I was 12 years old. I was scrolling through the channels and landed upon versus, where WEC was televised. Urijah Faber fought Jens Pulver for the second time that night. That's the first fight I saw, and the fight that got me hooked on the sport. Since then, the sport has grown so rapidly, and my goal is to enlighten everyone on what's going on in the sport today.