Ronda Rousey to appear in Carl's Jr., commercial
Ronda Rousey to appear in Carl's Jr., commercial
Carl's Jr. and Hardee's have announced that the UFC fighter will be the newest commercial star for the brand.
Carl's Jr., hinted at the promotion after Rousey's UFC 190 win over Bethe Correia:
"Congrats on another big win, @RondaRousey. Can't wait to introduce people to your sweet side in 30 days"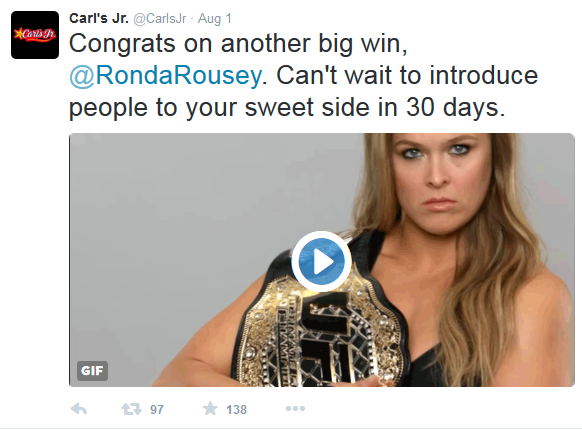 "Aside from a variety of other factors, [Ronda] was chosen because she is loved and respected so much by both men and women. " a spokesperson for Carl's Jr. tells PEOPLE.
The news comes on the heels of the announcement that Carl's Jr. and Hardee's first all-natural burger, topped with mushrooms and swiss, will be available nationwide.
Rousey is a departure from some of the previous celebrities the company has had endorse their product to include Paris Hilton and Kim Kardashian.