Ryan Contaldi – Focus on Family, MMA secondary, but ready for July 1
Two mixed martial artists coming off three year layoffs from the sport, will face one another in the co-main event of Maverick MMA 2 at the Sherman Theater in Stroudsburg, Pennsylvania, July 1.
Ryan Contaldi, 36, a veteran of Bellator MMA and Ring of Combat, will meet Shedrick Goodridge, who has also competed in Bellator MMA and Ring of Combat, as well as Cage Fury Fighting Championship and CES MMA.
The two former middleweights will meet in a catchweight at 200-pounds when they step in the cage next month.
Contaldi (8-9-1) as a pro, 6-0 as a amateur will be returning for the first time since May 2014 when he lost a unanimous decision to Jesus Martinez at Bellator 118.
We caught up with Contaldi to get the scoop on his comeback and why the fight is set for a catchweight.
"Neither one of us fought in a while.  I asked for 195 (pounds), just because I fought there before, I felt comfortable there, but the contract said 200, so I guess we are locked for 200.  I said I would prefer 195, but it was not going to be a deal breaker either way.  I was ready to go for 195, or 190 if I had to. I fought everywhere from 185 to heavyweight, so for me it's not a big deal.  Just for me personally, I don't mind that extra push to get down to 190, or 185, but neither one of us has fought in a while, so I guess it's more of a comfort level thing, with us getting back in there.  It made sense to do a catchweight."
What has been the reason for your three year absence from the sport?
"I started having kids. The day I signed my last Bellator contract I found out my wife was pregnant.  Then when I fought, she was about three months pregnant or so.  I'm sure you've seen this a million times, the sob story of an MMA fighter saying, 'I do this to feed my family.' I'm not that guy.  I do a million other things to feed my family.  I'm doing this for me.  They are the ones that make the sacrifice.  In my case, it wasn't fair for me to put my wife and new born child through me being gone for periods of time.  I wanted to be there for everything in his young life.
"He's 2 1/2 years old now.  At the very beginning of my wife's pregnancy there were some major complications, so it just wasn't foremost on my mind as something I needed to carry on doing.  I enjoy doing it but like I said, I had just signed with Bellator again, but real life sometimes takes over the fantasy MMA life, so I just decided to be a real adult for a couple of years….. half thinking this would happen, and leaving the door open.  I was half accepting that maybe it wouldn't.  My wife and I sat and worked some things out, a schedule out and figured it was something we could kind of go through again, and hope for the best, and see what happens."
How recent did this decision for you to return to MMA come about?
"Well, I've been in the gym for well over a year, probably a year and a half.  You get the young bucks, they come in the gym, they come through, and the old man in says, 'Oh, I can beat these guys.' For a while I wasn't in any sort of shape.  Probably for the first six months back in the gym, I was just at it two days a week, three days a week, getting back into it.  As I got more into it, I had an idea in the back of my head that I could still do it, which unfortunately every athletes goes through, no matter how old you are thinks they still can, even if they are wrong.
"I had a list of, I don't want to say demands, but a list of things that had to happen, whether it was money, or correct opponent, or correct show, whatever the case was, a list of things in my head that had to be met in order for me to come back.  I had my trainer reach out.  I knew a couple of guys that fought on the first Maverick show.  I told them, this is exactly what I am looking for.  It was a good fit for me.  Then getting him (Shedrick) as an opponent, with him coming back off a layoff as well, it was a situation where I said, 'If I'm coming back, this is how I am going to do it.'"
What are you expecting in this return fight?  You are scheduled for the co-main event.  Are you looking to go in there and end it quick or do you want to test yourself to see if you can still go the distance?
"I think it is cliché because, you try to finish, but you have to be ready to go 3 rounds.  If you look at my record, I have 7 million decisions just about, so I don't mind going the distance.  It doesn't bother me.  I also think that because of us having layoffs, we are both going to be looking to get out of there quickly so the first round is going to be fireworks.  Then if we are both standing after the first round, you are gonna see a guy try to do what he has to do win a decision, but the expectation is that he is going to come out like a house on fire, and I am too.  I'm prepared to go as many rounds as necessary.  My conditioning has never been an issue.  I understand it has been three years, but I don't think it is going to be an issue.  I've gone 5 rounds, I've gone 3 rounds, I've gone a minute and a half.  It doesn't make a difference, I'm going to be prepared for any eventuality.
"This is my 25th fight.  There's not a whole lot surprising wise that could happen at this point.  I've won in every way, I've lost in every way so I'm prepared for anything.  There's also this idea that because we've had 3 years off, I've gotta assume that like me, he's been in the gym for longer than the last month.  He's probably gotten better and changed things up so you kind of have to expect anything, any eventuality can happen when you are out there."
Training
"One of the things that became an issue when I was training before, was travel time," Contaldi said.  "To go up there (Bombsquad MMA in Ithaca, New York), Ryan Ciotoli, was a huge help for me for a lot of my career, but to actually go up there and train was a 3 1/2 hour trip for me, and I just can't do that anymore.  I was also training with Mike Stewart in Westchester, New York, for my last fight, but that was also an hour and a half.  I love both those guys.  I wish they were next door to me but they are not.  Now I'm training in Clifton, New Jersey at Carnicella's, and Paul is a great guy.  I've been with Paul for years, it's just that I was training with other people too, but now I'm exclusively at Carnicella's.  It's a 15-minute trip from my house.  I can call two or three guys up and say 'Hey I need some gym time,' and I can have them there in half an hour which is a luxury I haven't had in a while."
Why Maverick?
"For me, it's like showing up to work.  You show up to work, no matter where you work.  The size of the crowd doesn't bother me.  Truth be told, I actually feel more comfortable with a bigger crowd.  I would rather fight in front of 1,000 people than fight in front of 2.  I get really more nervous sparring than I do fighting.  I know it's probably backwards, but once you are actually at the show it's all the same.  You don't necessarily want to get too attached to a promotion cause you don't know. It's a very tenuous career cause you don't know where you are going to be.  You could sign a 3 fight contract with this guy, and then you lose once and you are out of a job, so to me I knew what I wanted.  I knew what I wanted to get out of the fight money wise, time wise, experience wise.  It didn't matter who could meet those objectives to me.
"The other thing is, I'm 36.  My time is limited.  My time might have passed for all I know, I guess we will find out.  I've done most things.  I've been on a big show.  I've been on little shows.  I've fought in middle school gyms.  I've seen it, I've done.  It's kind of like 'I just want to fight now.'   From the people I've talked to that fought on the last Maverick card, it was a great show, they did a great job.  They treat their guys really well. And honestly at this point in my life, that's all I'm looking for.  I don't want to be jerked around.  I want to be handled straight forward.  You know from being in this business there is a lot of shady ass stuff and I don't have the tolerance for that anymore.  I don't see that happening with Maverick.  I'm happy working with these guys.  They are very easy to get in touch with.  Regardless of the size of the show or the newness of the show, I'm pleased working with Maverick."
Saturday morning pancakes
When asked if he would be at the Maverick MMA 2 open workouts, Contaldi said:
"At this point, I'm very protective of my free time as far as being with my family, and hanging out with my son.  All that stuff is cool, it's real cool, but you're priorities shift as you get older.  My priorities tomorrow morning, are…. I'm gonna get up, I'm gonna make pancakes for my son, we're gonna wrestle in my living room, and then I'm gonna go to the gym.  That's my day tomorrow.  And I wouldn't have it any other way.  When I miss bedtime now, to go to the gym in order to get ready for the fight, it drives me nuts.
"Your priorities shift when you become a boring old man, and I'm more than okay with that. My last Bellator fight I was in Atlantic City for three days, and with my wife being pregnant, it just sucked, and it wasn't for me anymore.  And honestly the Maverick guys haven't put any pressure on me to do anything.  If they asked me to do something I'd probably do it.
"I used to be in the gym six or seven days a week, but now at 36  years old if I did that, I think I'd be in the hospital at the end of the week.  It just doesn't work like that.  I hate taking days off but I sort of need that broken up schedule."
Where are you at for final preparations and weight cut or gain, whatever you need to do?
(Laughs) – "Ha, yeah, weight is not even an issue.  If I was this close making 185, I'd be the happiest person on earth.  It's a different world when you don't have to cut that much weight.  It's not even an issue.  I gotta lose a little but I've got it to lose.  Secondly, I've done the stupid 12 pound cuts in a day or whatever.  Those days are over thankfully.  It's not going to be a problem.
"As far as preparation, I know guys that go light the week of the fight.  I don't have that. Mentally I will lose my mind.  I go right up to the day before weigh-ins, going 100 mph.  That's not heavy sparring, but everything within reason as far as drilling and not getting hit or getting cut, I go right up to weigh-ins.  Coming from a wrestling background, that's just what you do.  You don't take your foot off the gas."
Maverick MMA 2 goes down July 1 a the Sherman Theater in Stroudsburg, PA.  Get your tickets on the Maverick MMA Facebook page.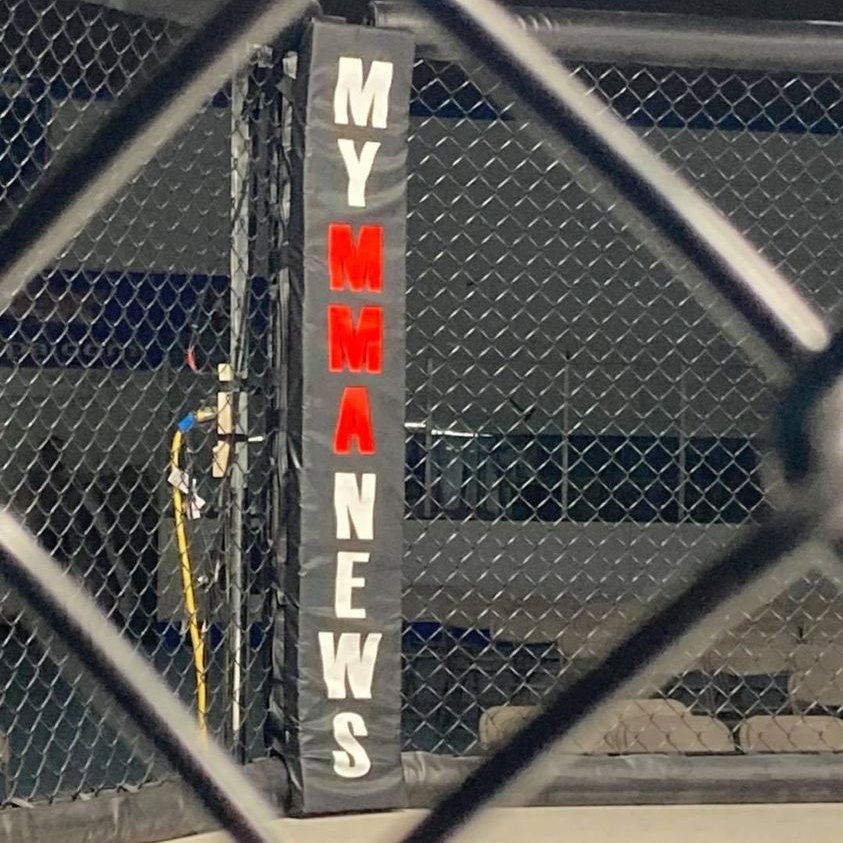 MyMMANews.com – We cover everything from MMA, BJJ, Bare Knuckle, Wrestling, Boxing, Kickboxing, and Judo
News, Opinions, Videos, Radio Shows, Photos and more.