Strikeforce Veteran Sam Spengler Wins Dragon House MMA Welterweight Championship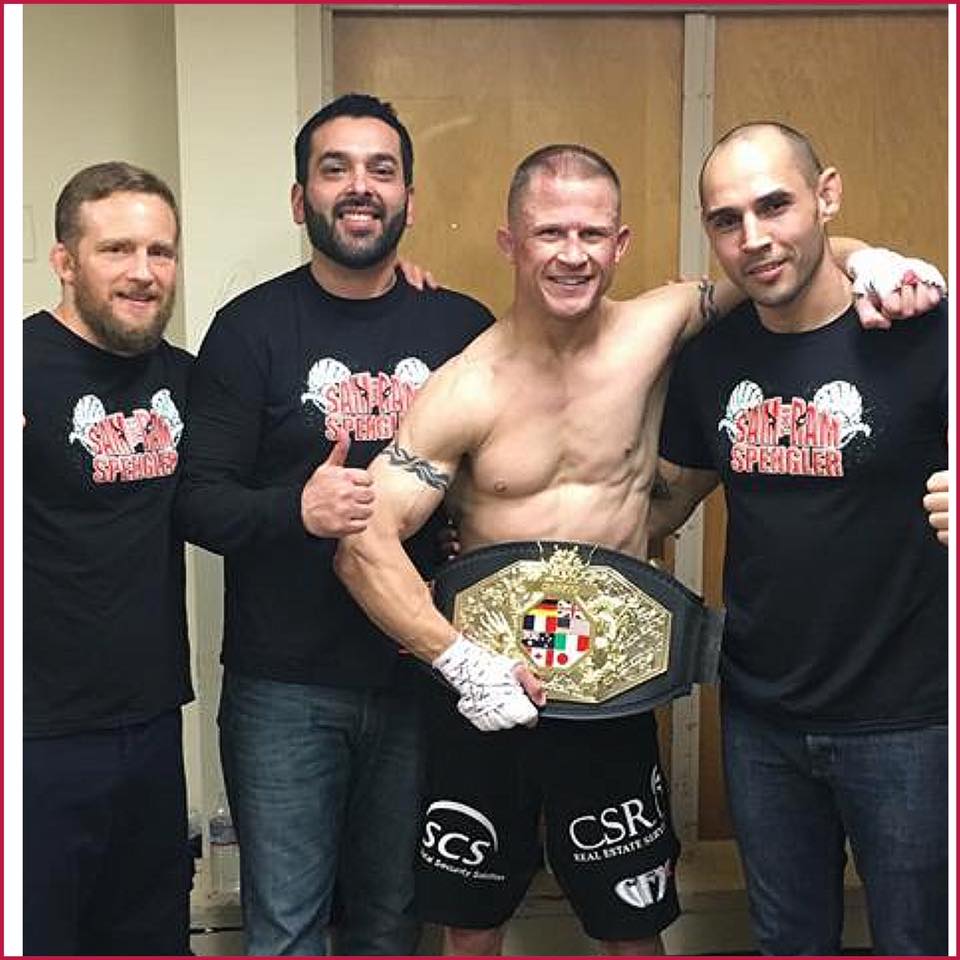 It's been a long hard road marked by blood, sweat, tears for veteran Sam "The Ram" Spengler. Showing no signs of surrender during his ten year fight run, it seems as though Spengler's time had finally arrived on February 6 at Dragon House 22 Fight Series in San Francisco, California.
Headliner of the fight card after a grueling 15-minute war with undefeated welterweight Mikey Gonzalez it would be a split decision victory in favor of Spengler as he was crowned the new Dragon House MMA Welterweight Champion. This culminating moment comes as to no surprise to the native of Helena, Montana as there are many elements that lead to his capturing of the title.
All of this was revealed in this exclusive MYMMANEWS interview with the new Dragon House MMA Welterweight Champion Sam Spengler.
You have been in the fight game since 2006. Through the highs and lows of your career what do you feel kept you going to achieve this current moment of becoming the Dragon House Welterweight Champion?
Sam Spengler: What keeps me going as a fighter is the adrenaline rush before, during and after a fight, and most importantly the feeling that I'm out there fighting for everyone on my side to succeed. It makes me a better martial artist, competitor and person. I could not ask for a better support cast personally and professionally.
Flashback to 2014 you were on a three fight winning streak against some tough opponents in the stacked Dragon House welterweight division. By weigh of your impressive performance did you feel you were in line for a future title shot?
 Sam Spengler: I felt like I was in line for a title shot and after finishing my last 2 opponents, the last one being a brutal knock out.
Hard work always has a way of paying off as you now found yourself fighting for the title. How did it feel getting the opportunity to compete for the Dragon House Welterweight title?
 Sam Spengler: I have always been one to believe in hard work. Dragon House is an extremely competitive promotion and being the champion is contributed to hard work, dedication and my support system, including everyone at Smash Gyms.
Speaking of your training talk to us about your training down at Smash Gym in San Jose helping you prepare for this fight?
 Sam Spengler: Training at Smash Gyms has been a key to my success. The camaraderie of our gym is unbelievable. The teammates and instructors there that have helped me move to the next level, including my cornermen Rudy Sanchez, Manny Rocha and James Terry, is countless.
What do you feel was the motivational drive that allowed you to push to be in top physical and mental shape for your championship fight against Mikey Gonzalez?
 Sam Spengler: I knew the entire time that the key to this fight was keeping pressure on my opponent the entire time. To do that for the entire fight meant that I had to be in phenomenal shape. Every single day for 2 months leading up to this title fight I put myself through grueling training sessions, the entire time thinking how bad I wanted that belt. Many people thought I didn't have it me to beat the undefeated opponent. Mikey is very tough.
Fast-forward, February 6 had finally arrived! Talk us through the match. What do you feel were your high points and most importantly what were some of the things that put you in danger in the confrontation against the champion Gonzalez?
Sam Spengler: I felt in control the entire fight. I dictated the pace and nullified his stand up game. I knew coming in that his only chance was to land a big kick. Mikey is a very accomplished kick boxer and a tough guy. As long as I could keep a furious pace on him and pressure moving forward that I would be in control.
After an incredible 15 minute battle between you and Gonzalez it all came down to the judge's decision. One judge in favor of you and one judge in favor of your opponent. What was going through your mind leading up to the announcement of the final judge's scoring?
 Sam Spengler: You should never leave the fight in the hands of the judges because you never know what the judges are thinking, but I knew that the fight was in my favor.
The final scored was revealed announcing you the winner and new Dragon House MMA Welterweight Champion. How did it feel getting your hand raised and turning your dreams into a reality?
 Sam Spengler: Being a champion for Dragon House feels incredible! Words cannot describe it. But, I remain as humble as ever, knowing that it was a collective effort of so many people. I felt like it wasn't just me, but hundreds, of people in the cage in there with me that I was fighting with.
Finally now as the champion what are you looking forward too and how are you planning of defining yourself as champion?
 Sam Spengler: Several questions have come up since winning the title belt regarding what's next. My answer is that I want to enjoy this moment for the time being.
Sam Spengler Special Thanks: The entire Smash Gyms organization, San Jose and my hometown Helena, MT