Seika Izawa and the greatest rookie year in MMA history
Seika Izawa wants to be the best in the world.
Unbeknownst to the blissfully ignorant 24-year old, she has already achieved this feat just 14-months into her MMA career.
"To be honest, I don't really think I understand what I have done," Izawa said with a smile when speaking to My MMA News on BROADENED HORIZIN. "I'm just relieved and happy that I was able to win a fight because I trained to win this fight. So I have no idea what other people think but I'm just happy I was able to win a fight which I prepared for."
Izawa's last appearance was just another competition in her mind. In reality, it was so much more.
The Utsunomiya, Japan native entered the RIZIN ring for the very first time on the grandest stage – a RIZIN New Year's Eve show. Standing in her way was literally the toughest possible task; the reigning champion and greatest atomweight of all time, Ayaka Hamasaki.
Izawa had already captured the Deep Jewels 115-pound strawweight crown but was still just 4-0. Her experience pales in comparison to a 13-year 26-fight veteran of Hamasaki's caliber – a legend with a whole 10 more titles to her name than the young prodigy.
All these elements would typically create indescribable amounts of pressure for your average athlete with the opportunity. But as Izawa continuously proves, she is far from average.
"During my competitive Judo days, I used to get nervous," she said. "I used to get nervous before the fights, I used to get nervous just thinking about the competitions. But MMA is different. MMA is more that you want to show yourself. It's not about just the win. The walkouts are nice, the big crowd, the crowd cheering for you, I like to turn that all into positive energy. When I think about wanting to deliver what the fans are there for, it just excites me and I think that mentality and that thought gets me excited and relaxed."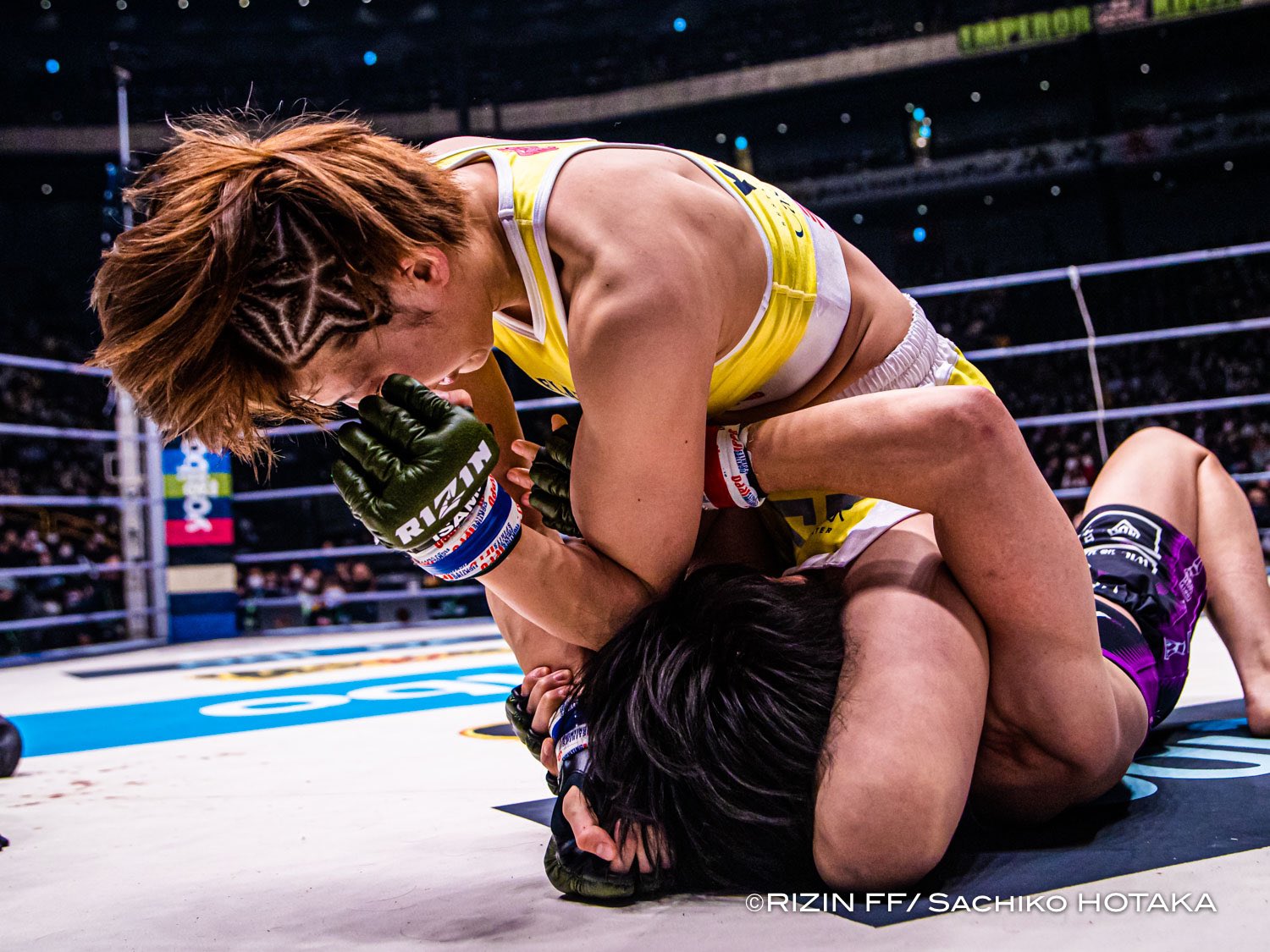 Hamasaki had only lost on three occasions before encountering "Starflower." Two of those did see her finished via strikes but in the strawweight division. The only other loss Hamasaki has ever suffered south of 115 came to rival, Seo Hee Ham, by split decision in a closely fought 2019 trilogy.
The Izawa matchup was the definition of legend vs. prospect. This time, the future became the present right before our eyes as Izawa dominated her way to a second-round TKO.
2021 was a year of upsets with arguably none greater than what the lifelong wrestler-Judoka was able to achieve. Izawa's superstardom begins now and she's content with the cheers and affection – all other noise falling to the wayside.
"I like to make my own decisions and from my actions, I decide from my own actions so I don't let any of other people's opinions affect my decisions," she expressed.
Izawa didn't have a set goal during her Judo days. Some may chase the dream of earning gold medals in the Olympics. Instead, it was just about winning and competing.
When she lost that chance due to the COVID-19 pandemic shutting down tournaments, Izawa turned to MMA.
"It's not like you get punched in the face every day," Izawa said with a laugh when reflecting on her transition to MMA. "I was in a professional Judo team and they would hold these annual competitions which would determine your activities for next year. Because of COVID, that annual competition was not held so I couldn't compete anywhere. For me, I wanted to continue to compete so that's why I kind of transitioned to MMA and now we're here."
Izawa's potential was evident from the start. The signs of progression increased greatly when winning the Deep Jewels title with a stellar first-round armbar.
"For me, I won a fight," Izawa said when equating her two biggest wins.
Shortly after, Izawa dispatched of two bonafide veterans and pioneers in a tag team grappling match – Emi Tomimatsu and Mika Nagano, respectively, as the two on the receiving end of an armbar and heel hook.
By toppling the division's current and all-time best in the fashion and record speed that she has, Izawa is already on top of the world. The fact that she doesn't see it that way only makes her capabilities all the more horrifying for any future opponents.
"I've always had the goal of wanting to become the best in the world. I think the UFC is the best way to prove that," Izawa expressed.
"If I had a choice, I would like to start off with atomweight [in the UFC] because I feel like atomweight is more of my weight class."
Resistance has been futile towards Izawa thus far. Which is only fitting considering who she strives to be like as an athlete.
Considering her unbeaten ways, she's off to the best start possible.
"I don't really specifically go out to watch fights, but if the fights are on, and if there's any specific moves and finishes that might work for me, it doesn't matter who it is, I'll practice that and I'll try to copy that move," Izawa said. "But in terms of what kind of style I want to be, I would like to become a fighter like Khabib Nurmagomedov."
A rematch with Hamasaki is all but guaranteed – it's just a matter of when. Unsurprisingly, Izawa is game for the challenge once again. But essentially, there's no special treatment toward it from her perspective.
"If the offer is presented, I will take that fight," she said. "But if it's not presented, I don't mind taking any other fight."
No matter what happens next, Izawa has already accomplished things no one in the sport can ever even fathom. Going from a debutant to one of the best fighters in the world in just over 365 days is reason enough to believe fans are witnessing the emergence of a unicorn-esque competitor.
So be proud of accomplishing the greatest rookie year in MMA history, Seika Izawa. You only get one.
BROADENED HORIZIN Ep. 12 ENGLISH AUDIO BELOW:
以下の日本語版 (JAPANESE VERSION BELOW):
Drake is an MMA writer based out of Brush Prairie, Washington, USA who specializes in feature pieces, the women's fight scene, lists, news coverage, and rankings. He has been a passionate fan of MMA ever since 2009. Drake has most notably written for BJPenn.com, FanSided, The Body Lock, South China Morning Post, MyMMANews, WhatCulture, Cageside Press, Sherdog, The Scrap, and MMA Today. He has also written for and created video content for RT Sport. As for other sports, Drake is a longtime fan of the NFL's Green Bay Packers and Jacksonville Jaguars.
You can follow him on Twitter and Instagram: @DrakeRiggs_ . Also check out all of his video content on YouTube at YouTube.com/DrakeRiggs where he uploads fighter interviews, podshows, and various other types of content.