Sharif Jones: Will Martinez has a name, and I want everything that comes with it
Sharif Jones: Will Martinez has a name, and I want everything that comes with it
This past Friday night from a packed 2300 Arena in Philadelphia, World Cagefighting Championship's lightweight champion, Sharif Jones, stood and watched intently as the WCC 18 main event between Troy Wittman and the returning Will Martinez went down.
Jones stood on his feet throughout the fight and used his phone to record all the action.  We caught up with the champ earlier today to get his take on the bout and why he was so interested in the outcome.
LISTEN BELOW:
TRANSCIPT BELOW:
Sharif Jones – "First, I want to say, what a hell of a show that Mike Bickings and Doug (Yasinsky) put on.  And, who could not stand and watch that fight?  It was a hell of a fight.  Two gladiators in the cage putting it all out for the fans.  But besides the cute stuff and everything, a little story line behind it.
"The real reason is… Troy Wittman, he was a 4-1 guy, now a 4-2 guy after losing to Martinez.  He had recently did a Facebook Live and called me out.  It was a respectful call out but he wanted to fight a big name guy.  He had called Mike Bickings and asked who is the champ in the weight class and Mike said it was me.  He did the Facebook Live post and called me out but I had never gotten around to talking to Troy personally because at that time I was scheduled to fight Steve McCabe but that fight had fell out and I pulled out of the October card all together."
Video of Troy Wittman calling out Sharif Jones
"But me showing up to the fight, I was interested in, Who is this guy? Who is Troy Wittman? And what does he have to bring to the table?  But…. I was interested in Martinez too.  Martinez is a very, very big name in the Philly community.  Anybody who knows me knows I see myself competing on the big stage, in Bellator, in the UFC and I look at myself as being one of the biggest name in the local area and I'm gonna take over.  Only way you can be the King is if you take over all together.  Martinez has a big name and he's been on the big stage and I've actually trained there before.  He coached me for my second pro fight when I beat a dude by the name of Greg Quarentello in the first round by choke.  So we have some history.
"I respect him, Chavo his brother, I respect his whole gym.  They have a lot of good fighters.  So I studied that fight.  I was on my feet studying because honestly I wanted to fight the winner of that fight.  I did want to fight Troy because he called me out, and Martinez had the big name, but with Martinez getting the win he was the guy I wanted to come after.  There's no bad blood behind the situation.  No controversy.  It's just plain and simple that he has a name and I want everything that comes with it.  I watched everybody who stood up on their feet.  I counted at least 70 plus people that was standing up cheering for him and I just pictured what if that whole crowd was quiet because it was me in there instead of Troy, and I'm getting that win.  He comes with a name.  He's already been on the big stage before and I feel as if I beat a guy of that caliber, I take all that recognition with me, and that's what I plan on doing."
When asked if he would give his first title defense to Will Martinez:
Sharif Jones – "My first title defense, I offer it up to Will Martinez.  I know Will.  Will is an older cat man.  He's been the game.  He could care less about belts.  But at the end of the day I want him to take the fight.  People may know me as a shit talker in the game, causing havoc, but at the end of the day I know how to sell my fights.  It's not a disrespectful call out at all, but don't take it too much as a respect call out.  One thing I noticed about that fight, I believe Troy showed up to compete against Will Martinez.  I plan on showing up to beat Will Martinez.  I watched that fight and I think I have everything that it takes to come out with the W.  Martinez has a lot of fans, a lot people that respect from the coaches in his game to people that I train with, coaches respect him, but at the end of the day, I'm a young savage who plans on taking over in this sport and that guy has a lot of recognition and I want it all.  I want it.  Don't take it as a disrespectful call out, don't take it as a respectful one.  I don't want to just show up and say I fought a Bellator guy, and he's a well known dude.  I want to show up and beat Will Martinez and have that on my record."
When asked about recent social media post regarding a move to 145 lbs:
Sharif Jones – "Yeah, I honestly do.  I usually don't give too much insight about my weight cut and my dieting regimen.  I usually just talk about my strength and conditioning and my fight game and I'm pretty good.  We all know, yes I missed weight one time out of my whole career.  As they say, 'they always scream your failures and whisper your accomplishments.'
"Yes I missed weight one time.  I was coming off a year of not training, not even lifting a weight.  I tried to do a hard weight cut and I missed it.  Alright, my fault.  But usually when I'm not in camp, I'm walking around at 192, 195, when I'm walking around outside of camp.  This is the lightest I've ever been walking around cause I'm actively training now.  I'm training three to four times a day I'm training now because of the diet I'm on.  I'm walking around lighter.  I'm walking around around the 175 or 180 range now so I believe a 145 weight cut is optimum for me.  I think it would benefit me.  I dominated a lot of guys at the amateur and pro level because of my wrestling and I think I would be a lot stronger than these guys.  Plus, I feel as if I was to go to the big stage, let me take that back, when I go to the big stage, Bellator or the UFC, I feel as if though that 145 weight class would be a more substantial weight for me where I can pick up a lot of wins and stay under contract with these promotions. I do plan on making that cut. I know Martinez is a 145 fighter.  I know him and Troy did a catcweight so I'm hoping he would do the 155 cut, but if not, if he made me go lower, I would do it and that would be my first fight at 145 but I would like to defend my title first.  But if not, I will defend my title against anybody that Mike Bickings puts in front of me."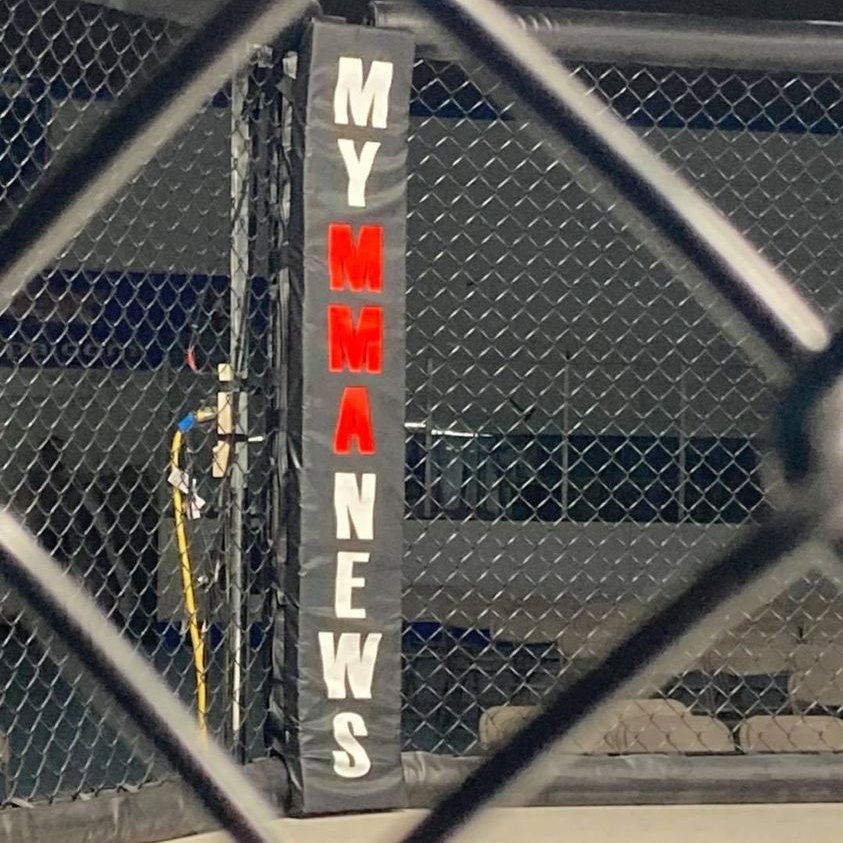 MyMMANews.com – We cover everything from MMA, BJJ, Bare Knuckle, Wrestling, Boxing, Kickboxing, and Judo
News, Opinions, Videos, Radio Shows, Photos and more.