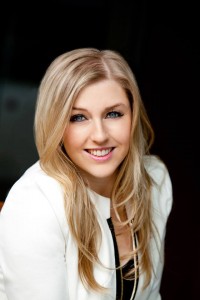 Jade Morris is a TV Presenter who is currently a freelance sports presenter for MMA UK and My MMA News covering the Mixed Martial Arts scene.
A self confessed obsessed sports fan from a young age and keen to make her mark in the industry. Jade can be found behind the scenes doing the pre/post fight interviews for the top-level athletes in the country including at BAMMA and The UFC. She has also directed and produced fighter diaries for some of the top fighters in the UK.
Jade has worked both in front & behind the camera and has a Filmmaking Diploma from The New York Film Academy and a 2:1 Public Relations Degree from University of Central Lancashire. With a wide array of skills she has worked all over the world acting in theatre, film and TV and has produced and directed short films in New York.
Through her bubbly personality and ambition Jade is making her way in the sports industry, don't forget to check out her interviews!
A few facts you might not know:
* Jade trains in Brazilian Jiu Jitsu and Muay Thai under UFC Veteran Jason Tan at the Liverpool MMA Academy
* Jade has worked as an actress and appeared in music videos and short films
Follow me on Twitter at @jade001