Titan FC 39 Results: Cavalcante vs. Healy
Titan FC 39 Results:  Cavalcante vs. Healy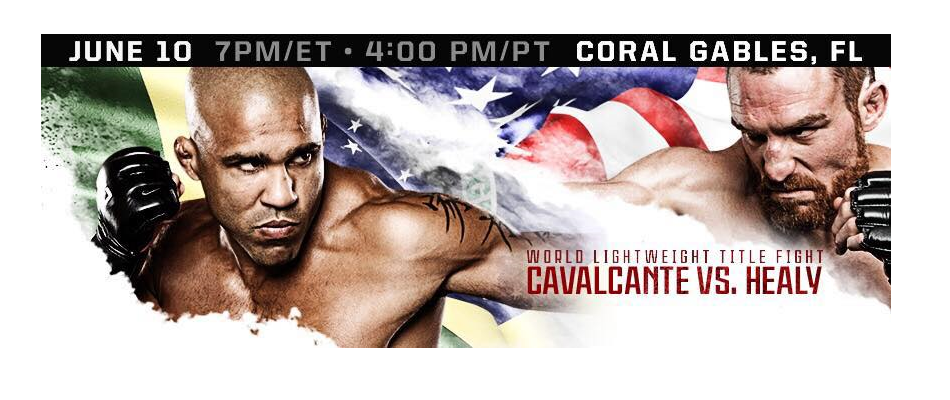 Titan FC 39 goes down at the BankUnited Center in Coral Gables, Florida and features three title fights on the night.
In the main event, Gesias Cavalcante fought Pat Healy for the vacant Titan FC lightweight title.  Healy had success early on, backing Cavalcante against the cage but JZ was able to counter and find a sweet spot on the jaw of Healy and follow up with more punches after Healy went down, and the referee stopped the action.  #AndNew
Andre Harrison and Deivison Ribeiro went toe-to-toe for the featherweight title, and Dhiego Lima and David Michaud battled for the vacant welterweight title.
In a very unfortunate set of circumstance, Deivison Riberio saw his leg snap in half after he threw a kick to the champion in Andre Harrison.  It was certainly not a pretty thing to watch but Riberio kept his composure as medics worked to aid him while assisting him out of the cage.  With the TKO, Harrison moves to 13-0, remains undefeated, and keeps the title.
In an amazing bout and very close fight, Lima defeated Michaud via majority decision to take home the gold.
Also, longtime women's mixed martial arts veteran, Carina Damm make her organizational debut against Sarah Alpar.
Full Titan FC 39 Results below:
Gesias "JZ" Cavalcante defeated Pat Healy via TKO – Round 1, 2:07 – for vacant lightweight title
Andre Harrison defeated Deivison Ribeiro via Referee Stoppage (leg injury) – Round 3, 2:13 – for featherweight title
Dhiego Lima defeated David Michaud via majority decision (48-47, 48-47, 48-47) for vacant welterweight title
Carina Damm defeated Sarah Alpar by unanimous decision (29-28, 29-28, 29-28)
Micah Miller defeated Kenny Gaudreau by unanimous decision (29-28, 30-27, 30-27)
Abdiel Velazquez defeated Alexis Vila by majority decision, Round 3
Kurt Holobaugh defeated Luciano Dos Santos by TKO (strikes) – Round 2, 4:32
Saba Homasi defeated Vitor Regis Eustaquio by knockout (punches) – Round 1, 2:21
Lazar Stojadinovic defeated Chino Durran by submission (rear-naked choke) -Round 2, 1:30,
Preston Parson defeated Ignacio Bahamondez by submission (armbar) – Round 1 2:59
Raush Manfio defeated Luis Zequeira by knockout (knee) – Round 2, 4:52