UFC extends pay-per-view television distribution agreement
UFC extends pay-per-view television distribution agreement
FEASTERVILLE, Pa.
UFC ® and Joe Hand Promotions, Inc. today announced a multi-year extension of their Pay-Per-View television distribution agreement. With the extension, UFC will maintain Joe Hand Promotions as its exclusive commercial distributor throughout the United States.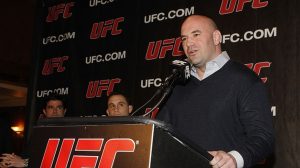 "UFC and Joe Hand promotions have been synonymous with Pay-Per-View success for nearly 15 years and we're thrilled to continue our partnership," UFC Vice President of Content David Shaw said. "It's fitting that we announce this extension with one of our longest-tenured partners leading into our landmark UFC 200 event."
"Our relationship with UFC is one of the longest and most valued in the history of Joe Hand Promotions. The UFC is the largest Pay-Per-View provider in the world with unparalleled leadership and we are proud to be their partners," Joe Hand Jr. said. "We look forward to growing our customer base together and bringing the excitement of the UFC to even more commercial locations."
UFC and Joe Hand Promotions began their commercial distribution rights partnership in 2001. With more than 45 years of experience, Joe Hand Promotions is the nation's premier distributor of pay-per-view, closed-circuit sports and entertainment programming. Its growing customer base includes a network of more than 5,000 sports-oriented commercial establishments, such as bars, restaurants, military bases, casinos, universities, cruise ships and oil rigs.