Enclosed is a copy of "Unrivaled: Royce Gracie." The special debuts Tonight, Monday, February 15 at 11:00pm ET/PT on Spike.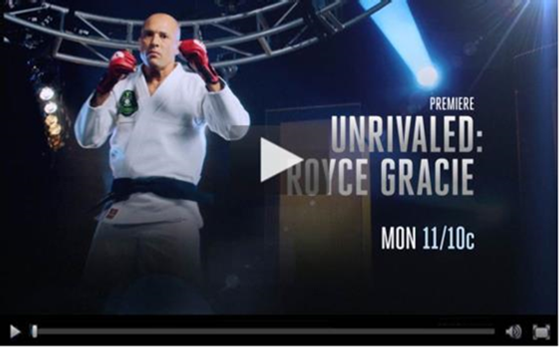 Spike presents a compelling look at the fascinating backstory of the most influential fighters in modern mixed martial arts, Royce Gracie, in the original special "Unrivaled: Royce Gracie." The half-hour show delves into the first family of MMA, The Gracies, and the incredible legacy they created. Royce gives a first person account of his fantastic journey to become the "Godfather of MMA" as we travel with him to teaching sessions, black belt testing, and his personal training for the upcoming fight with rival Ken Shamrock. The special will also provide an exclusive look into Royce's family life and his true motivation for continuing to compete.
"Unrivaled: Royce Gracie" is produced by the award-winning Matador Content ("Lip Sync Battle," "Banksy Does New York," "Hellevator,") with Executive Producers Scott Coker, Jon Slusser, Kevin Kay, and Jaimee Kosanke.
In case you missed it: Last Friday, Spike aired this one-hour original special, "Shamrock / Gracie / Kimbo / Dada 5000," taking MMA fans back to the beginning of one of the most iconic mixed martial arts fights in history that created a rivalry spanning over two decades between Ken Shamrock and Royce Gracie.  Viewers will get an exclusive inside look at the beef between internet icon Kimbo Slice and his protégé Dada 5000 before their brutal showdown at Bellator 149. Emanating years ago on the streets of Miami, this contentious relationship will come to a head in the Bellator cage on February 19. "Shamrock / Gracie / Kimbo / Dada 5000" is produced by Leigh Simons Productions.