Crowd falls silent after WCC 14 main event stunner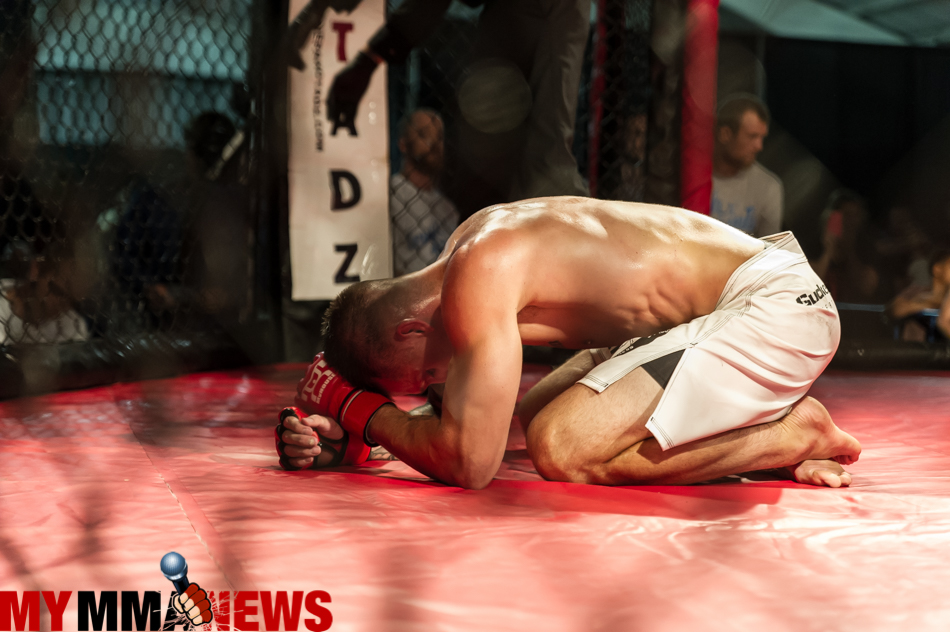 'The Disciple' Dustin Pague was doing everything right; in fact it was hard to find a flaw in the former UFC fighter's fluid movement.
Pague's striking, head movement, speed, and grappling ability seemed to be light years ahead of his opponent.  It appeared as if Pague, who had the hometown crowd momentum on his side, was on a fast track back into the UFC, the organization for which he had six fights from 2011 to 2013.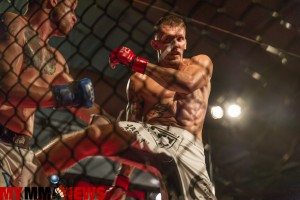 In the first round of the World Cagefighting Championships (WCC) 14 headlining bout, September 4, Pague was putting on a clinic against Tennessee native, Anthony Morgan.  In the final seconds before the round's closing bell, Pague somehow transitioned into full back control and a rear-naked choke before the round concluded and referee Jimmy Chapel pulled the two apart.
As a fan I could not be more excited. We were seeing the rebirth of 'the Disciple.'  As a commentator sitting cageside it was hard to talk over the pop of the crowd.
The second round seemed to be more of the first, Pague finding success in every area and with every move he made, and then…… silence.  The roar of a crowd consisting of hundreds cheering and rooting for their fighter fell silent.  It was so quiet you could hear a pin drop.
Pague made one mistake and was submitted via rear-naked choke at 3:41 in the second round.  With distraught and in complete disbelief Pague sat on the mat contemplating what had just happened and what his future might hold.
Again, as a fan I was shocked.  I could not believe what just happened before my eyes.  As a commentator it was hard to find words to fill the void.  The thunder of the crowd had gone silent.  There was no movement.  It looked like a sea of lost souls waiting for direction.  Then finally, nearly half a minute later, there was movement.  Pague stood up and circled the cage, congratulating his opponent.
After the fight Pague jumped on the microphone and what felt like a pending retirement announcement turned into the fighter stating he would take much needed time off from the sport to come back stronger.
"I just want to thank everyone for spending their hard earned money to come see me perform  her tonight.  This is not a retirement speech so don't start that.  I really need to search my heart. I gotta get healthy. I have to get my body healthy, and I am gonna come back stronger," Pague said.
His opponent, Morgan, classy in his win over the troubled Pague said, "I know I was brought in here against the hometown favorite to lose.  But I didn't drive eight and a half hours to lose."
It will be interesting to see where both fighters go from here.  Pague was coming off a win at WCC 13 back in March when he defeated Charlie Gathers via rear-naked choke.  Before that, Pague had lost five consecutive fights, four of which in the UFC.
In the co-main event, "The Shuttdown" Blaine Shutt made quick work of Ohio native Adam Roll, winning by first round submission.  This was Shutt's first time back in the cage since breaking his hand during a fight in March.  Look for Blaine Shutt to have an acting roll in the upcoming film "Fight Valley" starring Miesha Tate, Holly Holm, and Cris Cyborg.
Zak Kelly used his incredible striking prowess to outwork a very tough and gritty Justin Adams, while Shane Wilson made a case for himself as an emerging threat in Pennsylvania's amateur heavyweight rankings moving to 3-0 with a TKO win over Emere Hoehne.
Full WCC 14 results below:
Anthony Morgan defeated Dustin Pague via submission (rear-naked choke) Round 2, 3:41
Blaine Shutt defeated Adam Roll via submission (Americana) Round 1, 1:59
Zak Kelly defeated Justin Adams via unanimous decision (30-27, 30-27, 29-28)
Shane Wilson defeated Emere Hoehne via TKO (strikes to body) Round 2, 1:12
Ben Moser defeated Mike Clelan via submission (verbal tap from armbar) Round 1, 1:02
Kyle Cassel defeated Jesse Stokes via unanimous decision (29-28, 29-28, 29-28)
Antoine Werts defeated Mike Summers via submission (guillotine choke) Round 1, 1:52
Andy Falenski defeated Tom Fitzpatrick via submission (armbar) Round 1, 1:11