Will "The Thrill" Dodd – Fighting not an individual sport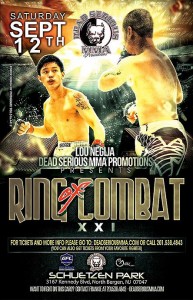 [dropcap style="font-size: 60px; color: #000000;"] W [/dropcap] ill Dodd aims to keep his undefeated amateur mixed martial arts record intact while earning himself a title in the process, this Saturday night.
The College of New Jersey (TCNJ) wrestling stand out headlines Ring of Combat 21, September 12 in North Bergen, New Jersey.
Will "The Thrill" Dodd (4-0) challenges current Ring of Combat, 135-pound champion, O'Brayan Ramirez in the evening's main event.
Dodd is currently the head wrestling coach at Plainfield High School in Plainfield, New Jersey. He is a blue belt in Jiu-Jitsu and trains under Chris Civello, head coach and owner of Sakura Jiu-Jitsu in Dover.
While wrestling and Jiu-Jitsu may be Dodd's strengths, he does not rely only on those aspects of his fight game.
"I really feel my striking has come a long way," Dodd said.
"My coaches and I have put a lot of work into my striking this camp as well as how to use it to set up takedowns. I'm a lot more comfortable throwing combinations instead of just one or two punches at a time like I was doing in the past. I'd also have to say conditioning is always one of my biggest strengths going into a fight. Most people probably wouldn't say that, but because I have so much confidence in my conditioning and the shape I'm in, I'm able to push the pace in the later rounds."
The Ring of Combat bout against Ramirez will be Dodd's first headliner, and if his coach is correct it won't be the last.
"I believe that you will see big things from Will Dodd in the future," Civello said.  "He is so young in the sport with the whole world ahead of him. If he continues on this path at this learning rate I believe you will hear his name fighting on the big stage."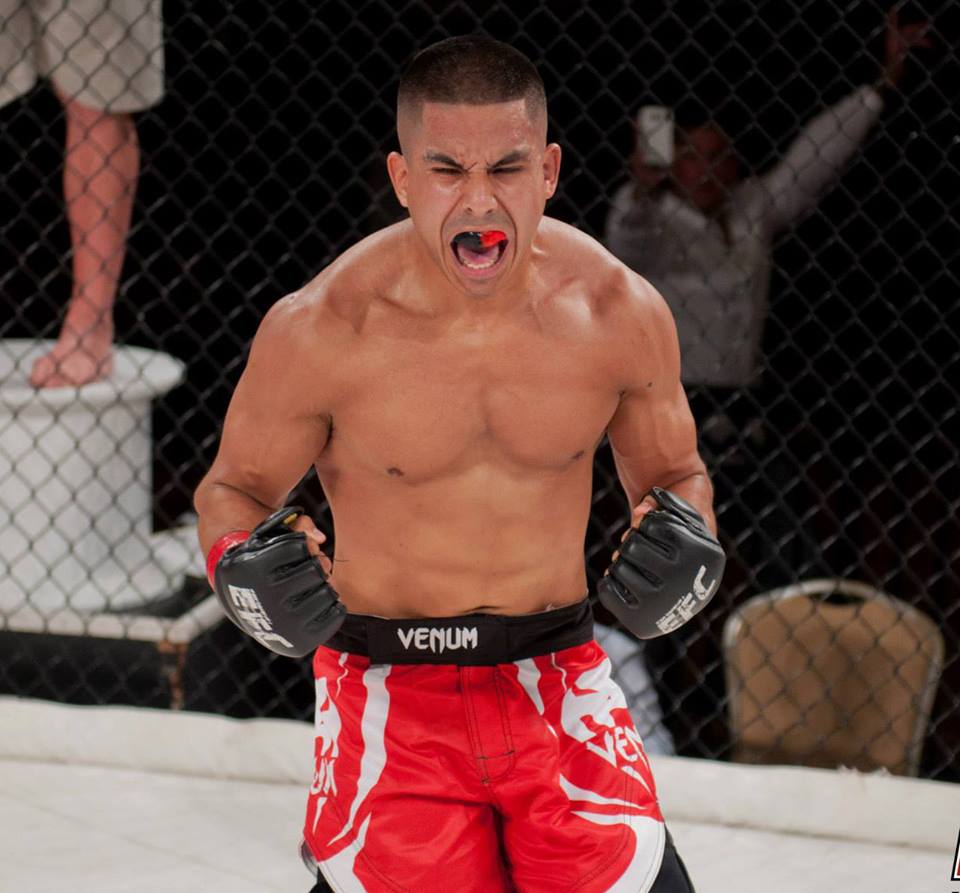 While Civello feels that Dodd will be around for a long time, "The Thrill" recognizes that he would not be in this position if it were not for his training partners and coaches.  Together they make Dodd run like a well-oiled machine.
"It feels great to be headlining my first card," Dodd said. I think it's a testament to the work my coaches and team have done with me to get to this point. A lot of people think of fighting as an individual sport, but it takes a team to get any fighter ready. Without my coaches and training partners I wouldn't have had the success I have been having, and I'm proud to be representing Sakura BJJ in the main event."
When asked about his game plan for the fight, Dodd said, "For this fight I plan on setting the tone early with my striking and just shutting down my opponents offense. If he wants to stand and bang then he should be ready for a war because I'm more than willing to do that. When he is tired of getting clocked and wants to go for the takedown I plan on shutting his takedowns down and landed some ground and pound."
"I want to stay in his face the whole fight and not give him a chance to recover, and that will be possible because of my conditioning."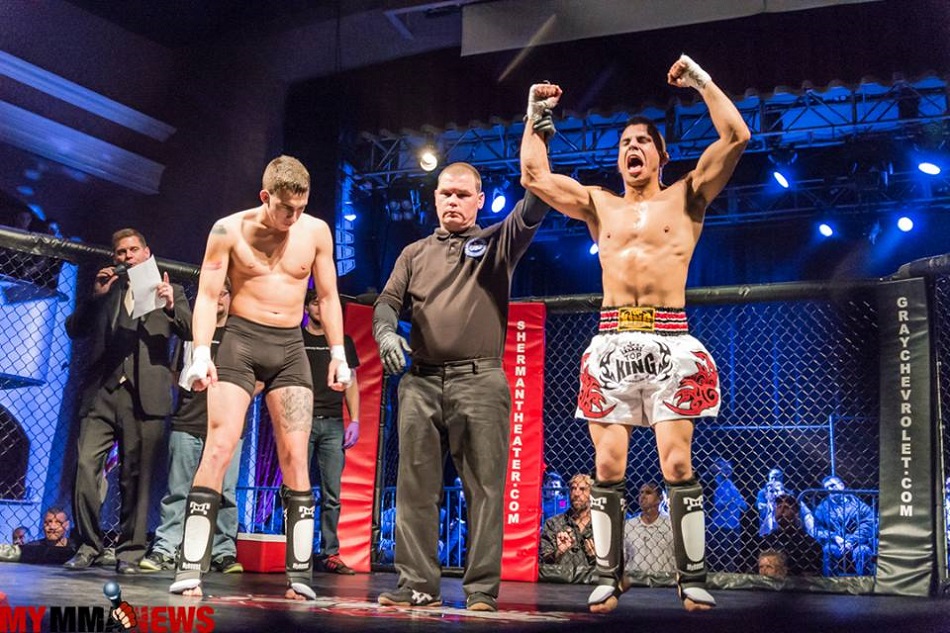 Civello said fighters like Dodd are a rarity and believe he found a gem in "The Thrill."
"He has that wrestling grit. That mental toughness. The stuff you cant teach," Civello said.
"Watching his fights is like watching a brand new fighter over and over always evolving. His evolution within four fights has been astounding. He is dangerous from every position and is a finisher. Fighters from my school are expected to go into that cage and either win or lose with an opponent questioning if they will ever fight again. Will Dodd embraces that practice and goes out to put people away not play for points. A quality more and more rare now a days."
Full Ring of Combat 21 Fight Card:
O'Brayan Ramirez vs William Dodd
Michael Trizano vs Justin Clarke
Robert Bodden vs Wendell Sneed
BJ Young vs Michael Lucia
Billy Fletcher vs Brandon Cromartie
Dezhan Morgan vs Nile Dillon
Brett Pastore vs Brian Mayer
Alex Groden vs Humberto Perea
Anthony Rice vs Pawel Zieleniak
Jamie Drago vs David Ortiz
Cristian Santos vs Mark Federico
Dante Di Grazia vs Andrew Smith
Tommy Dessir vs Charles Martell
*Card subject to change
Ring of Combat 21 will be held at Schuetzen Park, 3167 Kennedy Boulevard North Bergen, New Jersey
For tickets, visit http://www.deadseriousmma.com/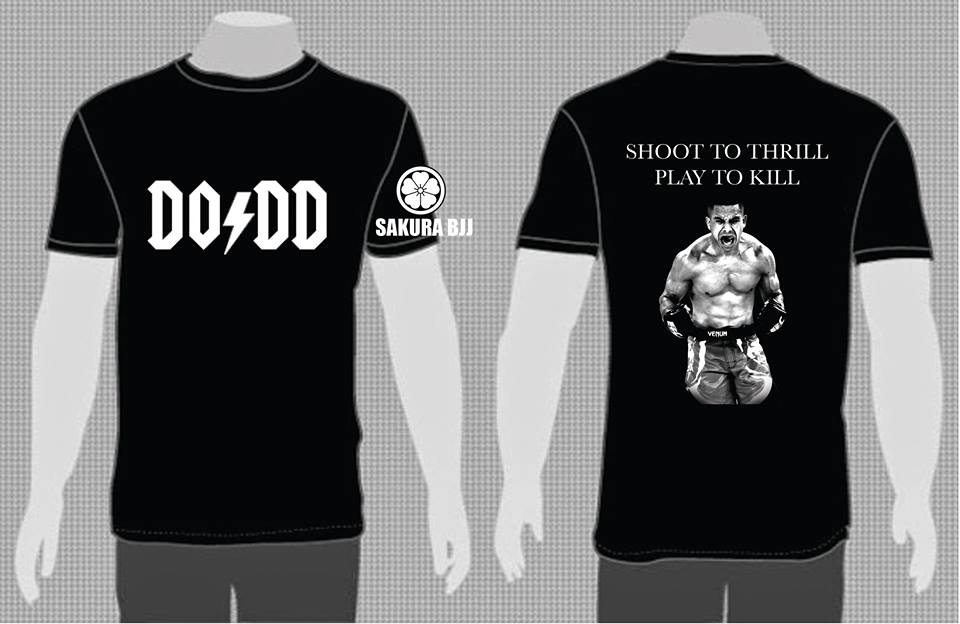 Follow MyMMANews.com on Social Media
The following two tabs change content below.
Founder of MyMMANews.com - After writing for Ultimate MMA magazine and serving as the editor for U.S. Combat Sports, both of which went on hiatus, I decided to venture out on my own and enlist a staff of writers and photographers that could help me achieve my goal of telling stories that would otherwise go untold. We pride ourselves in taking a deeper look into the fighter, and understanding what makes them tick. - #1 Dad, Marine Corps Veteran, 80's and 90's Pro Wrestling Fan, MMA Commentator, Beer Lover, and avid movie watcher. Seriously..... I watch a lot of movies.
Latest posts by Eric Kowal (see all)