A Troubled Path to a Great Escape: The Ian McCall story
May 6, 2018 … the RIZIN Fighting Federation is in Fukuoka, Japan for their 12th event. The featured attraction pit one of the country's brightest stars against an unsung MMA pioneer. For Ian McCall, his stunning nine-second knockout loss acted as the flipping of a switch – not only for his consciousness but his life as a whole.
From 2002 to 2018, the man famously known as "Uncle Creepy" fought around the world and did so at the highest level. As good as he was throughout his career, there will always be that thought of how things could have been different had certain key factors been altered along the way.
Retirement for many professional athletes is the hardest of pills to swallow. Unfortunately for McCall, that phrase had a literal meaning for the vast majority of his life. Having encountered drugs as early as age 8 with marijuana, it would carry on and progress from there to such degrees that saw peaked with a near-fatal overdose. When reflecting on that reality, McCall compares that to seeing his only child, his 8-year-old daughter, and being perplexed by the differences of each of their early lives.
"I started taking drugs at a young age, plant medicine, I guess – dabbled in everything and was addicted to painkillers for 20 years," McCall told MyMMANews, "From 14, where I was getting it from friends or smuggling them across the border from Mexico. At 14, I was like, 'I can't get in trouble, I'm 14,' so I just taped them to my legs. Steroids, pills, just sh*t I could sell to the f*cking kids at my school. I was addicted for so long and I couldn't break it. And psychedelics is what helped me through that. I mean, that's what got me off it. I can't even dip anymore. If I try and dip I get sick, I can't even imagine what would happen if I took an oxycontin or fentanyl, I would probably die."
Admittedly "a mess" when entering the UFC in 2012, the now age 35 Costa Mesa, California native finds himself loving life as post-MMA he's become a psychedelic integration coach.
Crediting his obsessive-compulsive nature, growing up, there were three things that the future best flyweight in the world wanted to be. Those being a fighter, stand-up comedian, and a scientist – in no particular order.
He hasn't become a scientist nor does he believe he ever will … his girlfriend, a professor at UCLA, happens to be one though. And that's close enough for him.
In turn, they met and hit it off, therefore, leading to McCall's path of education getting all the clearer as she, a coach herself, assisted him in his new world of expertise where they work together on numerous projects.
Looking to constantly better himself and anyone he can help with microdosing and many other tactics that are better left explained by the expert himself, McCall was always fascinated by drugs of the psychedelic nature. Getting to aid athletes in this department has made him the first of his kind.
"I do a performance study. I'm a performance coach," he stated, "So my microdosing protocol I have is obviously different for each client I have. I don't just do athletes, I do motivational speaking, I do a bunch of people. Men, women, doesn't matter. They need my help. That's my job. I have to and I love it.
"When you look at microdosing with sports or with performance, you have the uptick in efficiency of everything you do, [which] is insane. You're so much more efficient. It won't make you physically stronger, mentally you're more efficient and physically. So it won't make you more strong like putting testosterone into your body more. Your body just moves with kinetic efficiency.
"Most people just think of it as flow state," McCall explained, "You have the dropping of the fear response so you're not afraid to go for certain techniques that you've never done before and you also have that kinetic efficiency so you pull them off, you're in a flow state so you see things coming at you better, you have visual acuity, mental acuity, linguistic acuity. My ex, she's kind of blind and she's like, 'Every time I take it, I see better.' Parts of your brain are turned on like that and it's crazy."
While McCall finds himself busy with this new occupation, it's just one branch on his continually growing tree of business. Despite also being involved in the cannabis industry, he believes that the healing and protective properties from damage that psychedelics have to offer should be enough for all sports to see their importance. Something that remains a battle in making happen as he admits that it is a competitive advantage due to healing the brain from all variants of damage.
"We all have damage. Whether it's addictive damage from medicine, from pills, from what have you. Just a simple car accident, one big hit, playing soccer head butting the ball all the time. Just all kinds of sh*t we don't think about."
McCall has found his purpose in life after fighting and believes that if he can get better and fix himself, anyone can. Which makes it all the more impressive that he was able to find the levels of success that he did in MMA.
Starting off his career as a 135-pound bantamweight, McCall would go 8-2 in first 10 bouts with his most notable stint to this point coming within the WEC cage. Although his time with the promotion was short-lived as he departed after a loss to the future greatest fighter that the division has ever seen in Dominick Cruz, McCall's talent was clear. Six of his overall wins had come by finish (four KO/TKOs and two submissions). Not too shabby for a "little guy".
Following the Cruz fight, "Uncle Creepy" picked up a win over Jeff Willingham in what wound up being his final fight in the weight class for the foreseeable future.
Shortly after, he was offered a fight against the 125-pound flyweight division's No. 1 fighter in Jussier "Formiga" da Silva. An interesting and somewhat surprising opportunity, to say the least, McCall took it and the true star that was "Uncle Creepy" was about to blossom.
The Kung Fu blackbelt in McCall would upset the world's best at that weight with a unanimous decision victory. Tack on two more wins after that against other top-ranked flyweights in Darrell Montague and Dustin Ortiz, and the mushroom aficionado was on top of the world and comfortably at the peak of his new fighting home.
Recognizably now a star in the making and a memorable name from the WEC, fans were seeing exactly what the now Tachi Palace Fights champion was capable of. That only became even more obvious with his next outing which was undeniably his biggest. And in hindsight, it might be the one he's most remembered for.
The UFC would announce that they were creating a 125-pound division with a four-man tournament to decide the inaugural champion. Of course, this meant McCall was getting that rightful call up to the big show. He and Demetrious Johnson would go on to compete in the very first fight in UFC history and it still to this day remains as one of the division's all-time greatest clashes.
Johnson's story unraveled out seeing him cementing himself as one of the very best fighters in MMA history, if not the best. But the start of his flyweight career was a controversial one, to say the least.
After a fun and frantic first two rounds that saw all three judges score the second round to Johnson with two also giving him the first and the third scored it an even 10-10 … Unbeknownst to the world, that left McCall needing a dramatic final round and that's exactly what we got.
Securing a late takedown with about a full minute on the clock, McCall would pound away and dominate his opponent after finding success prior. Unable to get the finish via strikes, it was more than enough to earn him a 10-8 round in the eyes of most fans and ultimately most importantly, one of the judges.
Off to the scorecards, and the result was announced in favor of the future champion in Johnson. However, that was not actually the case. The scores had been incorrectly tallied and the actual result was a majority draw. Due to this being a semifinal bout in the tournament, that meant that there was supposed to be a sudden death fourth round. By the time that this mistake had been realized, the fighters had already left the Octagon.
The pair rematched a few months later in a main event slot and this time Johnson would win decisively. This would end up being about as close as the curly mustached gentleman got to the UFC title. It wasn't all for not though. Because if it wasn't for him, the flyweights wouldn't have come into the UFC when they did.
"Oh, they did [bring the division in because of me]," McCall shared, "[UFC matchmaker] Sean Shelby called me and goes, 'Hey, if you keep doing what you're doing, we're gonna bring you in because we want you to be a star.' It just never really materialized and again, it's my own fault. 'DJ' used me as a springboard to start training harder and smarter and become the person who he is – one of the best ever. And I used that incident in Australia to let my life spiral out of control. I got back on pills. The second time I fought him I cut 18.8 pounds in the last 20 hours. By midnight after weigh-ins, I was 152.2.
"My joints hurt I swelled up so bad. It was just that I mismanaged myself very, very incredibly over the top. It happens. I'm not bitter about it or anything. It's just I'm happy it's over."
Ian McCall's UFC tenure concluded four fights after his bouts with Johnson and saw him go 2-3-1 collectively with 10 fight cancelations along the way. A number that was a UFC record for a while.
Despite the great moments he had on top during his Tachi Palace Fights run and the historic bout that his first encounter with Johnson was, it's McCall's final win that he recollects as perhaps his favorite career moment. This being when he flew to Dublin, Ireland and got back on a winning streak by defeating Brad Pickett. A feat he managed with his infamous trigger finger condition that sees him unable to fully close his fist. His index finger, in particular, was infected, swollen, and drained twice along with breaking his hand in the fight.
After not competing for almost three years since his last UFC bout with John Lineker, the creepy one joined Japan's RIZIN Fighting Federation. Now returning to bantamweight at 135-pounds for the first time in seven years, it was about as entirely fresh of a start as one could ask for. Unfortunately, his luck still wouldn't turn around.
In his promotional debut, his fight would be stopped after he suffered a cut from the ring ropes in less than two minutes after the action started. About five months later and McCall gave it another go only to be stopped in nine seconds by the future dual organization king of RIZIN and Bellator, Kyoji Horiguchi.
"Japanese MMA, it's different. American fans suck," McCall expressed with a chuckle, "They're so rude and they're drunk and they're annoying and they're fair-weather, and they're just sh*tty and they need to change their tune because it bugs me.
"In Japan, they adore you. They really truly adore you. I don't want to say one's better than the other because they both have their pluses and minuses. But I never got to really – in either one – UFC, I had one good fight in the UFC, maybe two good fights in the UFC, where I had none in RIZIN. The world never got to see my potential and that's my own fault. It's no one else's fault. I was on drugs, I was a f*cking sh*t show. I was a tortured individual that this was my outlet. Sure, I exploited my genetic lottery from a very young age to be obsessive over this and to be the best in the world because it's what I wanted to do and I did it. But, man, I just really wish I could have been … I mean, obviously I wish it could have been different because that for me financially, they were priming me to be Conor before Conor was there. And I'm not saying I'm Conor McGregor. He is special, but business-wise, I'm just as savvy as he is."
For the happy McCall, it would take a whole lot for him to come back to MMA as he's walking around at a very fit and healthy 170-pounds. That along with the fact that he's intentionally cheated the system with his usage of microdosing and peptides in his new life.
Retirement was the hardest thing ever for the former No. 1 in the world, but he doesn't want to go back at this point.
"I have one caveat," he began, "If the UFC wants me to come and be the rightful king of that division, okay, pay me a million dollars. Pay me a million dollars, give me six months to get ready. I'm 170 [pounds] right now and I'm jacked. I'm 170 and I've got abs. But you know, I say that in jest with the UFC because I don't want to fight.
"A good buddy of mine, JJ Thomas, he was a bronze medalist in the Olympics for snowboarding, he's the US coach. He called me up one day. We'd been buddies for a while, I used to date one of his good friends and I didn't even really know we were that good of friends at this point, you know? And he goes, 'I heard you're retiring?' like, yeah, what's up? He's all, 'Let me help you. You're gonna go through these – let's say five steps – you need to write them down individually, how long it usually takes…' He goes 'And at the end…' and he told me how hard it was going to be. Because I was on suicide watch when I retired, I was a f*cking mess. He told me the steps I'd go through and then I'm going to come out on the other end an educator, a coach, I'm gonna be much more happy, I'm gonna be much more successful and just be a better person, be the person that I should be. And he was 100 percent right. Because I don't enjoy or like the person I was. That was a product of my environment and not to blame fighting or anyone because it's my own fault for reacting that way or just turning into this person that I am not proud of. Sure, I accomplished some cool sh*t but whatever.
"It's beside the point," McCall continued, "I'm happy to have that gone and to have that done. Mike Tyson actually said it best when he was like, 'Yeah, I don't ever want to be that person again.' He doesn't work out much, he doesn't do anything crazy because he doesn't want to become the old Mike Tyson. I don't want to become 'Uncle Creepy' again. I just don't want to go down that path because that has nothing for me. Do I think I could still fight? Of course. Do I think I could beat up Henry Cejudo? Yeah, I do, actually. I think I could f*ck him up. But am I ever going to? No. I have much, much, much more important things to attend to now. I have to heal my people; the fighters."
From hurting people, including himself, now to helping people, McCall has truly been reinvented having gotten into the field he's now in. Despite always being one who was interested in scientific topics, when it came to psychedelics, not much of that was done until he fully embraced his new path.
Never microdosing during a fight, McCall admits to having been on oxycontin during his final time out with Horiguchi. And as soon as he stood up and recovered after his flash knockout, he was "over" hand-to-hand combat right then and there. Thus leading him to coming home and taking a bunch of peptides and microdosing.
The former Team Oyama staple credits DMT (Dimethyltryptamine) as the key substance that mentally divided him from his opiate addiction. Now, he doesn't touch pills or even alcohol … But he does smoke a lot of weed.
"I'd say with psilocybin specifically, that's my real obsession," McCall said, "I would say about two years ago is when I started to dive deep into it. And then the last six months or seven months, however long it's been since I met the professor, that's what I call her (my girlfriend). I've really been able to just see the path to become an educator myself. All the homework I've done has paid off."
Not quite a scientist per se, but a (former) fighter dating a professor. Correction; a former fighter dating a professor that also gets up on stage to make people laugh.
Ian McCall achieved the three things he wanted to be growing up and when it comes to stand-up comedy, it's a hobby he really enjoys as he began performing for the first time in the recent months.
Often compared to Brendan Schaub due to also being a retired fighter, McCall uses the platform as more or less of a therapy than a career.
Entering into the ever unique circle of comedians as an outcast from another spotlighted profession can make it a bit tough for anyone. Especially if they're kind of cocky by nature … but once his eventual friends realized he was just like them, they got along like anyone else.
Well, he's just like them besides the fact that he's "really good at fist-fighting".
"Comedy has been so therapeutic for me in the sense of being vulnerable, the ego check of … you know me because I can get pretty egotistical," said McCall, "And I don't say 'negative' anymore or I don't act that way as much, but in my head, oh, I'm the bee's knees, I'm the coolest motherf*cker around, you know? I just need that, I need the ego check whether it's with psychedelics or comedy. I like it. I like being around people that are just weirdos. Go to a comedy open mic, there's so many f*cking weirdos there. Oh my god, and these aren't just normal weirdos. These are the weirdest people ever and just to create a community with them and be their friends … I know they all looked at me like a f*cking piece of sh*t when I first got there, I'm sure some of them are just like, 'This dickhead…'"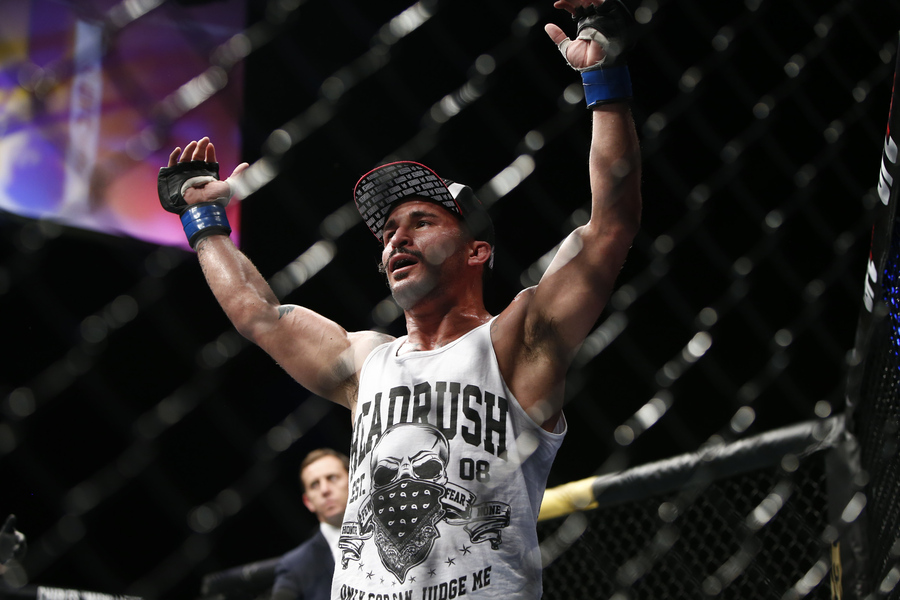 "Uncle Creepy" may be gone from the world of Mixed Martial Arts as a fighter, but he's still very much a part of it from the outside looking in.
Aside from that, the legacy he left and the path that he paved has had a lasting impact that can't nor should it be forgotten. The further detached we get from certain periods of time, the more underappreciated that they'll feel or become. The case can be made in that regard for Ian McCall.
But he's just fine with that. Not many get to make such great escapes as he did.
"I walk into a live UFC event now and I take a couple pictures a little bit, people pay respect and they let me do my thing," McCall detailed, "Where before, I couldn't be out with the commoners, with the normal people, with the fans, you know? They would keep me on the floor. And it's almost a good feeling. I like it. I like just the normality of it."
Drake is an MMA writer based out of Brush Prairie, Washington, USA who specializes in feature pieces, the women's fight scene, lists, news coverage, and rankings. He has been a passionate fan of MMA ever since 2009. Drake has most notably written for BJPenn.com, FanSided, The Body Lock, South China Morning Post, MyMMANews, WhatCulture, Cageside Press, Sherdog, The Scrap, and MMA Today. He has also written for and created video content for RT Sport. As for other sports, Drake is a longtime fan of the NFL's Green Bay Packers and Jacksonville Jaguars.
You can follow him on Twitter and Instagram: @DrakeRiggs_ . Also check out all of his video content on YouTube at YouTube.com/DrakeRiggs where he uploads fighter interviews, podshows, and various other types of content.