After five years in the Congo, Justin Wren returns to MMA on August 28 with an inspirational story to share
JUSTIN WREN RETURNS TO MMA FOLLOWING FIVE-YEAR JOURNEY IN THE CONGO
'THE BIG PYGMY VIKING' WILL FACE JOSH BURNS AT 'BELLATOR 141: GUILLARD VS. GIRTZ' ON AUGUST 28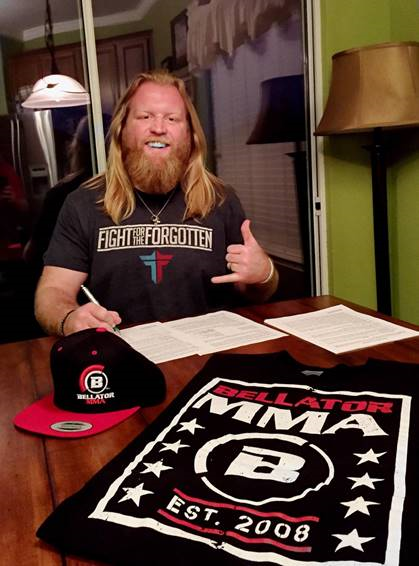 SANTA MONICA, Calif. (July 30, 2015) – Justin Wren walked away from a promising MMA career exactly 5 years and 12 days ago. Today, "The Big Pygmy Viking" announces his return to the sport, which will take place on the Spike-televised portion of the "Bellator 141: Guillard vs. Girtz" card on August 28, where he takes on Josh "The Hammer" Burns at the Pechanga Resort & Casino in Temecula, Calif.
Tickets for "Bellator 141: Guillard vs. Girtz," which start at just $50, are on sale now at Bellator.com, Pechanga.com and the Pechanga Resort & Casino box office. Doors for the event open at 4 p.m. PT local time.
The card airs live and free on Spike at 9 p.m. ET/8 p.m. CT, with several preliminary bouts airing on Spike.com beginning at 7:45 p.m. ET. Additional preliminary bouts will be announced shortly.
Wren's impressive story is hard to tell in a couple paragraphs, which is why he will be telling it in its entirety in an upcoming book titled "Fight for the Forgotten: How a Mixed Martial Artist Stopped Fighting for Himself, and Started Fighting for Others," that will be on sale in bookstores everywhere September 15.
The two-time National High School Wrestling Champion transitioned from the wrestling mats to MMA, and earned a spot on Season 10 of "The Ultimate Fighter," racking up an impressive 10-2 professional record. In 2010, Wren would confront his toughest opponent: addiction.
With an opportunity to continue fighting on the table, Wren left the sport and began his recovery process. A chance meeting with a friend led Wren on a trip to the Democratic Republic of the Congo, where he came across and developed a deep connection with the Mbuti Pygmies, many of whom were enslaved, living on only the scraps the slave masters would pay them with. Wren found his calling there and wanted to do everything in his power to help the Pygmies. With multiple visits to the Congo, including a stint that lasted a year, Wren started a foundation called "Fight for the Forgotten." Through his efforts, Wren and his staff of 17 have systematically bought the land of the slave owners, and have thus far legally given 2,740 acres of rainforest to the Pygmies, effectively freeing them from slavery.
Partnering with other groups like Shalom University and joining forces with Water4.org, Wren and his charity are responsible for drilling 26 water wells to help provide both the Pygmies and the former slave masters with clean water, and have plans to drill hundreds more. In addition, the team has begun a sustainable farming project to benefit and provide food to both the Pygmies and non-Pygmies of the community.
Having finally defeated his addiction, Wren now returns to MMA where he can fight with a clear mind for the first time in his professional career. If victorious, Wren will be donating his entire win bonus directly to his Pygmy family to continue his mission of creating land, water and food initiatives that will build better lives for the people of the Congo.
Wren and his opponent will join the Spike-televised card, which features Melvin "The Young Assassin" Guillard (32-14-2, 2 NC) versus Brandon "Cold Roll" Girtz (11-4) in the main event of the evening. In the co-headlining role, Saad Awad (18-6) takes on Patricky "Pitbull" Freire (13-6) and an additional heavyweight attraction with Lorenzo Hood (9-2) making his Bellator MMA debut against Raphael Butler (9-1-1).
"Bellator 141: Guillard vs. Girtz" – Friday, August 28, Pechanga Resort & Casino
Bellator Lightweight Feature Fight: Melvin Guillard (32-14-2, 2 NC) vs. Brandon Girtz (11-4)
Bellator Lightweight Feature Fight: Patricky Pitbull (13-6) vs. Saad Awad (18-6)
Bellator Heavyweight Feature Fight: Justin Wren (10-2) vs. Josh Burns (8-8)
Bellator Heavyweight Feature Fight: Raphael Butler (9-1-1) vs. Lorenzo Hood (9-2)
Bellator Womens Featherweight Prelim: Marloes Coenen (22-6) vs. Arlene Blencowe (6-4)
Bellator Womens Featherweight Prelim: Adrienna Jenkins (18-6) vs. Lissette Neri (6-2)
Bellator Welterweight Prelim: Curtis Millender (7-2) vs. Steven Ciaccio (4-3)
Bellator Welterweight Prelim: Johnny Cisneros (8-4) vs. Gabriel Miglioli (9-7)
Follow MyMMANews.com on Social Media
The following two tabs change content below.
Founder of MyMMANews.com - After writing for Ultimate MMA magazine and serving as the editor for U.S. Combat Sports, both of which went on hiatus, I decided to venture out on my own and enlist a staff of writers and photographers that could help me achieve my goal of telling stories that would otherwise go untold. We pride ourselves in taking a deeper look into the fighter, and understanding what makes them tick. - #1 Dad, Marine Corps Veteran, 80's and 90's Pro Wrestling Fan, MMA Commentator, Beer Lover, and avid movie watcher. Seriously..... I watch a lot of movies.
Latest posts by Eric Kowal (see all)