Art of War Cage Fighting – AOW 27 Results – Steffanelli vs. Khamzayev
Art of War Cage Fighting officials will hold AOW 27 on Saturday night from the Newtown Sports Training Center in Newtown, Pennsylvania.
The December 10 event will be headlined by professional mixed martial arts main event between Shawn Steffanelli (2-2) and Turpal Khazayev (4-4). The fight will be contested for the promotion's title at 140-pounds.
In the co-main event slot, "The Panamaniac" Eddie Alvarez looks to right his ship after dropping four bouts in a row, when he meets New York's Niyaz Ahmed who is also looking to stop his own three-fight losing streak.
In the featured fight of the night, the highly popular John Garbarino will take on an undefeated knockout artist and one of the northeast's biggest prospects in David Burke.
Also, the Art of War Cage Fighting amateur flyweight title is on the line when Brandon Bohannon meets Reece Ward at 125-pounds.
Smack dab in the middle of the event, UFC middleweight Joe "BodyBagz" Pyfer was inducted into the Art of War Cage Fighting Hall of Fame. Pyfer, arguably one of the scariest punchers currently in the UFC, was a top regional fighter when he fought for AOW in both his amateur and early pro days. Pyfer now 10-2 as a pro, fought six times for AOW with a 100% finish rate for the promotion.
The event will be available for purchase and live stream via the Starfund App.
Event Recap
Opening up the card is an amateur bout between the returning Isaiah Herring and debuting Ty Pfeufer. Herring secured a first-round finish by way of strikes in his MMA debut at AOW 23 in April. Herring, much larger this his opponent here in Newtown tonight, made the fight look easy.  The Grindhouse MMA fighter submitted Pfeufer by way of guillotine choke early in the first-round.
In the second bout of the evening, Josiah Swarr gets an early takedown on Christian Hannigan, who immediately works to apply a choke.  Swarr, looking to fight it off, picks Hannigan up and completes another slam.  Hannigan hangs on to the choke, but then Swarr attacks his arm.  Hannigan slams Swarr down while his own arm is locked up, but the hold does not break free.  Swarr takes the back in the final seconds but does not complete a submission before the horn sounds.  There is a heavy exchange of knees and punches to open the second frame before Swarr completes another takedown.  Hannigan works to top position and begins to hammer the body with strikes.  We move to the third and final round.  Hannigan starts to tee off on Swarr, who doesn't like what the hits he is receiving.  Swarr once again shoots in, and Hannigan is now throwing heavy hands to the ribs of his opponent.  We go to the judges for a decision, and all score in favor of Hannigan.
In the lone women's bout of the night, Laura Turzenski was bloodied up in her return as she fought the debuting Fabiana Josa.  Despite taking a few shots that caused the damage, Turzenski was able to batter her opponent and force the stoppage.  Josa will need to work on movement as she only went one way, forward.  Nothing to be ashamed of in her debut, but tonight's loss will be part of a continuous learning process.  She had Turzenski hurt and the cageside physician may have stopped the fight in between rounds, but unfortunately it did not go that way.
Anis Abdulloev and Andre Ruiz opened up their flyweight bout with a flurry of punches before Ruiz worked for guillotine choke.  Abdulloev then picked Ruiz up, walked him across the cage and flipped him over his head and down to the canvas.  In the second round, another slam makes its way into the contest before Ruiz begins to stretch his opponent out on the canvas in attempt to force a submission.  In the final round of the contest Abdulloev finds himself trying to fend off a guillotine choke before getting a top position over his opponent who is now fighting off his back.  This fight too will go to the judges for the official decision.
The heavyweights have entered the cage as Martinez BJJ's Kalle Blindenbacher squares up against Sean Ruffin.  These big boys are standing and trading leather with extremely heavy hands.  The first-round ends with Blindenbacher's back up against the cage, narrowly missing a big left from Ruffin.  Very close round.  The pace has slowed down here a bit in the second-round, but the action once again remained on the feet.  Back and forth, the two combatants throw jabs followed by looping shots in hopes of a knockout.  Blindenbacher has some blood dropping from the nose but nothing to be concerned about at this point.  Ruffin starting to work the body in the final frame. Finally, the fight goes to the ground in the final five seconds after Ruffin throws a kick and Blindenbacher completes a trip.  Ruffin wins a unanimous decision.
Martinez BJJ's Brandon Bohannon had a dominant first-round in flyweight title bout against Reece Ward.  Once the fight hit the canvas, Bohannon took Ward's back and continuously worked for a rear-naked choke.  Ward, smart to the move, kept his cool and continued to pry the choke off and make his way to the second round.  A comical "Let's go Brandon" chant breaks out (for those up on their politics) as the two fighters are working off the cage.  Bohannon moves to side control and then takes Ward's back.  They stand and Ward goes on the attack, hits a combo of punches before shooting in for a takedown which is eventually stuffed.  The round ends with Bohannon hovering over Ward and kicking him in the butt.  Here in the third round the two fighters seem to be having a conversation with one another.  Ward throws a beautiful upkick from the bottom, but it does not put Bohannon away.  Instead, Bohannon forces the fight back to the feet and then again hops on his opponent's back to attempt a choke as time expires.  Bohannon wins unanimously on all scorecards and takes home the 125-pound title.
Philadelphia's own John Garbarino made a statement tonight as he fought through the attack from a very game David Burke to win the promotion's 175-pound title.  Garbarino back Burke up against the cage and just tee'd off until Burke crumbled face first into the canvas.  The official decision is a knockout just three seconds shy of the two-minute mark.
Video below:
Next up, Eddie Alvarez and Niyaz Ahmed met at a catchweight of 130-pounds.  Ahmed comes out with a nice switch kick followed by a big left and right before shooting in for a takedown.  An accidental groin to Ahmed temporarily halts the fight.  The crowd lets him know that they believe he is milking the foul.  The action resumes and Alvarez swarms in and gets the fight to the canvas.  Alvarez has side control before Ahmed moves to full guard.  Alvarez stands and Ahmed is throwing up kicks from the ground.  They are connecting but Alvarez is sticking with it.  Ahmed attempts to stand just as Alvarez throws the knee which connects, and referee Keith Peterson temporarily halts the action for the infraction.  The fight continues Alvarez connects with a right and then completes a takedown to finish the round.  Things are going in Alvarez's favor in the second round and then Ahmed connects with a flying knee.  Luckily for Alvarez, he is able to quickly gather his composure and fall on top of Ahmed.   The two men scramble on the ground before the round comes to a close.  In the final five-minutes, Alvarez is in complete control and there should be no question that this round is scored in his favor.  Alvarez wins the fight by way of unanimous decision.
The main event is finally upon us as the cage door closes behind Shawn Steffanelli and Turpal Khazayev.  Once the fight hits the ground, Khazayev immediately locks up a guillotine choke.  Steffanelli is in trouble for just a second before he breaks free.  Steffanelli now gets to a dominant position and throws vicious knees to the side.  After the men stand, Steffanelli again gets it down to the ground and once again delivers kneeds to the body with the intent of finishing the fight.  In the second round, Steffanelli lands big kicks to the body but Khazayev walks right through them.  Steffanelli shoots and takes Khazayev down.  From here Steffanelli is in full control, continuing to deliver knees to the body.  Steffanelli continues to control in the third and final round as he shoots a takedown and works the body.   Khazayev is fighting off his back with elbows.  With just seconds left in the fight Steffanelli is cut open on top of his head from the elbow of Khazayev.  Blood is pouring from Steffanelli's head but he should win this fight on the scorecards.  Shawn Steffanelli wins unanimously and takes home the gold.
AOW 27 results below:
Pro bouts:
140 lb. title bout – Shawn Steffanelli defeated Turpal Khazayev via decision (30-27, 30-27, 30-27)
130 lbs – Eddie Alvarez defeated Niyaz Ahmed via unanimous decision (29-28, 29-28, 30-27)
Amateur Bouts:
175 lb. title bout – John Garbarino defeated David Burke via KO – Round 1, 1:57
125 lb. title bout – Brandon Bohannon defeated Reece Ward via unanimous decision (30-27, 30-27, 30-27)
Heavyweight bout – Sean Ruffin defeated Kalle Blindenbacher via unanimous decision (30-27, 29-28, 30-27)
125 lb. bout – Anis Abdulloev defeated Andre Ruiz via split decision (29-28, 28-29, 29-28)
140 lb. bout – Laura Turzenski defeated Fabiana Josa via TKO – Round 1, 1:48
155 lb. bout – Christian Hannigan defeated Josiah Swarr via unanimous decision (29-28, 29-28, 29-28)
170 lb. bout – Isaiah Herring defeated Ty Pfeufer via submission (guillotine choke) – Round 1, 1:13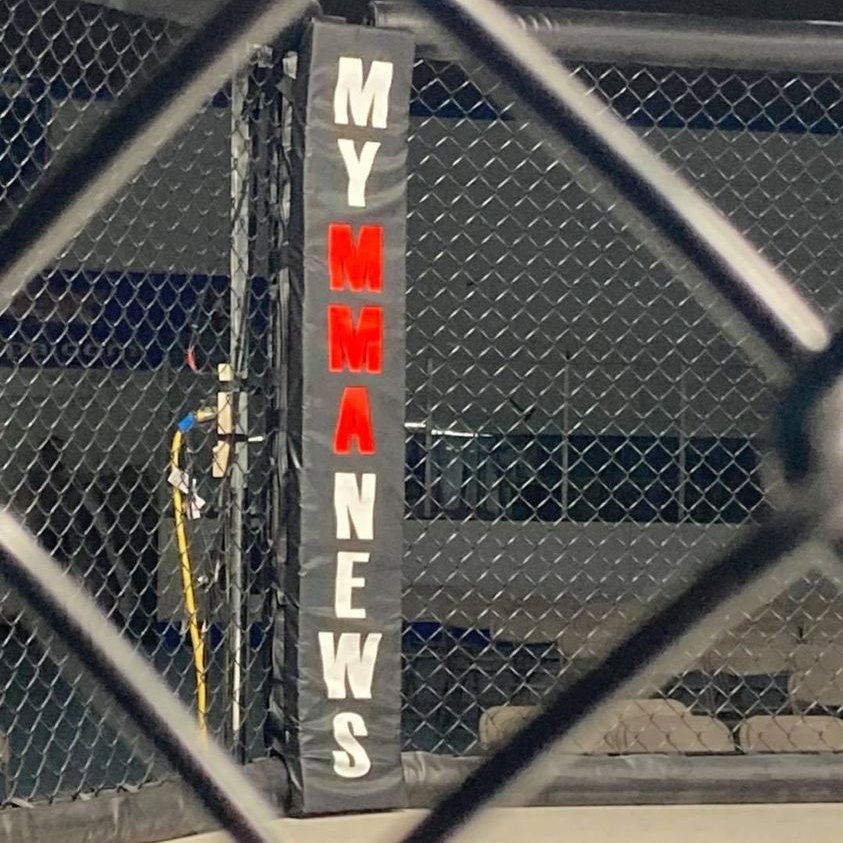 MyMMANews.com – We cover everything from MMA, BJJ, Bare Knuckle, Wrestling, Boxing, Kickboxing, and Judo
News, Opinions, Videos, Radio Shows, Photos and more.