Brye Anne Russillo Fights Paige Lian At ACC 12 For Title
On October 3, New York State's premier MMA organization, Aggressive Combat Championships returns to The Queens Theater in Flushing Meadow Park for their 12th installment.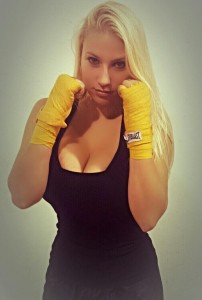 In a K1 rules matchup, Brye Anne Russillo battles Paige Lian for the 150-pound title. This female bout is slated among 19 other matches scheduled that evening under the USMTA Sanctioning body. Doors swing open at 6 p.m. EST and fights kick-off at 7 p.m. EST.
A pastry chef searching for an outlet to stay active in a healthy way stumbled upon MMA through her participation in a cardio kickboxing class.
Noticing many of the athletes at the gym training to compete inside the cage, Russillo wanted to test herself mentally by taking a leap into a sport she was unfamiliar with. Russillo's trainer made life easier for the single mother by allowing her to bring her daughter during training.
The amateur fighter trains under Eric Olsen at Valhalla Muay Thai in Huntington Station, New York. Not only is she training with the area's best, but she is also taking some of the best workout supplements as well to help prepare for the fight.
Russillo enters her third bout confident she will improve her 1-1 record. Training six days a week has sharpened the skills of the five-foot-nine inch tall striker.
Russillo explained the extensive conditioning Olsen has pushed her through saying he brought her to the park to train at the hottest point of the day to do mitt work. Running sprints and climbing hills has burned her lungs into the best condition she has ever been in, preparing her for Paige Lian.
"I'm excited to fight on the Aggressive Combat Championships card," said Russillo, after discussing her first bout.
The amateur fighter fought her first fight for the ECF promotion in Astoria, Queens, New York, where she earned a victory after breaking her opponents shin.
In her second bout, Russillo traveled south to Delaware, where she lost only on the score cards. Russillo showed great maturity as a fighter when she explained the value of her second fight.
She recognized her opponent as the toughest woman she had ever met. The overall value of experience being inside the cage has turned a negative into a positive.
"I can't cut my tits off and put them on the side, they weigh 12 pounds," said Russillo, while discussing agreeing upon a weight class with her opponent. It took over three months for the two teams to agree to fight at 150-pounds. Lian normally fights around 145-pounds, and Russillo, a tall, athletic fighter, normally fights around 155-pounds. Russillo did mention she plans to enter the cage for her next fight at 135-pounds.
The 29-year-old fighter's face lit up like a Christmas tree while expressing her passion for MMA to My MMA News reporter, Kyle Carroll. The Valhalla fighter loves the strategy aspect of martial arts, and used the analogy of chess while describing the various moves, and timing it takes to earn a victory. A long term goal of Russillo's is to work with children in teaching them mixed martial arts. Her passion of MMA and working with children is a goal she plans to make a reality.
"Everyone expects me to be a Barbie Doll. Bleach blonde hair and a big chest," said Russillo, when mentioning the backlash she receives for stepping outside of society's norm and into a cage.
She feels that since she is a woman, competing in MMA is held against her unlike her male counterparts. Since the amateur female fighter is a bartender at a majority of the night clubs on Long Island, she has been told by employers that she'll be released from the job if she comes to work with a black eye. Even with all the backlash and haters, Russillo continues to follow her heart towards competing as a mixed martial artist.
"If you find a hobby late in life, follow it! I have a child and turning 30 in a couple of months, and I'm glad I followed my passion," she said.
Martial arts has taught Russillo how to handle her emotions. The training gave her discipline and self-control, in addition to what she described as therapy. After an altercation with an individual that disrespected her daughter, Russillo left them seriously injured, which made her reevaluate the way she handled her actions. Participating in MMA over the last year and a half has helped her with all aspects of life.
Fans can expect a hard fought title bout between Brye Anne Russillo and Paige Lian at ACC 12. Both women are known for leaving it all inside the cage. If interested in attending the fights at The Queens Theater in Flushing Meadow Park contact one of the fighters or visit www.aggressivecombatsportsmma.com. Do so quickly though, because at ACC 11, tickets sold out.
Follow My MMA News for the results of ACC 12 on October 3, 2015. Follow us on social media @Mymmanews for photos and individual bout results.
Kyle Carroll is a Long Island, N.Y. native and avid MMA and amateur wrestling fan. He has been a part of the wrestling community for nearly 20 years. Carroll has six years of experience coaching high school wrestling. His father coached high school wrestling over 35 years, passing on his strong knowledge. Carroll has been reporting MMA news since January 2011. The former wrestler's coverage includes the 2012 U.S. Olympic Wrestling Team Trials, 2013 & 2016 NCAA D1 Wrestling Championship, and numerous MMA events (Bellator MMA, King of the Cage, North American Fighting Championship, and Glory).