Chael Sonnen casted on new season of Celebrity Apprentice, hosted by Arnold Schwarzenegger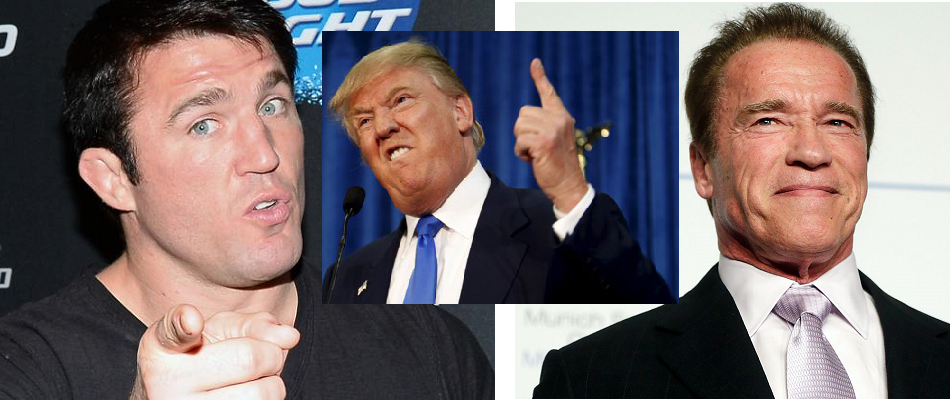 Former UFC title contender, Chael Sonnen, is known for having some of the best trash talking in the sport of mixed martial arts.  But will that trash talk help him succeed on a show that was hosted for years by another man known for speaking his mind, Republican Presidential candidate Donald Trump?
Trump will not host this season as he is NBC cut ties with him after launched his campaign for President. Instead, former California governor and actor, Arnold Schwarzenegger was recruited to fill the void.
Warren Buffett, Tyra Banks, Steve Ballmer and Jessica Alba have signed on as advisors for the eighth season of "Celebrity Apprentice."
The 16 contenders set for season eight are: Laila Ali, Brooke Burke-Charvet, Eric Dickerson, Boy George, Matt Iseman, Carrie Keagan, Carson Kressley, Lisa Leslie, Jon Lovitz, Vince Neil, Nicole "Snooki" Polizzi, Kyle Richards, Chael Sonnen, Porsha Williams, Ricky Williams and Carnie Wilson.
Although retired from mixed martial arts, Sonnen, 38, has remained active in the sport with broadcasting, podcasting and other media gigs.
The show challenges celebrities to work together to complete business-oriented tasks, this time with an emphasis on technology and innovation. The winner will receive a $250,000 check for the charity of their choice. "Celebrity Apprentice" has raised more than $15 million for charities over the course of its run.