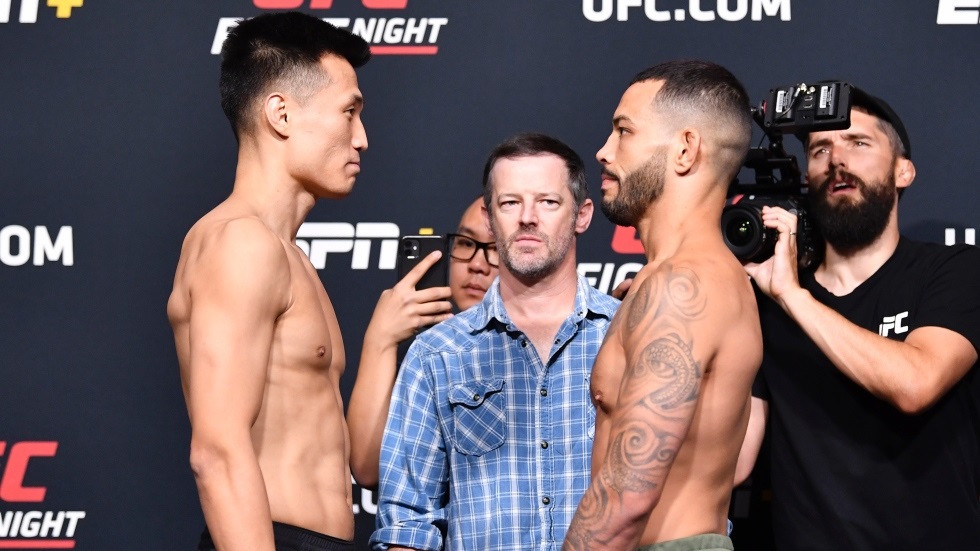 Chan Sung Jung controls Ige throughout five rounds
Chan Sung Jung victorious
A marquee matchup in the featherweight division headlines UFC on ESPN 25 this Saturday, June 19. Former title challenger, "The Korean Zombie,"  Chan Sung Jung meets rising contender Dan Ige in the main event on ESPN2 and ESPN+. A heavyweight clash between 15th ranked Alexey Oleynik and Sergey Spivak serves as the co-main event inside the UFC Apex in Las Vegas, Nevada.
In the main event, Jung and Ige, battle it out in a featherweight matchup between two top 10 ranked fighters. A win here can potentially leap one of these fighters into a title contender fight.
Jung, at 16-6, is coming off a loss to Brian Ortega back in October of 2020. A win here for "The Korean Zombie" could move the No. 4-ranked featherweight into potential title contention. His last victory comes in the way of a TKO over future UFC Hall of Famer, Frankie Edgar in the first round. A win over his No. 8-ranked opponent will position Jung in a path towards the champion, Aljamain Sterling.
Dan Ige (15-3), is rolling into this main event bout 2-1 in his last three fights. A win would be the biggest of "50K" career. Entering the fight as a slight favorite (-150), Ige has the potential to climb the UFC rankings into the top 5. A win tonight and another victory over a top 5 featherweight would throw him in the mix for the title.
Round 1: Jung comes out swinging. Jung putting the pressure on as he has Ige backing up and throwing counter strikes. Jung changing levels throwing strikes and then shoots for the takedown and drags Ige to the canvas. Working from the top, Jung appears to be trying to set up a head-and-arm choke from half-guard. Attempting for full mount, Ige springs his hips and gets back to his feet. The two fighters continue to exchange strikes. Jung's volume decreased and Ige ends the round landing a few strikes.
Round 2: Jung pops Ige at the start of the round and almost drops him. Ige keeps swinging big and not connecting with Jung. Ige is trying to get behind the jab but not connecting as much as he'd like. Ige attempts a takedown and KZ stuffs the shot. KZ swings heavy hooks at his foe as he's backing up. The KZ goes for the takedown and then takes Ige's back and looking for a Rear-Naked Choke. With the figure four body locked in, he was striking Ige to soften him up. The horn sounds and saves Ige.
Round 3: Ige comes out attacking KZ and Jung fires back before taking down Ige. In full guard, KZ fights through Ige's tie-up and lands some strikes. KZ on top not doing much as Ige is tying him up and trying to escape. KZ takes his back and sinks in the Rear-Naked Choke. Ige fights the hands but KZ keeps looking for the RNC. At the 2:15 mark, KZ has a body lock with his legs making it tough for Ige to escape. Ige continues to fight KZ's hands and lasts until the horn sounds for the third round.
Round 4: Ige is once again trying to take the offensive and leaping in with strikes at KZ. Jung trying to counter. Ige lands a big right hand and backs Jung. Ige now pressuring against the cage. They separate and continue exchanging strikes in the middle of the cage. Ige lands a left. It appears to stun KZ. Ige throws a kick and now looks like he has momentum. KZ gets the takedown when catching a kick. Ige active on the bottom as KZ is trying to stand and pull away from Ige while he's holding his leg. KZ now back on top and holding Ige there until the round ends with the horn.
Round 5: Kz takes the center this round and Ige and KZ trying to work the jab. Ige throws a big body shot and misses with the heavy left hook. Jung gets a takedown and stands back up. Ige goes for another takedown and fails. They stand and exchange strikes again as you see the desperation in Ige as he's pushing forward. Jung snaps Ige's head down and spins around him taking his back. Locking in a body lock, Jung is hanging onto Ige's back looking for a submission. at 0:45 left in the fight, Jung is in a great position to secure the victory. Still looking for the choke, Ige fights the hands as the horn sounds.
Official Decision: Chan Sung Jung def. Dan Ige via Unanimous Decision (48-47, 49-46, 49-46).
Kyle Carroll is a Long Island, N.Y. native and avid MMA and amateur wrestling fan. He has been a part of the wrestling community for nearly 20 years. Carroll has six years of experience coaching high school wrestling. His father coached high school wrestling over 35 years, passing on his strong knowledge. Carroll has been reporting MMA news since January 2011. The former wrestler's coverage includes the 2012 U.S. Olympic Wrestling Team Trials, 2013 & 2016 NCAA D1 Wrestling Championship, and numerous MMA events (Bellator MMA, King of the Cage, North American Fighting Championship, and Glory).