Heavyweights Rematch for title at CFFC 37 in Philly
PHILADELPHIA — Two of the biggest men on the Cage Fury Fighting Championships' roster will square off here Saturday, June 28, and both fighters know there is more on the line than just a championship belt.
CFFC heavyweight champion Azunna "The Eighth Wonder of the World" Anyanwu defends his title for the first time when he meets challenger Keith "Bad Newz" Bell in the main event of CFFC 37, which will be held here at 2300 Arena.
The big men – whose combined weight likely will surpass 500 pounds — are not strangers.
Just 14 months ago, Bell scored a highlight reel knockout of Anyanwu, using a head kick to end the fight in just 12 seconds. The devastating kick left Anyanwu unconscious for several minutes.
To his credit, Anyanwu bounced back nicely from the loss, and after dropping a split decision has since gone on a two-fight win streak. When he fought for the title in February, Anyanwu earned a spectacular first-round knockout of his own against Joe Stripling to take the belt.
Bell has done well, too, winning two more fights – both by stoppages — before falling to Blagoi Ivanov via first-round rear-naked choke at Bellator 109 in November.
Now Anyanwu (6-2) and Bell (5-3-1) meet again.
"You never know what to expect when the big boys enter the cage," said CFFC CEO Robert Haydak Jr. "I see this fight rocking the City of Brotherly Love and someone going to sleep around 10 p.m. on Saturday night inside the cage!"
For the 32-year-old Anyanwu, a victory against Bell would legitimize his title as well as his rededication to MMA since the loss. Originally from Lagos, Nigeria, and now living in Philadelphia, Anyanwu said he has dropped about 25 pounds since that first fight thanks to increased attention to nutrition and intense training under Daniel Gracie (black belt in jiu jitsu) and David Osaghae (judo black belt) at Renzo Gracie Philly and Judo Movement, respectively.
Anyanwu said his coaches have helped hone his technique, and for the first time he has an actual fight strategy, so that he doesn't have to rely solely on heart and determination to win fights – all of which he'll need if he is to fend off Bell's challenge.
"I didn't have to accept the fight but I did," Anyanwu said of the rematch. "I felt I needed that one back. We didn't get to fight — he knocked me out pretty easy. He doesn't need the fight but he wants the CFFC heavyweight title that I have in my possession — might I add that it's not going anywhere anytime soon! That's the best regional belt on the East Coast. Basically, he wants to be the man, and he knows I'm the man right now. His claim to fame is he put me down in 12 seconds with a head kick. Good, I applaud him. Good luck doing it again, buddy. I'm not just physically tough, I'm mentally tough. Most fighters would not come back from that."
Bell was an All-American wrestler in high school and a teammate of UFC star Rashad Evans in college. He has trained at Jackson's in New Mexico, as well as with the Blackzilians in Florida, and he's now competing out of New World Academy in Newport News, Virginia.
A victory would put the 34-year-old back on the winning track and give him some new hardware from one of the nation's top regional promotions. It would also allow Bell to prove that the first fight was no fluke.
"Every other article written about this rematch is how (Anyanwu) was hurt, how I got lucky, how his knee was blown out," Bell said. "No one knows he was one of three wins for me in 2013. I was also handling Blagoi Ivanov in Bellator until I got subbed. Every fight is a new fight and what happened a year ago will have no bearing on this fight. No luck will be involved, just hard training and God-given ability."
In a battle of up-and-coming lightweight prospects, William "The Honey Badger" Algeo (5-1) will fight Mike "Popezilla" Pope (2-0).
The 25-year-old Algeo has won four fights in a row, and all five of his victories have come by stoppages. The Boothwyn, Penn., resident fights out of Nak Muay Gym, has fought three times for Cage Fury, and claimed a victory against Frank Buenafuente at World Series of Fighting 2.
"What makes me a great fighter is my lack of weaknesses," Algeo said. "I'll be perfect where ever the fight goes. I see this fight going really well for myself and not so well for the Pope. I'm in a good spot right now with my career and a win over the Pope should just be another addition to my highlight reel."
Pope, 27, has earned several world titles in jiu jitsu and won his first two professional MMA fights by submission. He also went 8-1 as an amateur, with five of those victories coming via stoppages. A resident of the Washington, D.C.., area, Pope fights out of Disciple MMA and 50/50 Jiu Jitsu.
"I think I've been able to blend my wrestling and jujitsu together extremely well and it's given me the ability to defeat a lot of people that may have looked better than me on paper," Pope said. "Being a world champion also, I think, helps to validate my ground game. I've been working a lot on my standup, too — definitely the most underrated part of my game and I think I'm going to surprise a lot of people with it. I almost think this fight could turn into a standup fight since Algeo and myself both possess such an elite ground game and wrestling. I definitely think this is going to be a war for both of us."
In other fights at CFFC 37:
• Veteran pro fighters Evan Chmielski (5-5) and Jay Haas (10-14) square off in a featherweight bout.
• Former unbeaten amateur prospect Katlyn Chookagian (7-0) turns professional against undefeated pro Rebecca Heintzman (2-0).
• And Chris Piriz (2-0) and Ricky Bandejas (1-0) look to take the next step in their careers when they meet in a professional featherweight bout.
"This is an exciting card with a mix of veterans and good prospects," Haydak said. "I love our home at the 2300 Arena. It's a typical blue-collar, no-frills arena that puts you right on top of the action. There's not a bad seat in the house. The Bill Algeo vs. Mike Pope fight pits two top prospects looking to climb the rankings. The Evan Chmieleski vs. Jay Haas fight is going to be electric, and I fully expect fireworks in that one! I believe this card will be our most entertaining of the year."
2300 Arena is located at 2300 S. Swanson St., Philadelphia. For tickets or more information, visit cffc.tv.
The complete fight card (subject to change):
Azunna Anyanwu vs. Keith Bell, heavyweight title fight
Julio Rosario vs. Brandon Inskeep
Evan Chmielski vs. Jay Haas
Jayro Martinez vs. Robert Jimenez
Rebecca Heintzman vs. Katlyn Chookagian
Chris Piriz vs. Ricky Bandejas
Phillip Doig vs. Patrick White
Mike Pope vs. William Algeo
Shelby Graham vs. Vladimir Cerbadji
Mariano Vidro-Rivera vs. Michael Macauley (amateur fight)
Joshua O'Reilly vs. Brian Jones (amateur fight)
Jonathan Romero vs. Keifer Flemming (amateur fight)
Scott Krampetz vs. Alex Sinprasith (amateur fight)
About Cage Fury Fighting Championships
Cage Fury Fighting Championships (www.cffc.tv) is a pioneer in bringing prominent and elite MMA talent to the East Coast. Since CFFC's debut, past, and current champions have competed at the highest level. Before they were in the UFC, Jim and Dan Miller were both CFFC champions. That legacy remains the same today. Three current CFFC champions, George Sullivan, Aljamain Sterling, and Charlie Brenneman are currently on the UFC roster. Current UFC fighters Zach Makovsky, Nick Catone, Nah-Shon Burrell, and John Howard have also competed in CFFC prior to their entry to the UFC. Also, CFFC helped jumpstart the career of Internet fighting sensation Kimbo Slice, whose first foray into MMA came in the CFFC cage when he fought former boxing champion Ray "Merciless" Mercer. CFFC continues to thrive as one of the best regional promotions in the world while focusing on treating fighters with respect and giving the fans the ultimate MMA experience.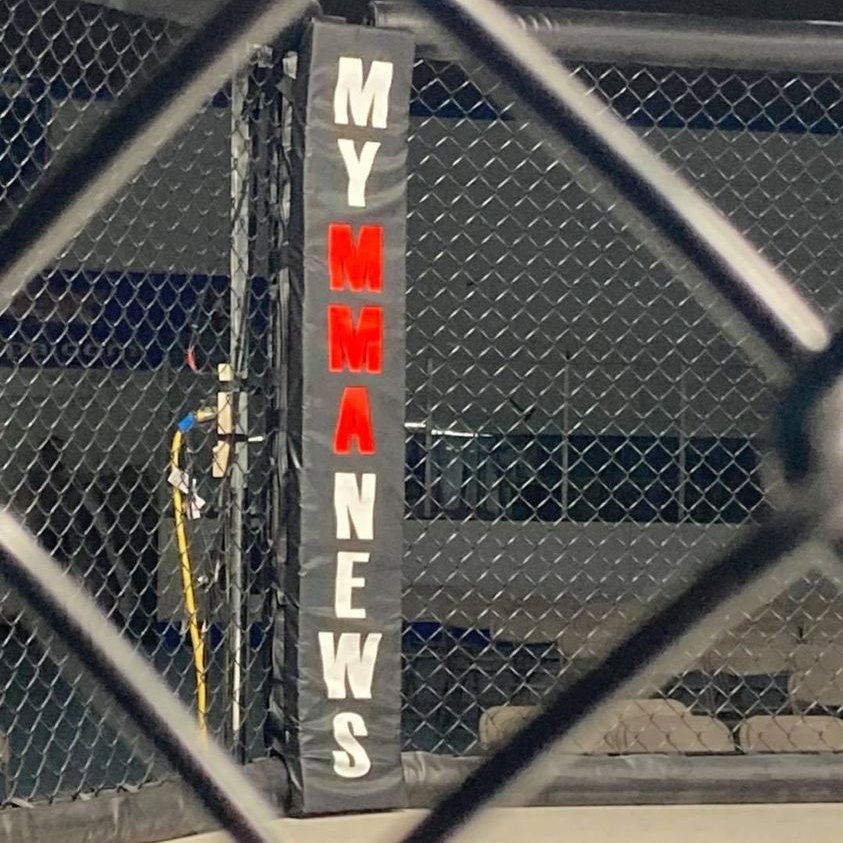 MyMMANews.com – We cover everything from MMA, BJJ, Bare Knuckle, Wrestling, Boxing, Kickboxing, and Judo
News, Opinions, Videos, Radio Shows, Photos and more.