Henderson tops UFC 199 payouts with $800K
Henderson tops UFC 199 payouts with $800K
The California State Athletic Commission has released the list of disclosed payouts for the past weekend's UFC 199 fight card from the Forum in Inglewood, California.
Despite two championship title bouts on the line, it was longtime UFC, Pride, and Strikeforce Veteran, Dan Henderson who earned the night's top pay of $800,000.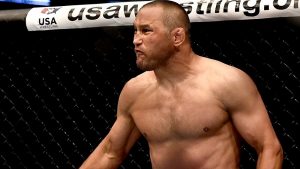 The below figures, as per usual, do not include any payouts from the Reebok deal, sponsorships, or backroom bonuses.
The total disclosed payroll for the event was $2,689,000.
The full list of UFC 199 payouts included:
Michael Bisping: $250,000 (no win bonus) defeated Luke Rockhold: $250,000
Dominick Cruz: $350,000 (no win bonus) defeated Urijah Faber: $160,000
Max Holloway: $150,000 (includes $75,000 win bonus) defeated Ricardo Lamas: $53,000
Dan Henderson: $800,000 (includes $200,000 win bonus) defeated Hector Lombard: $53,000
Dustin Poirier: $110,000 (includes $55,000 win bonus) defeated Bobby Green: $24,000
Brian Ortega: $46,000 (includes $23,000 win bonus) defeated Clay Guida: $55,000
Beneil Dariush: $62,000 (includes $31,000 win bonus) defeated James Vick: $23,000
Jessica Andrade: $40,000 (includes $20,000 win bonus) defeated Jessica Penne: $20,000
Alex Caceres: $48,000 (includes $24,000 win bonus) defeated Cole Miller: $33,000
Sean Strickland: $46,000 (includes $23,000 win bonus) defeated Tom Breese: $19,000
Luis Henrique da Silva: $20,000 (includes $10,000 win bonus) defeated Jonathan Wilson: $12,000
Kevin Casey: $15,000 vs. Elvis Mutapcic: $16,000 (Draw)
Polo Reyes: $24,000 (includes $12,000 win bonus) defeated "Maestro" Dong Hyun Kim: $10,000