Jack Hermansson vs. Kelvin Gastelum Breakdown
We have a seriously intriguing co-main event this weekend at UFC Fight Night 172, as the No. 6 ranked UFC middleweight contender Jack 'The Joker' Hermansson takes on the No. 7 ranked UFC middleweight Kelvin 'KG' Gastelum. This is a great fight not only because of the match up, but because of where they're each at in the rankings and in their careers. Both men are top talents, but both are also coming off of losses.
We all got to know who Gastelum was on The Ultimate Fighter 17 in early 2013, where he was coached by Chael Sonnen. What's crazy about this, 'KG' was picked last, no one gave him a shot to do well, let alone win the show. People even doubted him after each fight on the show, but he ultimately went 4-0 with three finishes before defeating co-finalist Uriah Hall at the finale. Gastelum then won his next five fights, improving his record to 11-0 (UFC 6-0) with notable wins over the likes of Rick Story and Jake Ellenberger.
Gastelum's first defeat came at the hands of future UFC Welterweight Champion Tyron Woodley via split decision (28-29, 29-28, 30-27). He missed weight by nine pounds for this fight and was forced to move up to middleweight considering, given it was the second time he'd missed weight for a welterweight fight, the first being his fight with Nico Musoke. He defeated former Strikeforce Welterweight Champion and former UFC middleweight title challenger Nate Marquardt in his middleweight debut, then dropped back down to welterweight, only to lose a five round split decision (47-48, 48-47, 48-47) to Neil Magny.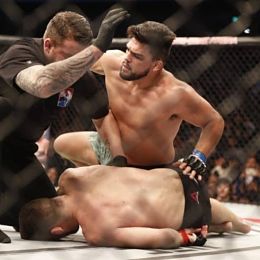 He fought once more at welterweight before making the permanent move to 185 lbs, against Johny Hendricks, who he handily defeated via unanimous decision (29-28, 30-27, 30-27). 'KG' was then set to face Donald Cerrone in a welterweight bout, but the fight was scrapped because he couldn't come close to making 171 lbs. This is what forced him to move up and stay at middleweight. Gastelum defeated former two-time Strikeforce middleweight title challenger Tim Kennedy via TKO midway through round three in his return to 185 lbs, and he's been at middleweight ever since.
Gastelum then quickly knocked out former UFC Light-Heavyweight Champion and heavyweight tournament winner Vitor Belfort, though it was overturned because he tested positive for marijuana, before dropping his next bout to former UFC Middleweight Champion Chris Weidman. This is Weidman's only win since losing the title, and it's the only time Gastelum has been finished. After out-wrestling 'KG' for the entire fight, Weidman sunk in an arm-triangle choke late in round three to secure the finish. Gastelum was able to knock Weidman down at one point, but it just wasn't his night.
'KG' rebounded with a first round KO over former UFC Middleweight Champion Michael Bisping, then defeated former Strikeforce Middleweight Champion Jacare Souza via split decision (29-28, 28-29, 29-28). Things were looking great for him, but this brings us to his last two fights, both of which he was defeated in. He fought for the interim UFC Middlweight Championship against Israel Adesanya and lost that fight via unanimous decision (48-46, 48-46, 48-46), before dropping a split decision (27-30, 29-28, 30-27) to Darren Till.
'The Joker' came to the UFC a few years after 'KG', but he's made some waves of his own in that time. At first glance, we saw that Hermansson's a great wrestler, and he doesn't get tired. He defeated Scott Askham via unanimous decision in his UFC debut, before being submitted (arm-triangle choke) by Cezar Ferreira in round two of his second UFC bout. He then won his next two fights, each via TKO in round one, before being TKO'd by Thiago Santos with just one second left in round one.
After this, 'The Joker' showed us he's capable of improving after defeat, and he won his next four straight. He TKO'd Thales Leites in round three, he submitted both Gerald Meerschaert and David Branch with a guillotine choke in round one, and then defeated Jacare Souza via unanimous decision (49-45, 48-47, 48-47) in their five round main event.
Those last two were incredibly impressive and unexpected. Souza was knocking on the door for a title shot, but took the fight with Hermansson to stay active, and no one expected him to submit a high level black belt like Branch. He almost submitted Souza too, the way he locks that choke up is insane, though the 6th-degree black belt in Brazilian Jiu-Jitsu was able to get out of it, only to continue being dominated. Hermansson was then scheduled in another main event, only this time he was TKO'd by Jared Cannonier early in round two.
Jack Hermansson (20-5) vs. Kelvin Gastelum (15-5) 1 NC
One very interesting thing to look at in this fight, as the case in most Gastelum fights, is their size. Gastelum is certainly a natural welterweight, but his eating habits don't let him consistently make that weight, but as a middleweight, he's still about as good as they come. He doesn't have a disadvantage anywhere really except his height and perhaps his reach. He certainly doesn't give up any power, if anything, his power carried up and he hits even harder now.
Gastelum's always been a prodigy of sorts. Early on in his UFC career, everyone would call him 'Mini Cain', and it made sense, because that's what he fought like. He's a great wrestler with great boxing and endless cardio. Hermansson has good striking himself, but he's got a very herky-jerky style on his feet, kind of reminiscent of Darren Elkins or Keith Jardine.
Where 'The Joker' really shines though is in the wrestling and grappling department. He's very good at getting the fight down on the mat, and he has great submissions with nasty ground-and-pound. He doesn't get enough credit for how good he is on top, he really doesn't, he's an absolute tank of a man when he's on top of his opponents.
Despite how good Hermansson is on the ground though, Gastelum is just as good. He also doesn't get enough credit for his ground game, probably because we don't see it too often anymore. One thing about Gastelum that stands out, he has one of the best straight lefts in the entire sport. Being a southpaw, it aids him in landing it because more often than not, his opponents are right handed. Not only that, but he's so accurate with it, it always lands incredibly hard, and his distance management is insanely good, especially for how short he is.
He's also very talented at slipping strikes that come his way, he's an all around highly skilled assassin. One more interesting fact about 'KG', three of his five losses are via split decision, two of which could've very well went his way. There are a two things to really consider when predicting this fight, Gastelum's straight left, and Hermansson's guillotine choke. Of course they both have a ton more skills than that, but it'll most likely come down to one of those.
'KG' can land that punch on anyone and knock them out with it, and 'The Joker' can submit just about anyone with that choke of his. It's weird, it's not a normal guillotine, but it's not a modified or arm-in guillotine either. It's kind of like an anaconda choke that he pulls guard into. Nonetheless, it's insanely effective.
Gastelum is still only 28-years-old as well, while Hermansson just turned 32-years-old last month. Gastelum is also one of, if not the smallest current middleweight on the UFC roster, standing just 5'9" with a 71.5" reach. Hermansson is 6'1" with a 77.5" reach, that's a massive difference. However, as previously stated, that is almost never a hindrance to 'KG'. He even threw, landed, and badly hurt the 6'4" middleweight champion with a head kick, someone that's seven inches taller than himself with over eight inches in reach on him.
How do you see this clash of middleweight titans going?
I became a fan of combat sports when I was 12 years old. I was scrolling through the channels and landed upon versus, where WEC was televised. Urijah Faber fought Jens Pulver for the second time that night. That's the first fight I saw, and the fight that got me hooked on the sport. Since then, the sport has grown so rapidly, and my goal is to enlighten everyone on what's going on in the sport today.