Kayla Hracho credits American Top Team coaches, training partners, for recent success
Kayla Hracho (3-2) will step into the cage for the sixth time as a professional mixed martial artist when she meets Emilee King (4-4) this Friday night at iKon Fighting Federation 5 which will be held at the Biloxi Civic Center in Biloxi, Mississippi.
The 29-year-old American Top Team (ATT) transport from Reading, Pennsylvania brings a two-fight win-streak to the contest which will be broadcast on UFC Fight Pass.
"K-Rock" Hracho, a graduate from Kutztown University, earned a degree in Psychology and set off to pursue a career on her own.  Little did she know that it would be fighting that would end up becoming the way she would eventually her a living.
"I accepted my first big-girl job in New Hampshire," Hracho said. "I was working with kids who have severe mental and behavioral issues.  I ended up getting fired two months later for making a silly mistake.  At that point I kind of felt like my life was over.  I was forced to move back to Reading, back with mom and dad.  I really had no direction.  I wasn't sure where I was going to go from there.  That same week that I moved back home I was kind of bouncing from gym to gym, just taking advantage of free day passes.  The last gym that I went to was a boxing gym.  I sort of fell in love with the mental and physical challenge of boxing.  I remember telling myself, 'if you can do this, if you can show up every single day, and just not give up, you can do anything.' I boxed for about two years as an amateur.  It took some time for me to really commit myself to it.  I still liked to party and I still had friends who were bad influences.  I was still kind of like one foot in, one foot out.  After about a year I decided, 'if you are going to do this, you've really got to do it.' I actually committed to it and was planning to move to the Bronx, New York to further my boxing career and turn pro.  Four days before I moved I went to visit a friend and boxing coach in New Jersey, Coach Anthony Rodriguez.  Coach filmed me hitting pads with him and then the right person happened to come across the video.  It was Din Thomas, former UFC fighter and American Top Team coach.  He complimented me.  I took advantage of the opportunity and reached out to him.  I sold myself as a fighter and I said, 'listen my goal is to reach my highest potential as a fighter.  I know that if I come down to ATT, I'll be able to get there.'  It's crazy looking back because I wasn't even really interested in MMA.  I wasn't really good at it.  I didn't really have any wrestling and jiu jitsu background.
"Here I was, 25-years-old and I got an opportunity to train at one of the best MMA gyms in the world.  That was an opportunity I couldn't turn down.  I put my New York trip on hold, took the $100 I had in my bank account and went down to South Florida for a visit.  It kind of felt like a tryout.  When I say I had no idea what I was doing, I didn't even know what jiu jitsu was.  I didn't know how to shoot, sprawl, pummel, nothing.  Here I was in my very first wrestling class being taught by Steve Mocco, on the mat with some of the best fighters on the planet.  It was an embarrassment.  It was a huge adjustment.  I had to completely swallow my pride and start fresh to immerse myself in the sport.  Here I am, four years later, still going strong.  Best decision I ever made."
Hracho started her pro MMA career with a win, but then immediately suffered setback as she dropped back-to-back fights in her second and third pro outings.  Those losses though, only made her stronger as she bounced back to improve her record to 3-2 with two finishes in 2020.
"American Top Team is like the Mecca of MMA," Hracho said. "We're literally 'The Home of Champions.'  Do I think it was necessarily best for me to start my career there?  Maybe not.  I don't know.  But I feel like I had access to such a high level of coaching and fighters that it helped me progress faster.  Do I feel like I was taken seriously? No.  They probably thought I would last a month and then they would never see me again.  But I'm still there.  Then I had a rough start to my career, and they probably thought I would quit after that.  But I'm still here.  I'm still grinding. Four years ago I knew nothing about the sport and now today I am being used as a training partner for some of the best female fighters in the UFC, to help push them in their training.  I've come a long way and I'll continue to show that I'm not going down without a fight."
ATT is home to a plethora of champions including former UFC women's strawweight champ Joanna Jedrzejczyk who just so happens to be one of Hracho's favorite training partners.
"Whenever she comes to the gym she brings such a different energy," Hracho said. "She really does have the heart and mind of a champion.  She pushes herself every single second in training.  Her, Amanda Ribas, Nina Ansaroff, and then a lot of newcomers and people starting off.  There's a girl named Jordana Matamoros.  She's 18-year-old, was a high school wrestler.  She's such a good training partner for me.  I think she's going to be something great.  We have anywhere from the top 5 in the UFC, to new girls just starting out.  They are all great looks for me.  I try to learn from everyone."
The fight against King on Friday night will be contested at strawweight (115-pounds), but Hracho has also competed at flyweight and catchweights throughout her very short professional mixed martial arts career.
"I'm definitely most comfortable at strawweight," she said. "If anything I belong at 105-pounds but there is not that much opportunity for atomweights right now.  My goal is the UFC so if the UFC did open up an atomweight weight class, I would definitely dive right in but until then strawweight is where I am most comfortable."
The woman standing opposite her in Biloxi on Friday has a slight edge in experience as Emilee King has fought for the likes of Invicta FC, Valor FC, and Bellator MMA.  Will that matter come fight night?  Hracho thinks not.
"Her last two fights were with Bellator," Hracho said of King. "She's a tough girl.  She will rise up to the challenge but I think I am the better fighter everywhere.  She does bring a lot of experience to the table and that is something that can be overlooked.  I do feel that as long as I stay sharp and I fight a smart fight, the finish will open up for me."
iKon Fighting Federation 5 fight card:
MAIN EVENT – FEATHERWEIGHTS 3 X 5*
Jason "The Kid" Knight (20-6-0), D'Iberville, Mississippi
vs.
Cliff "The Goblin" Wright, Jr. (13-13-0, iKON: 0-1-0), Cedar Rapids, Iowa
CO-FEATURE – 175 LBS. CATCHWEIGHT – 3 x 5*
Harris "Sandman" Stephenson (6-2-0), Long Beach, Mississippi
vs.
Socrates "The Sounds of Kaos" Pierre (11-6-0), Tallahassee, Florida
FEMALE STRAWWEIGHTS – 3 X 5*
Kayla "K-Rock" Hracho (3-2-0, iKON: 2-0-0), West Palm Beach, Florida
vs.
Emilee King (4-4-0), Knoxville, Tennessee
FEMALE STRAWWEIGHTS – 3 X 5*
Valerie "The Violator" Wong (0-1-0), Chico, California
vs.
"Fight Queen" Isis Verbeek (0-1-0), Amsterdam, Netherlands
WELTERWEIGHTS – 3 X 5*
"The Ghost" AJ Fletcher (6-0-0), Lafayette, Louisiana
vs.
Wesley Golden (9-17-0), Coconut Creek, Florida
FEMALE STRAWWEIGHTS – 3 X 5*
Macy Breaux (pro debut), Larose, Louisiana
vs.
Shawna "Bam Bam" Ormsby (2-2-0), Orlando, Florida
165 LBS. CATCHWEIGHT – 3 X 5*
Charlie Decca (2-0-0), Miami, Florida
vs.
Kyle McGrough (0-1-0), Daleville, Alabama
FEMALE 130 LBS. CATCHWEIGHT — 3 X 5*
Alexandra Ballou (1-0-0), Bristol, Connecticut
vs.
Griffin Fisk (pro debut), Daphane, Alabama
(card subject to change)
*denotes streaming live on UFC FIGHT PASS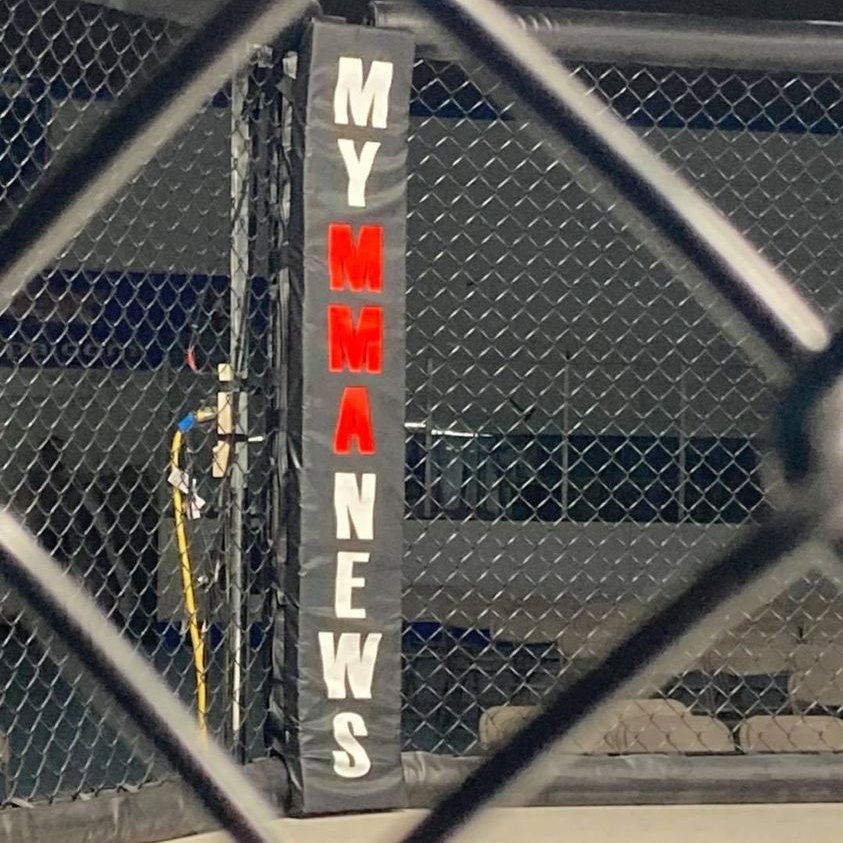 MyMMANews.com – We cover everything from MMA, BJJ, Bare Knuckle, Wrestling, Boxing, Kickboxing, and Judo
News, Opinions, Videos, Radio Shows, Photos and more.