M-1 Challenge 62 weights & pictures from Sochia, Russia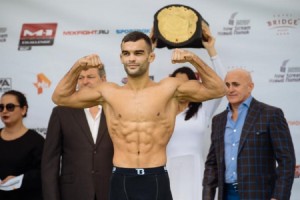 M-1 Challenge featherweight champion Ivan Buchinger
MORE PICTURES BELOW

MAIN CARD
M-1 CHALLENGE FEATHERWIGHT CHAMPIONSHIP – 5 X 5
IVAN "Buki" BUCHINGER (29-4-0), Champion, Slovakia 143 ½ lbs. (65.2 kg)
MANSOUR "Tarzan" BARNAOUI (12-2-0), Challenger, France 143 ½ lbs. (65.3 kg)
MIDDLEWEIGHTS – 3 X 5
VYACHESLAV VASILEVSKY (26-3-0), Russia 185 lbs. (84 kg)
KRISTIJAN "Pacman" PERAK (8-1-0), Croatia 184 lbs. (83.6 kg) 
LIGHT HEAVYWEIGHTS – 3 X 5
ADAM "The Beard" YANDIEV (8-0-0), Russia 193 lbs. (87.6 kg)
DMITRY VOITOV (10-4-0), Belarus 192 ½ lbs. (87.5 kg)
WELTERWEIGHTS – 3 X 5
ALEXEY KUNCHENKO (9-0-0), Russia 168 ½ lbs. (76.6 kg)
ALEXANDRE "Sangue" RAMOS (9-2-0), Brazil 168 ½ lbs. (76.6 kg)
FEATHERWEIGHTS – 3 X 5
LEE "American Bulldog" MORRISON (14-5-0), USA 143 ½ lbs. (65.3 kg)                                    
KURBANALI ABDUSALAMOV (5-2-0), Russia 144 lbs. (65.5 kg)
PRELIMINARY CARD
LIGHT HEAVYWEIGHTS 3 X 5
BORIS POLEZHAY (8-5-0), Ukraine 203 lbs. (92.3 kg)
ALEXEY SHOPIN (3-0-0), Russia 200 lbs. (90.7 kg)
MIDDLEWEIGHTS – 3 X 5
ENOC SOLVES TORRES (16-9-0), Spain 186 lbs. (84.5 kg)
NODAR KUDUKJASVILI (10-1-0), Georgia 186 lbs. (84.5 kg)
LIGHTWEIGHTS – 3 X 5
NIKOLAY KAUSHANSKY (6-2-0), Russia153lbs. (69.5 kg)
SERGEY ASTAPOV (5-4-0), Ukraine 153 ½ lbs. (69.8 kg.)
FEATHERWEIGHTS – 3 X 5
NIKITA "Piranha" CHISTYAKOV (4-1-1), Russia 145 lbs. (65.8 kg)
ANDREY "Iron" LESHNEV (7-4-0), Ukraine 144 lbs. (65.5 kg)
GIORGIO BELSANTI (4-4-0), Italy 143 ½ lbs. (65.3 kg)
DELGAT KUDBUDINOV (2-0-0), Russia 145 lbs. (65.8 kg)
_____________________________________________________________________________________
WHAT:             M-1 Challenge 62
WHEN:             Saturday, October 10, 2015
START TIMES:  Main Card: 12:30 p.m. (New York City), 7:30 p.m. (Moscow)
                          Preliminary Card:  10:00 a.m. (New York City, 5:00 p.m. (Moscow)
WHERE:           The Ice Cube Curling Center in Sochi, Russia 1:30
PROMOTER:    M-1 Global
M-1 Challenge 62
will be streamed live from Sochie, Russia in high definition on
www.M1Global.TV
. Viewers will be able to watch the preliminary fights and main card by logging on to register at
www.M1Global.TV
.
Fans may watch all of the action on their computers, as well as on Android and Apple smart phones and tablets.
Fight Network will air M-1 Challenge 62 live on Cablevision's Optimum TV, Grande Communications, Shentel Cable, Suddenlink Communications and Armstrong Cable in the U.S., as well as nationwide in Canada, Roku devices across North America, and globally in more than 30 countries throughout Europe, Africa and the Middle East.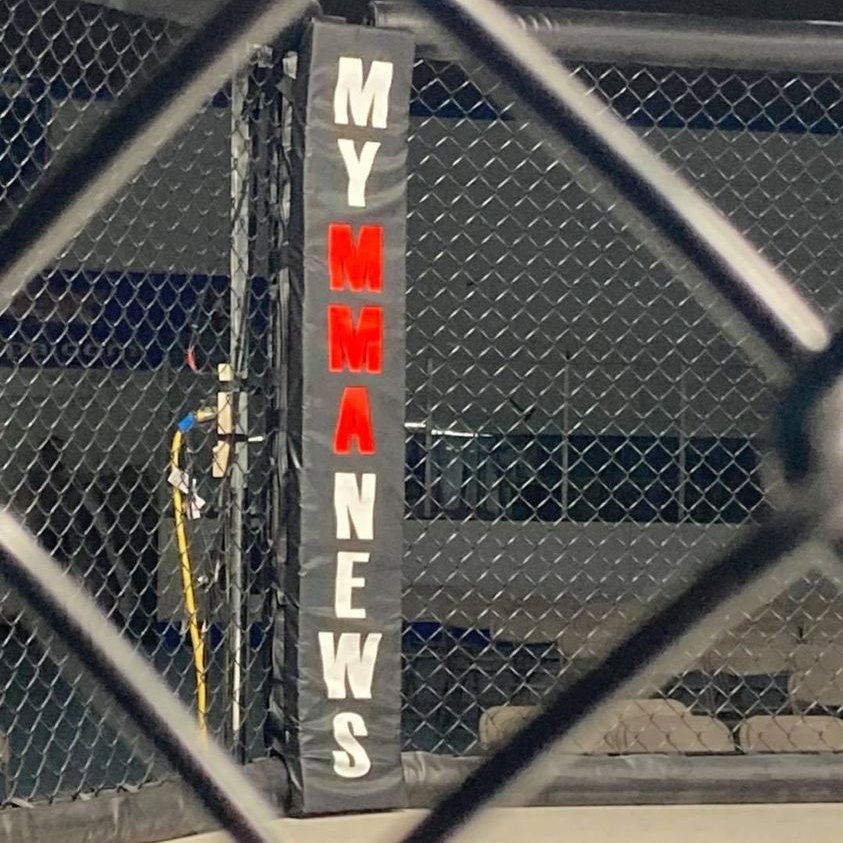 MyMMANews.com – We cover everything from MMA, BJJ, Bare Knuckle, Wrestling, Boxing, Kickboxing, and Judo
News, Opinions, Videos, Radio Shows, Photos and more.