Maverick 12 results – Gratalo vs. McKenna
Tonight Maverick MMA holds Maverick 12 at the Sherman Theater in Stroudsburg, Pennsylvania. The fight card is headlined by a middleweight clash between Kris Gratalo and Hugh McKenna.
The fight card features three pro and one amateur fight and kicks off at 7:30 p.m.
Andrew Chirico and Stephen Moleski come in just before the night's co-main event spot. Moleski is coming off a unanimous decision win over Andy Jimenez at Maverick 11 in January. Jimenez is also competing tonight but in the co-main event, taking on American Top Team's Gabriel Barletta who arrived in Pennsylvania from Florida earlier this week.
The first fight of the night was an amateur contest between Tyler Tangelder and Ibrahim Kallie.  This was a wild one from the get go.  Kallie throws a left jab, followed by big hard shots that rock Tangelder.  Tangelder exchanges back, but both men are throwing without really looking for a target.  The fight gets dragged to the ground, and Tangelder gets mount where he begins to attack the body.  Kicks from both men start the second round.  Kallie loading up shots that can be seen from a mile away.  Tangelder switches to southpaw for a brief moment before shooting in for a takedown.  He completes it.  Tangelder using his left forearm to choke Kallie while he throws shots down to the body as well with the right.  Time expires but another solid round for Tangelder.  Kallie using kicks to get in on his opponent in the third frame.  He lands a big left hook that sends Tangelder up against the cage.  They two men continue to trade before it goes back down to the ground where Tangelder gets mount for a third time in three rounds and goes to work.  Tangelder wins unanimously and moves to 3-2.
Andrew Chirico and Stephen Moleski competed in the first pro fight on the night.  The two men were fighting off the cage before Chirico dropped down and applied a guillotine choke to which Moleski was able to work his way out and get side control.  They stand, Moleski gets back control, attacks the thigh, and then works in a hook.  Referee Jimmy Chappell separates the two and now Chirico presses Moleski up against the cage and slams Moleski down hard but Moleski is holding onto a guillotine choke.  Moleski starts to unload big shots that seemingly go unanswered to close out the round.
Round two starts and only a fraction of the real estate is used.  The two are fighting off the cage, with neither really having an upper hand.  The combatants work to the ground in the final 60-seconds of the round where Chirico works for an arm submission.  Time expires with Moleski pressing Chirico up against the cage while working for a choke.  Round three starts and they end up in the same corner of the cage.  Suddenly, Moleski picks Chirico up walks him across the cage, dumping him in front of his corner.  The move was exactly what Matt Hughes did to Frank Trigg.  Referee Jimmy Chappell smirks as he too was likely reminded of that historic UFC fight.  It was like a dog bringing a toy back to his master.  Moleski controls the rest of the round en route to a victory.  Following the fight Moleski says "I couldn't let some New York boy come in here and out wrestle a PA boy."
Gabriel Barletta and Andy Jimenez touch gloves before going to work.  Jimenez works for a takedown but cannot complete the task.  Barletta eats a shot that appears to be bothering his eye.  He turns up the pace, lands a big shot to the body that echoes throughout the theater.  The American Top Team fighter lets his hands fly and Jimenez backs up against the cage before crumbling.  He waves it off and immediately grabs his knee. It appears that he is injured and is helped onto a stool.  Barletta records a TKO victory.  Jimenez gets on the mic while sitting on the stool and wishes everyone a Happy International Women's Day and apologizes for the injury but promises he will be back.
After a brief intermission, the main event gets under way.  Kris Gratalo opens up with a head kick but misses.  After a brief exchange, Hugh McKenna gets "Badger" down to the canvas and locks up his legs.  Gratalo works his way out and stands.  McKenna looking for another takedown but Gratalo works out of it, picks McKenna up over his head and slams him down.  McKenna locks up an arm and is trying to work for a submission.  Gratalo trying not to let his opponent complete his goal, pounds on the body.  Gratalo pounds on McKenna's head, works his arm out, takes back, and locks up a rear-naked choke just before time expires in the round.  We will move to round two.
Gratalo shoots in for a takedown to open the second frame.  It is stuffed and McKenna attempts a guillotine.  Gratalo works out of it.  They fight to cage, and McKenna gets Gratalo down.  McKenna rolls for an armbar, but Gratalo fights out of it, lands a few shots, and takes back with hooks in.  When the rear-naked choke doesn't work, Gratalo moves to top position and throws leather. Time expires and the round will likely be scored in favor of "Badger."
Third and final round starts and Gratalo throws a kick that inadvertently hits McKenna low.  McKenna fights through it and they touch gloves.  Gratalo slams McKenna down hard and the entire cage bounces.  Gratalo continues his ground and pound before the referee calls an end to the contest.
Maverick 12 results below:
Pro Bouts:
Kris Gratalo defeated Hugh McKenna via TKO – Round 3, 3:49
Gabriel Barletta defeated Andy Jimenez via TKO (injury) – Round 1, 2:36
Stephen Moleski defeated Andrew Chricio via unanimous decision (30-27, 30-27, 30-27)
Amateur Bout:
Tyler Tangelder defeated Ibrahim Kallie via unanimous decision (29-28, 30-27, 29-28)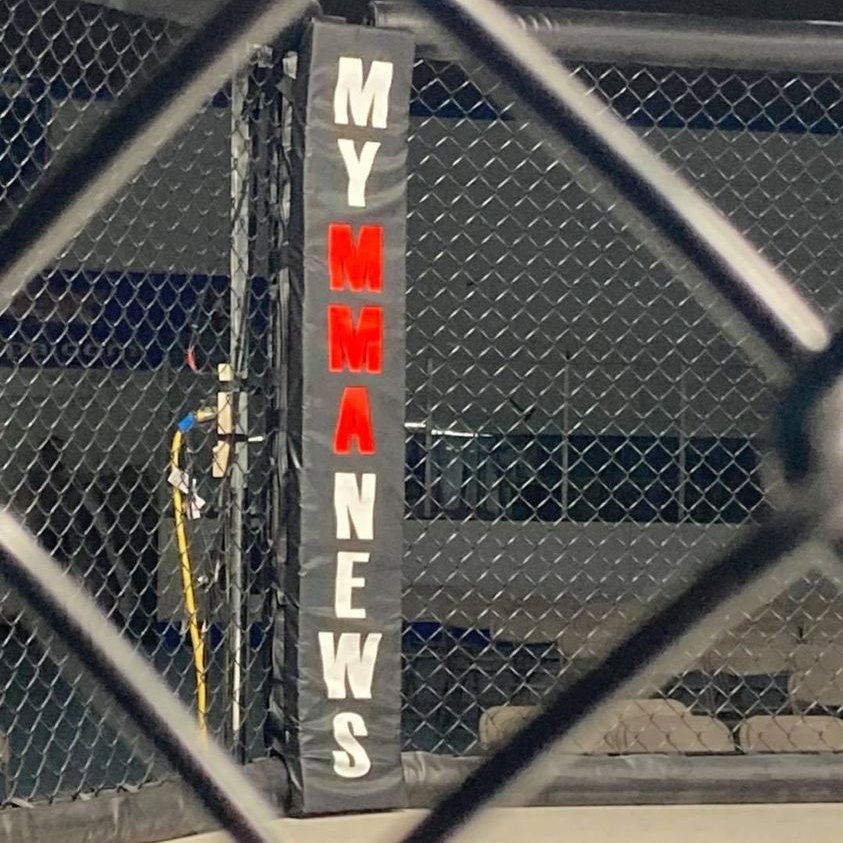 MyMMANews.com – We cover everything from MMA, BJJ, Bare Knuckle, Wrestling, Boxing, Kickboxing, and Judo
News, Opinions, Videos, Radio Shows, Photos and more.