Melissa Gatto taking things one step at a time after lengthy layoff preceded UFC debut
Brazil's Melissa Gatto has finally arrived in the UFC.
At just 25-years old, the Campinas, Sao Paulo native made a successful debut in MMA's ultimate proving ground at UFC 265 on Aug. 7. Battering and breaking Victoria Leonardo en route to a second-round TKO, Gatto sustained little damage in the triumph. But now that she's here, don't expect it to be a race to the top.
"I want to take my time," Gatto told MyMMANews. "Because being three years apart, I feel like I need to get back in my fighting rhythm. So I feel like I don't need to rush. I want to take each step at a time, not jumping any fights to get at the ultimate goal which is to fight for the belt.
"I'm very happy with my victory. Especially after being three years without fighting. It's good, I feel very glad. It's good being back in MMA and in the UFC, in fighting. Somehow it feels like I had my debut again."
Gatto's victory against Leonardo didn't only act as her promotional debut, but also her return from a lengthy layoff.
Originally Gatto was to square off with Talita Bernardo in her home of Brazil at UFC 237 in May 2019. However, injuries and a USADA suspension sidelined Gatto up until the start of this month.
Having not fought since September of 2018, it could have been easier to let motivation dwindle after each roadblock. Gatto recognized that her time would always come.
"I was really excited, I couldn't wait to be back," Gatto said. "I normally tell my friends when they ask me, 'Was it really difficult getting to the UFC?' And I always tell them, 'Yeah, it was difficult getting to the UFC but more difficult than that was having my debut.' Because I had so many issues in these years before being able to have my first fight in the octagon.
"My family was so, so happy. Especially my mom. She has always been by my side giving me support and being there for me. She knows what I've been through so I think that she's probably the most excited of all of them. But, of course, my siblings too were so excited."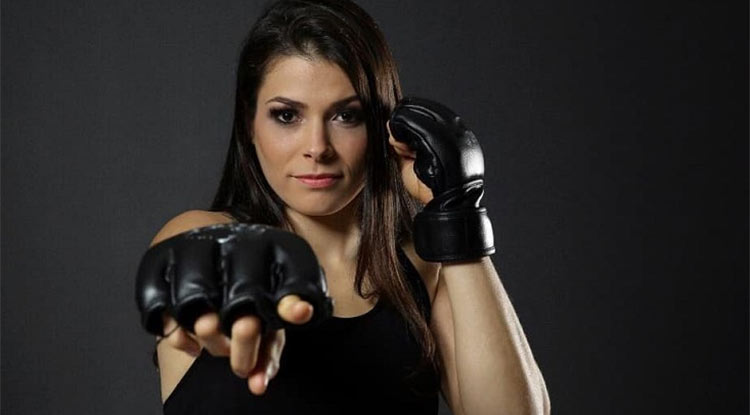 Gatto's potential at 7-0-2 has always been evident — her prior first-round submission over current No. 14 ranked UFC bantamweight contender Karol Rosa speaks for itself.
Against Leonardo, her obvious grappling talents were a bit lesser of the focus as large striking improvements were displayed. When a previously scheduled bout with Mariya Agapova fell through, Gatto changed gyms where she began working with more female strikers — without losing focus on her grappling, of course.
"It gives me a confidence boost knowing that I fought [Rosa] at a higher weight than I usually fight and she's doing so well," Gatto said.
"To be honest, I didn't really expect [the Leonardo fight] to finish like that. Like I told Daniel Cormier in the interview after the fight, I expected to finish the fight in the first round. I ended up getting nervous. I think three years without fighting took its toll. I wanted to fight better, I felt a few moments that I lost position when I was on her back and a few other moments. So ideally I would have won in the first round. But I'm glad with my performance."
Drake is an MMA writer based out of Brush Prairie, Washington, USA who specializes in feature pieces, the women's fight scene, lists, news coverage, and rankings. He has been a passionate fan of MMA ever since 2009. Drake has most notably written for BJPenn.com, FanSided, The Body Lock, South China Morning Post, MyMMANews, WhatCulture, Cageside Press, Sherdog, The Scrap, and MMA Today. He has also written for and created video content for RT Sport. As for other sports, Drake is a longtime fan of the NFL's Green Bay Packers and Jacksonville Jaguars.
You can follow him on Twitter and Instagram: @DrakeRiggs_ . Also check out all of his video content on YouTube at YouTube.com/DrakeRiggs where he uploads fighter interviews, podshows, and various other types of content.