No need for the atomweight Grand Prix, Lin Heqin ready for the title now
An average of four fights per year is a great activity rate for any fighter. For one Lin Heqin, that rate applies to her run from 2015 to 2019.
The 27-year old Chinese prospect hasn't fought since, however, with her last fight coming in her ONE Championship debut as part of the 115-pound atomweight division. Lin felt the need for a good rest period to recover from some injuries due to the high fight frequency. Additionally, it's given her time to gain a stronger overall physique through her strength training while honing some fancy new jiu-jitsu skills we hadn't been accustomed to seeing earlier on.
"I want to be active again because no matter my body, my mental preparation is all ready," Lin told MyMMANews. "So right now I want as many fights as possible because I want that title shot.
"[My last fight] was my very first time winning by way of submission. I was so pumped, so excited. I'm used to using a stand-up fighting strategy but I know that's far from what a professional MMA fighter [should do] so I've been working hard on my ground control strengths. It all paid off, I got the triangle choke in that debut so me and my team were all so excited."
After pulling off her first-round triangle choke victory of Jomary Torres, Lin grew more confident than ever in her continually evolving skillset. With a laugh, she predicted a lot more triangles being locked in going forward.
As most combat sports athletes from China do, Lin boasts a background in the art of Sanda which ultimately led her to the world of mixed martial arts. Enjoying the combination of all techniques, Muay Thai and jiu-jitsu are two components of the Wenzhou's native's complete game that she enjoys utilizing most.
Undeniably, MMA has grown to have one of the largest platforms for combat sports athletes around the globe. Because of that, accompanied by her passion for competition, Lin couldn't help but seek out a little bit of that spotlight for herself.
"I feel like I'm a big boss when I'm in the circle," Lin shared. "Because all the fans are cheering for me and all the audience has a lot of passion for the athletes. That's why I switched from Sanda to MMA.
"Before [my last loss], I didn't pay a lot of attention to my training. I had not made up my mind to be a professional fighter yet. But after I lost that fight, I worked harder than ever. Then all my hard work paid off as I went on a long winning streak. As a result of that, I became mature because I knew it was my responsibility to protect the championship [that I won along the way]. Not only for myself but for my country."
Following what is the last and only second loss of her 17-fight career, "The MMA Sister" has run the table.
Riding an 11-fight winning streak and targeting atomweight champion Angela Lee amid the extension of the said streak, Lin has proved many a doubter wrong. Whether it be in aesthetics, activity, or growth in her game.
"When I was a newbie, I went to the event and people were surprised that I was a fighter," she said. "They thought I was supposed to be the staff of the promotion. Even when I stepped into the circle, my opponent looked at me as a kid who wanted to have fun, not fight with a serious athlete. After we battled, I earned their respect. I'm used to it. I don't look like a fighter.
"Frankly, each fight meant a lot to me. I think the point is that my mindset has changed. When I was a rookie, a win or a loss meant the whole world to me. I felt so much pressure in the ring but now I realize what matters most is not the result, it's the process. Now I can enjoy every fight just being myself."
Ready to get back to her active ways, a lot has transpired in the sport—as well as the world—since Lin last stepped foot in the circle.
Only having had more time to make improvements and refresh herself for what's to come, important personal time was also found. If that's one of the positives of the global COVID-19 pandemic, it's that it brought many families together.
Despite all the success seen in recent years, historically, women from China taking up MMA as a career path is still something relatively new. When Lin Heqin first started pursuing combat sports, her family wasn't as reluctant to the idea as some. They just wanted their daughter to make sure she protected her face.
"During last year, I had a lot of time with my family and because I couldn't go to the gym for my training, I did all my training at home," she said. "My family could see what I'm doing so they were very happy I could do my training at home rather than at the gym. They really wanted to spend time with me, too.
"My family kind of worries about me when in an MMA fight. They kind of think that it's very tough for a girl so this time, doing training at home, they can see what I'm doing and finally see that I put a lot of effort into it. So they support me a lot. My hometown is a very beautiful place, we have mountains and scenery where I can go out of the gym and do strength training so I think it's good though it's not in the gym."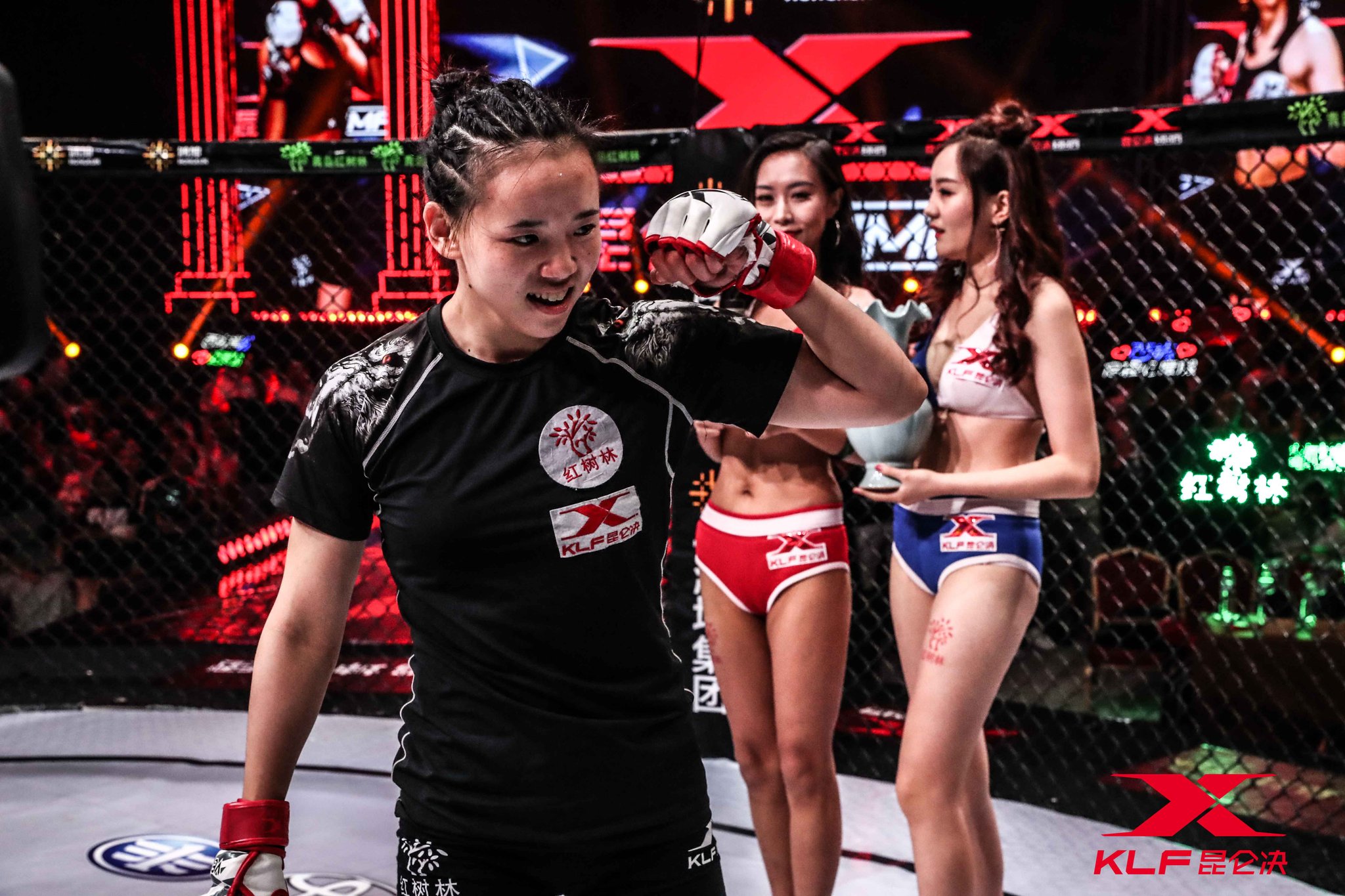 When it comes to China's fiercest female competitors, the list is seemingly expanding by the day. There's no shortage of role models and Lin finds herself getting to be a part of that.
The sport has grown to heights where not only are there multiple all-women promotions but now major global entities holding full card's exclusively featuring these athletes. On May 28, Lin's current fighting home of ONE Championship gets ready to have their first.
Only fitting, it happens to be headlined by China's very first major world champion Xiong Jing Nan.
"I'm very happy to see ONE Championship is about to have their first-ever all-women card," Lin said. "I think that is clear proof that MMA business value is not only in men but also in women. So I'm very happy about that.
"I don't think I've had the trouble of having to prove myself that we're better than the men. I think men and women are equal right now but I do want to say that MMA as a sport – it's a very good sport for all girls, all women, so I have kept promoting it to all women and all girls that MMA is an interesting sport which can make you pretty, make you strong, and make you protect yourself. So I believe MMA is the most attractive sport to women."
On top of Xiong's strawweight title defense vs. Michelle Nicolini in the main event, the big selling point of ONE: Empower is the atomweight Grand Prix tournament.
To the surprise of many fans in the community, the list of eight fighters set to compete excluded the likes of Lin Heqin. Presumably, it was just a possible case of already having Meng Bo as the Chinese representative participating.
That's not quite the case though. In a sport as crazy and unpredictable as MMA, it's extremely important to believe in yourself and occasionally gamble here or there.
If it pays off, the feeling of those rewards and riches come in an almost unparalleled form.
"ONE Championship had asked me if I had interest in being a part of the Grand Prix but I said, 'No, sorry. No interest at all,'" Lin said. "Because I know my incredible winning streak record does all the talk. I have the power and qualification to earn me a title shot without going into the Grand Prix. I just want to fight Angela Lee directly, I don't need to go through the Grand Prix.
"My biggest goal of the year is to of course stay active and fight. I hope ONE Championship can give me as many fights as possible because I'm craving that title shot. I want that atomweight championship belt."
Drake is an MMA writer based out of Brush Prairie, Washington, USA who specializes in feature pieces, the women's fight scene, lists, news coverage, and rankings. He has been a passionate fan of MMA ever since 2009. Drake has most notably written for BJPenn.com, FanSided, The Body Lock, South China Morning Post, MyMMANews, WhatCulture, Cageside Press, Sherdog, The Scrap, and MMA Today. He has also written for and created video content for RT Sport. As for other sports, Drake is a longtime fan of the NFL's Green Bay Packers and Jacksonville Jaguars.
You can follow him on Twitter and Instagram: @DrakeRiggs_ . Also check out all of his video content on YouTube at YouTube.com/DrakeRiggs where he uploads fighter interviews, podshows, and various other types of content.